Vanderpump Rules: Who Is Raquel Leviss' Sister Kate Couture-Moncure?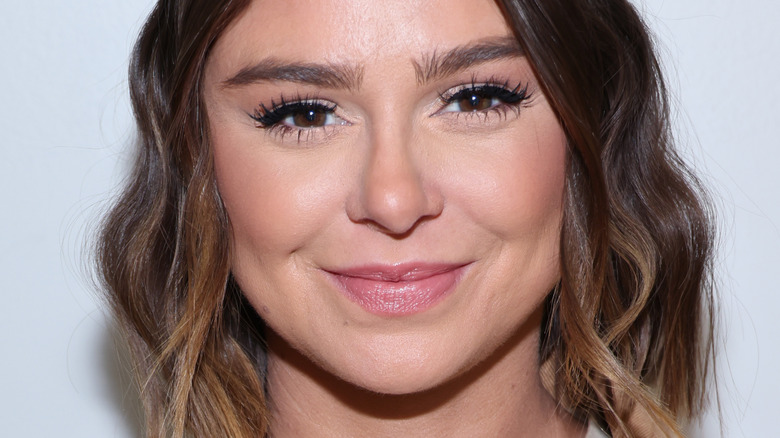 David Livingston/Getty Images
"Vanderpump Rules" is chaotic enough as it is with the drama happening among the main and supporting cast, so viewers rarely get a glimpse of what happens outside that dynamic. But sometimes the drama gets so intense that the cast's family members can't help but intervene.
In Raquel Leviss' case her big sister, Kate Couture-Moncure, may have confirmed that she was involved in a physical altercation with Scheana Shay. A brief refresher: In March 2023, Page Six reported that Leviss and Shay got into a "heated confrontation" over Leviss' affair with Shay's best friend Ariana Madix's ex, Tom Sandoval. The "VPR" cast then expressed their shock, with Charli Burnett tweeting, "At the end of the day No one deserves to feel this gut punch. To say Im disappointed would be an understatement." Couture-Moncure then chimed in and dished another shocking revelation. "Nor, punched in the face," she wrote, implying that Leviss was hurt. When a fan asked why she was defending her sister for breaking up a relationship, she clarified that she was "not defending," but also "not condoning physical violence."
Of course, this exchange doesn't necessarily confirm that Leviss and Shay fought physically, but it goes to show that Couture-Moncure is not afraid to stand up for her sister, even if that means getting trolled, too.
Kate Couture-Moncure and Raquel Leviss are half-sisters
Fans weren't privy to how Raquel Leviss was raised until Season 9 of "Vanderpump Rules" when she was promoted to series regular. At the time, she revealed that she was adopted, with her biological mom, Susan, deciding to carry her for her aunt, Laura, who then raised her. "I was adopted at birth. My biological mom, Susan, gave birth to Kate before me," she explained in an episode. "And then Susan accidentally got pregnant again right around the time my aunt, Laura, was trying to conceive. Susan was generous enough to offer to have me for my aunt."
While Leviss' situation is a bit unusual, she did gain a sister in the process, Kate Couture-Moncure, who isn't as public as her. According to Couture-Moncure's LinkedIn page, she works as a real estate agent in Los Angeles. She also has a Facebook account where she posts most of her listings and not much else. It's safe to say she prefers to keep things low-key, but probably not when her sister is in trouble.
Leviss admitted that she and Couture-Moncure never used to be close, but over the years, her big sis eventually became her confidante. "You know, we didn't have a lot in common," she added. "But Kate has kind of stepped into my life a little bit more. She wants to be that big sister role to me."
Kate Couture-Moncure is incredibly protective of Raquel Leviss
If Kate Couture-Moncure's tweet to Charli Burnett wasn't already an indication that she's protective of Raquel Leviss, perhaps her confrontation with Leviss' ex, James Kennedy, will convince you. Back when Leviss and Kennedy were still together, Couture-Moncure made it clear that she was not 100% supportive of the relationship, especially since Kennedy was having drinking problems at the time.
"The main thing is just making sure you realize it affects both of you. It could affect her workplace situation, it can affect her relationships," Couture-Moncure told the then-couple. "You know, you have to start thinking about the both of you as one unit."
Kennedy didn't understand Couture-Moncure's hesitance at first, but he eventually came to realize that she only wanted what's best for the both of them. "When stuff gets real, she speaks her mind and lets me know. And I respect her so much for that. She's a great older sister," he said on a "Watch What Happens Live" episode. Leviss, of course, has nothing but love for her sister, too. "She's good. It's a sisterly love, you know," she shared. "She just wants the best for me, and she wants to know that James is treating me right."