What's The Real Meaning Of Out Of That Truck By Carrie Underwood? Here's What We Think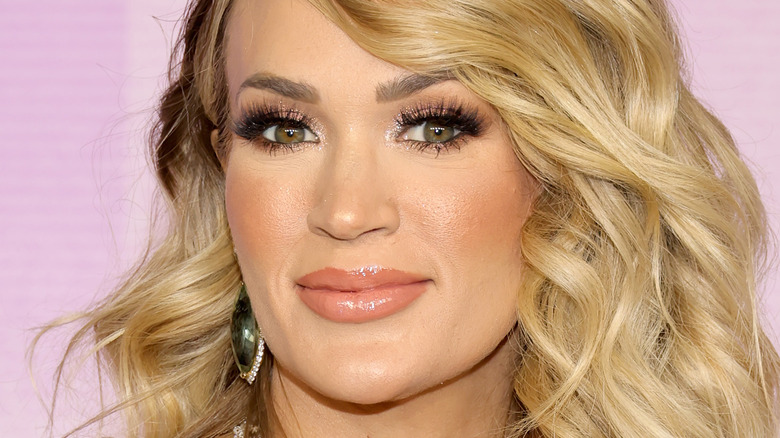 Amy Sussman/Getty Images
When it comes to country music royalty, Carrie Underwood definitely has a spot atop that prestigious list. Before ruling the genre with an iron (yet fabulous) fist, the beloved singer first gained recognition for winning Season 4 of "American Idol." After taking home the W, Underwood wasted no time paving her own lane in the country genre with her successful singles and award-winning albums. The acclaimed talent has even expanded her musical reach to the gospel genre with her record "My Savior," which took home Best Roots Gospel album at the 64th Annual Grammy Awards.
"I will always be so humbled and grateful for the incredible opportunities this career has given me," she explained to OnMilwaukee in October 2022. "I think it's so important not to take anything for granted — which I know is something so many of us have been able to reflect on these past couple of years — because you hold a little tighter to it. I know I certainly have." Following the release of her ninth studio album, "Denim & Rhinestones," the talented singer-songwriter ushered in 2023 with a new music era and surprise single, "Out of That Truck." Join us as we examine the themes she explores on the electric new single.
Carrie Underwood has another breakup anthem on her hands with Out of That Truck
Throughout her illustrious career, Carrie Underwood has released an array of songs that have empowered her fanbase. From "Before He Cheats" to "Cowboy Casanova," Underwood is no stranger to writing stinging lyrics about ex-lovers and toxic relationships. Now, Underwood has added another powerful breakup track to her repertoire with "Out of That Truck." Backed by an infectious country-rock production, the "American Idol" alum opens the track with deliciously petty lyrics about her memory still being present in her ex-lover's truck. "Yeah, I bet that shotgun headrest still smells like my shampoo," she sings. "That messed up tape deck's still stuck playin' that mix I made for you."
As the song continues, Underwood continues to revel in the fact that her ex will never truly move on, even with "someone new" on his bench seat. "When you're runnin' around in that stick shift Chevy, I bet it drives you crazy," the Grammy-winner belts. "But my memory's stuck, so good luck tryna get me out of that truck." For the bridge, Underwood slows down the sound to give one final blow to her ex-lover, singing: "When the music's up and the window's down, I'm the one you're thinking 'bout. My Silverado silhouette." In a behind-the-scenes Instagram video, Underwood gave further insight into the record. "We just kind of went in, and it was like having this memory and nostalgic kind of song," she explained. We're definitely going to have this one on repeat for the foreseeable future!