Tana Mongeau's Damaged Relationship With Her Parents Is Worse Than We Thought
Jon Kopaloff/Getty Images
Popular YouTuber Tana Mongeau rose to fame with her "Storytime" videos, in which she details her over-the-top life. Whether she's dishing about getting face filters or having too much to drink, nothing is off limits for the Internet personality — and it's part of what's earned her more than 5 million followers. "I think that I was always really enamored by the idea of being able to distract someone else from their own ... pain ... even if it's just for like 10 minutes on my YouTube channel," Mongeau told Insider. "So I just started talking to the camera like a f***ing weirdo, and here I am."
Fans love her authentic, no-filter approach to life, but Mongeau's controversies have also made headlines. In 2018, the starlet held the now-infamous "TanaCon," a convention that imploded to the tune of Fyre Festival and enraged fans when it fell apart. Mongeau was also known for being in a throuple with actor Bella Thorne and musician Mod Sun, which didn't end amicably. But perhaps her most talked-about relationship to date was her "marriage" to fellow YouTuber and controversy magnet, Jake Paul. The pair became husband and wife after just three months, and that wasn't even the craziest part. Between the cheating rumors, pregnancy claims, and contentious split, "Jana" constantly had the Internet questioning what was real and what wasn't. Most people might have had their families and parents to lean on amid such a difficult time, but Mongeau didn't have that luxury.
Tana Mongeau did not have a stable upbringing
Nothing's off the table when it comes to Tana Mongeau's videos, so she hasn't shied away from speaking on difficult situations. That includes her parents, too. In the 2019 holiday special for MTV's "Tana Turns 21," the YouTuber blasted them for being "unfit to be parents," adding that she "want[ed] nothing to do with them." "Family outings were always really s****y growing up," Mongeau continued. "I feel like my dad was really, really peak-level embarrassing, whether he was screaming at me or just cheap and rude. My mom would have never gotten dressed or been ready at a normal time." All of this is consistent with revelations that Mongeau shared in the 2018 YouTube video, "finally opening up about growing up/my insane dad." In it, she discusses how her mom rarely left the house because of her social anxiety, as well as her dad's theatrical, over-the-top tendencies and complete lack of social etiquette. Because Mongeau briefly references her dad's past as a Vietnam War veteran, one fan commented that he may have PTSD from his war-time experiences.
Since 2018, Mongeau's familial relationships have only deteriorated further. In 2023, she appeared on the "H3 Podcast" and spoke about how she largely lived with friends in her early teen years. "My family I was born into was ... crazy," she admitted, going on to explain that she moved out of the house as soon as she was financially able.
Tana Mongeau is bitter toward her parents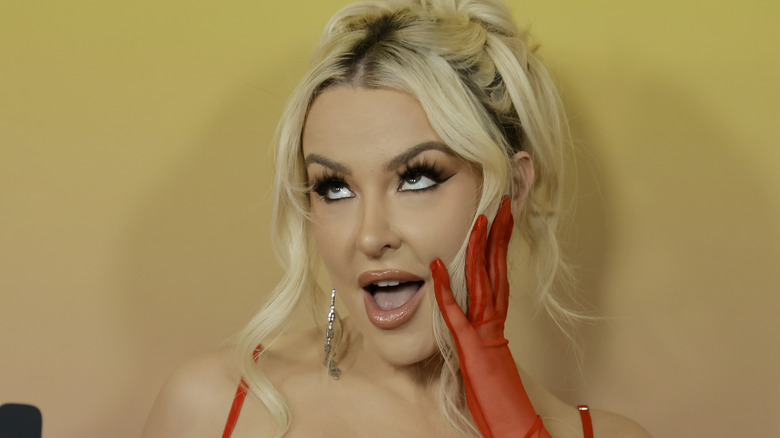 Kevin Winter/Getty Images
As of this writing, Tana Mongeau isn't in contact with her parents. On the "H3 Podcast," Mongeau even told hosts Ethan and Hila Klein that she related to Jeannette McCurdy's book, "I'm Glad My Mom Died," which chronicled McCurdy's struggles as a child actor. Things were always a little rocky between Tana and her parents, but they worsened as her dad continued to display increasingly unstable behavior, which the YouTuber detailed to her fans.
Once upon a time though, things were better between the trio. Back in 2017, Tana included her parents in a YouTube video when she filmed their reaction to her music video, "Hefner." But for the most part, Tana is bitter towards Rick and Rebecca Mongeau for not being better parents. "I don't love my family and I don't forgive them for all the terrible s*** they did to me," the influencer confessed in a 2020 tell-all video titled, "The Truth About Everything." "I've been trying so hard to fix it and address it because it's been eating away at me and my family is just the worst. ... I feel like I'm at this point where I want to never speak to my parents again because they'll never understand how much they f***ed me up."
It doesn't seem like Tana is ready to mend fences anytime soon (and maybe she shouldn't!), but here's hoping she can make her own chosen family.