Emily Ratajkowski Gets Blunt About Divorcing Ex Sebastian Bear-McClard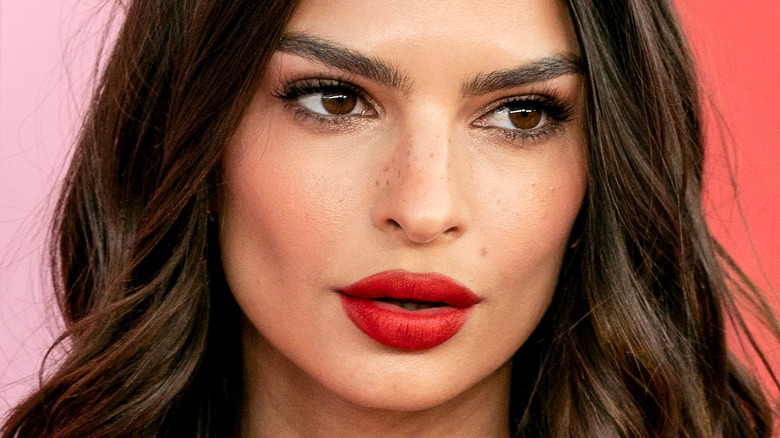 Ovidiu Hrubaru/Shutterstock
Emily Ratajkowski continues her candor regarding her ongoing divorce from Sebastian Bear-McClard. The ex-couple called it quits in July 2022 following four years of marriage and rumblings of infidelity on Bear-McClard's part. Since then, Ratajkowski has kept tabloids busy by sampling everything the dating pool has to offer. After enjoying short-term flings with Pete Davidson and DJ Orazio Rispo, the model memorably posed alongside comedian Eric André (in the nude) in a Valentine's Day Instagram post. Although the pair have been spotted canoodling around New York City since January, Ratajkowski's cryptic February 17 TikTok seemingly indicated she and André were already over.
Without addressing specifics, Ratajkowski has been forthcoming about the divorce's toll on her emotional and physical well-being. During a November 2022 episode of her "High Low with EmRata" podcast, the "My Body" author described her dramatic weight loss directly following the split. Weighing around 100 pounds at the time, Ratajkowski mused, "I think trauma lives in the body," adding that when she is "really unwell, I lose so much weight." On a similar note, in that month's issue of Harper's Bazaar, she described her state of ever-fluctuating moods. "I feel anger, sadness. I feel excitement. I feel joy. I feel levity. Every day is different," she told the publication.
Now, the outspoken women's rights advocate is giving voice to feeling gaslit in the wake of her separation from Bear-McClard.
Emily Ratajkowski lacked the courage to leave her marriage for a long time
Kathy Hutchins/Shutterstock
Emily Ratajkowski is taking us back to the beginning... of the end. On a March 9 episode of "Going Mental with Eileen Kelly," the model broke down her mindset in the period leading up to her July 2022 divorce. "I didn't have the courage to leave for a long time. I was really, really unhappy," Ratajkowski recounted of her ongoing divorce from Sebastian Bear-McClard. Their shared, then-newborn son Sylvester also complicated matters. "Every piece of media we consume from the second we are born is basically this idea of finding a partner that completes and validates you. Plus, I had just had a child... so it was especially hard for me to totally walk away," she explained.
Convinced that something was wrong with her, Ratajkowski admitted that rather than leaving, she "tried everything else," including antidepressants. "Gaslighting is a real thing," she said. Insinuating that, finally, there was "a line" Bear-McClard crossed, Ratajkowski began to see things "clearer and clearer and clearer," which eventually granted her the resolve to leave for good. 
Although Ratajkowski has never explicitly confirmed the cheating rumors surrounding Bear-McClard, she subtly hinted that that was the case on social media. After a fan tweeted in July 2022, "Can't believe that little b***h cheated on emrata," Ratajkowski was one of the 1,500 individuals to "like" the tweet.