Everyone Chase Stokes Dated Before Kelsea Ballerini Slid Into His DMs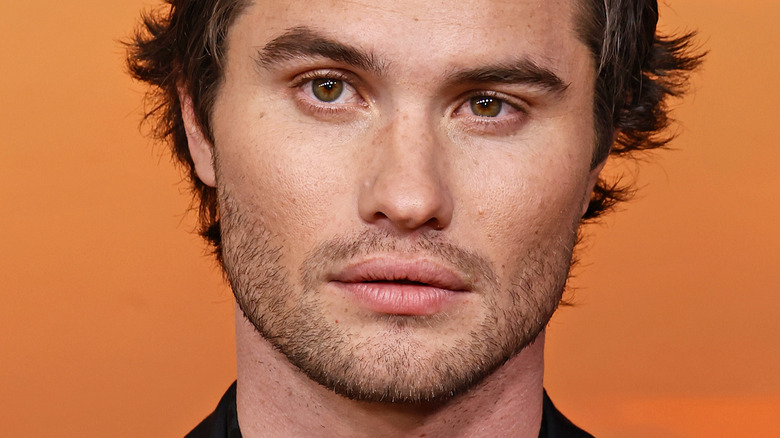 Frazer Harrison/Getty Images
Chase Stokes became an instant heartthrob when he exploded onto the scene as John B. on the hit Netflix series, "Outer Banks." Fans quickly became interested in the star's love life as they were curious as to who would be the lucky lady to capture his heart. Stokes, without a doubt, is talented, handsome, and appears to be kind. With someone like that, sometimes you just need to shoot your shot, and that's exactly what Kelsea Ballerini did.
The country singer revealed on the "Call Her Daddy" podcast that she actually slid into Stokes DMs. She said, "I've never seen his show, but I just knew of him, and I just swan dove right on in. ... His handle is '@hichasestokes,' and I said, 'Hi, Chase Stokes.'" The couple has kept their relationship private from the start. They were first spotted together at a football game in early 2023 and have continued to keep things pretty much under wraps, per Us Weekly. Although their relationship is still relatively new, Stokes and Ballerini are clearly feeling each other as they explore their relationship.
However, the "Peter Pan" singer was not the first to snag Stokes. The actor has been in several relationships before Ballerini slid into his DMs. From longtime girlfriends to fellow co-stars, here's everything we know about who Stokes has dated.
Chase Stokes had a high school sweetheart
Some couples who get together in high school go on to last forever, and for a while, it seemed like Chase Stokes was headed in that direction. The "Outer Banks" star was involved in a long-term relationship with his high school sweetheart, Xiomara Montalvo.
It's unclear when the two first got together, but the relationship was solid enough that Stokes had Motalvo's parent's stamp of approval. According to Elite Daily, Montalvo's mother frequently posted the couple on her social media accounts. The actor and Montalvo apparently even moved to California together as they pursued their professional careers. Montalvo's mother confirmed this was true as she wished the two luck on their new venture on Instagram. She wrote, "I couldn't be more proud of these two humans, they did all we ask of them before they decided to follow their hearts and go on an adventure to California. I believe with all I am this is the best thing for them..."
Most of what fans know about Stokes and Montalvo is from her mother's Instagram. The actor only briefly mentioned his relationship with his high school sweetheart after they had separated. In 2020, he told New York Magazine, "I went through a breakup a little bit before quarantine, and it was with somebody I'd been with for almost 10 years. I've been writing about it..." Stokes, however, moved on from his high school sweetheart with a fellow co-star.
Chase Stokes dated co-star Madelyn Cline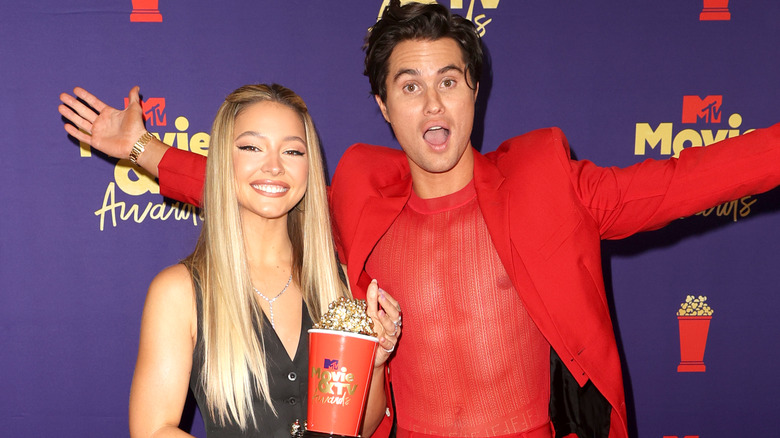 Kevin Winter/2021 Mtv Movie And Tv Awards/Getty Images
When the first season of "Outer Banks" was released in April 2020, it was undeniable that Chase Stokes and Madelyn Cline's characters had extreme chemistry. It turns out, the actors didn't have to act too hard because a relationship was brewing between the two. After much speculation, the couple confirmed their relationship in June 2020 when the actors became Instagram official. From that point on, their romance only skyrocketed.
In November 2020, Cline shared how "love is tight" as she revealed how she and Stokes keep things professional on set. She told ET, "I think because we were friends before this, we understood how we worked as individuals before we were seeing each other. We knew how we worked professionally and we knew each other's personal boundaries." A couple of months later, the couple celebrated their first anniversary. From red carpets to Instagram posts, it was clear that the two "Outer Banks" stars were attached at the hip, or so people thought.
It was reported that the couple split in November 2021. After his breakup with Cline, it took Stokes a minute to get back into the dating scene. It wasn't until a year later, the actor reportedly had a brief fling with model Izabella Metz. However, their romance didn't last long as Stokes went on to explore other relationships.