90 Day Fiancé: What We Know About Loren's Parents (And Why She Doesn't Get Along With Them)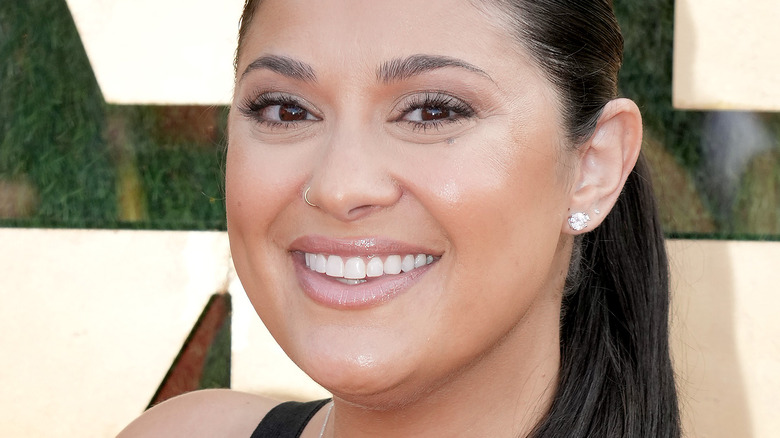 Jeff Kravitz/Getty Images
Loren and Alexei Brovarnik have become two of the biggest breakaway stars from the "90 Day Fiancé" franchise, as fans have watched Loren and Alexei's relationship evolve before their eyes. Since their debut on Season 3, the pair has shared everything from exciting family news to intimate details of Loren's life with Tourette Syndrome, and now that they have their own spinoff, it seems like nothing is off-limits.
However, one of the biggest questions that remains is what do Loren and Alexei do for a living? Neither has talked much about work on-air, but according to Loren's LinkedIn, she has been an event planner, has handled marketing and social media, and has years of experience as an executive assistant. These days, though, she's an ambassador for the Tourette Association of America and a full-time mom. As she told fans in April 2022, according to Soap Dirt she was forced to quit her job after giving birth to Asher because "they were INCREDIBLY unsupportive," failing to be flexible about her schedule and being lax about COVID rules. As for Alexei, he's spoken about his career even less than Loren, but Soap Dirt learned he's working as a warehouse manager for Invicta Watch Group. Indeed, he's occasionally posted on Instagram about how grateful he is for his job.
Now that Loren's parents have become such an integral part of "Loren & Alexei: After the 90 Days," fans are wondering what they do for a living. We explain.
What do Loren's parents do for a living?
Loren's parents, Marlene and Bryan Goldstone, have been a staple on "Loren & Alexei: After the 90 Days" and a little online digging revealed that when they're not butting heads with their daughter, they're both working full-time. A look at Marlene's LinkedIn shows she's a real estate agent specializing in properties in Florida's Broward, Palm Beach, and North Dade counties. She attended the Gold Coast School of Real Estate to study Residential Real Estate and began her career as a Realtor Associate in August 1996, working for Real Living 1st Choice Realty. The following year, she became a full-blown Realtor and has remained with the same company for 25 years and counting. In her profile, Marlene boasts, "I provide stellar customer service and personalized attention to every client."
Meanwhile, Loren's dad is the Director of Environmental Services for HCA East Florida, per LinkedIn. According to its official website, HCA Healthcare "operates hospitals, freestanding emergency rooms, imaging centers, outpatient surgery centers and urgent care facilities." Bryan joined the company in 2015 before which he was a General Manager at Sodexo, a food and facilities management company, for nearly four years. Prior to that, he worked as the Director of Environmental Services at Hospital Housekeeping Systems for 16 years.
The drama between Loren and her parents, explained
Those who tuned into Season 2 of "Loren & Alexei: After the 90 Days" were treated to some major drama as Loren had an explosive falling out with her parents. Tensions began to rise when the couple told Bryan and Marlene that they were thinking of moving to Israel. The foursome then traveled there, along with Loren's sister, and spent time with Alexei's family, as well as exploring possible living arrangements. All while Loren's parents tried to dissuade them. At one point, Bryan suggested they see a divorce attorney to find out if Loren could take her kids out of the country without Alexei. "Israel is a very progressive country, but it's still a Middle Eastern country because in many a movie, the man has the right to the child and I'd hate to have to smuggle those kids out of Israel back to the United States," Bryan told viewers.
In another contentious exchange, he snapped, "I have kept my mouth shut this whole time. I am not for it. Period." The disagreement reached its pinnacle with a huge blowout fight between Loren and her mom, in which Marlene exclaimed she would slap her daughter if cameras weren't around. A huge rift formed and Loren and Alexei didn't speak to her parents for months. Loren's mom and sister even RSVPd "No" to her baby shower, although they eventually showed up. Alexei called out their behavior, but they agreed to bury the hatchet — for now — for the sake of Shai, Asher, and their new daughter, Ariel.