How MLB Manager Tony La Russa Got Arrested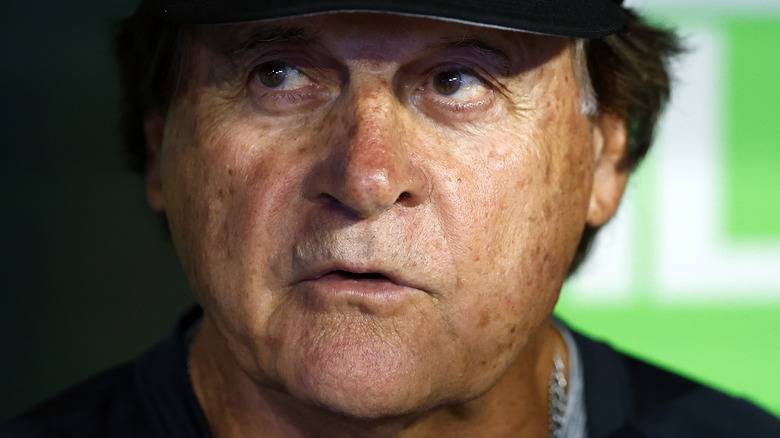 Vaughn Ridley/Getty Images
Recently retired Chicago White Sox manager Tony La Russa has often been lauded for his professionalism and willingness to take accountability — but that's not to say his record is squeaky clean. Au contraire, La Russa has had more than one brush with the law in his lifetime. 
As Major League Baseball fans are undoubtedly aware, the 2014 Hall of Fame inductee's most recent arrest occurred in 2020. As seen in dashcam footage obtained by WGN News, La Russa was experiencing car trouble when the police arrived, but things quickly took a turn when one of the officers on duty noted that he could smell alcohol. "I'm smelling it ... a smell that makes me feel that you may be impaired," he told La Russa. Sure enough, the baseball legend was found to be over the legal limit, and a case of DUI ensued. La Russa was ultimately charged with reckless driving rather than a DUI. That required him to undertake community service, pay a fine, and spend one day under house arrest. 
La Russa has been remorseful over the incident. As he told USA Today, he made a point of telling White Sox team owner Jerry Reinsdorf in the event that they'd prefer not to hire him. He went on to get the position, maintaining the spot until his resignation in October 2022. However, the fact remains: This was La Russa's second arrest. So, what happened the first time?
He fell asleep at the wheel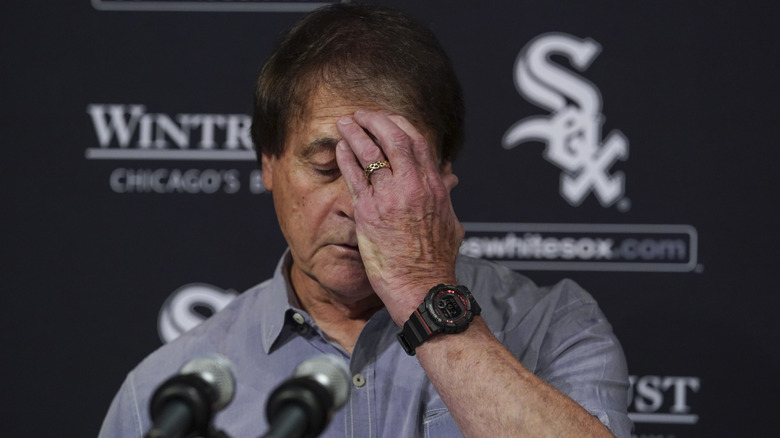 Nuccio Dinuzzo/Getty Images
Tony La Russa's first DUI-related run-in with the authorities happened in 2007. At the time, he was serving as the team manager for the St. Louis Cardinals. 
As for what exactly went down, arrest footage published by Palm Beach Post shows that officers on duty found an idling vehicle stopped in the middle of the road, with the driver sound asleep. Soon after officers woke the driver, one recognized him. "You know who this is? This is La Russa," he announced. La Russa went on to explain to the officers that he was merely exhausted and would pass a sobriety test. However, he ended up failing both a field test and a breathalyzer. Even so, as seen in footage from his interview at the station shared by WPBF 25 News, he maintained that he hadn't had more than two glasses of wine to drink. "[I] had a long, long day, and I'm tired. That's my explanation," he told the officer. 
Nonetheless, the officer reminded La Russa that — based on the tests taken — he was over the legal limit. "It is what it is," he explained. The baseball manager was ordered to undertake community service, attend an alcohol education program, and pay a fine. He was also sentenced to six months of probation. 
... but the very next day, he took total responsibility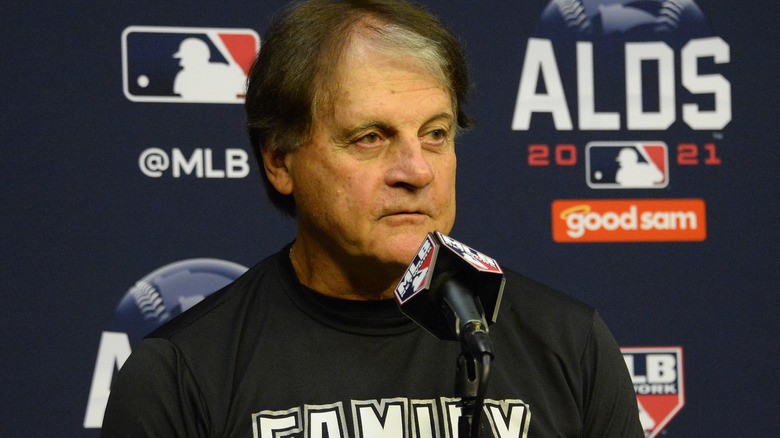 Ron Vesely/Getty Images
Despite repeatedly telling officers that he was fatigued at the time of the incident, Tony La Russa made no attempts at an explanation once the story made headlines. 
In a statement made at a preseason game, mere hours post-release, La Russa described the ordeal as "an embarrassment." He went on to apologize, adding, "I regret it, I take full responsibility, and I'm not sure there is anything else I can say." Several months after La Russa was handed his sentence — he doubled down. "I accept full responsibility for my conduct and assure everyone that I have learned a very valuable lesson," he said. 
It's important to note that La Russa's team and Cardinal fans supported him from the beginning. Larussa was greeted with a standing ovation when he showed up for a spring training game, and the team's chairman expressed admiration for his attitude throughout the ordeal. That seems to have been the case in his more recent arrest, as well. In a statement issued on the day of his sentencing, the Chicago White Sox noted that while they certainly wouldn't tolerate it happening again, they believed he deserved a chance at redemption. "We understand that people make mistakes," the statement read. That may be the case, but this is baseball – and as the team cautioned, "There cannot be a third strike."