Tems' Bold 2023 Oscars Outfit Stole The Show (From The Person Sitting Behind Her)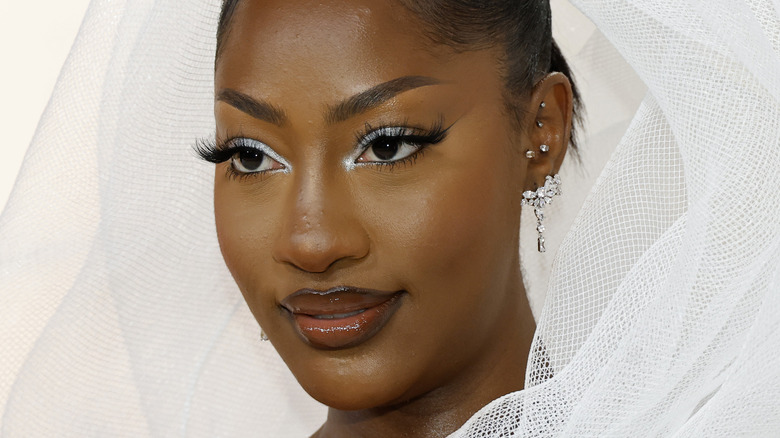 Mike Coppola/Getty Images
There was no shortage of dazzling designer gowns at on the 2023 Oscars "champagne" carpet. A glowing and pregnant Rihanna served in a sheer, black Alaïa, Michelle Williams stunned in a long white Chanel complete with a cape, and Nicole Kidman wowed in a black sequin Giorgio Armani adorned with floral applique. Ooh, lala.
Alas, fashion expert Leigh Nordstrom felt celebs played it "safe" this year. "I think there are a lot of really pretty dresses. A lot of glitter. A lot of white. Things that... look pretty but aren't really breaking trends or showing a ton of personality," she told the Associated Press. Still, singer and songwriter Tems was one outlier who dared to go bold and steal the show in a larger-than-life white tulle gown with a towering, oversized headpiece to boot. Unfortunately, however, she might have accidentally stolen the show from the unsuspecting viewer who was sitting directly behind her, as well. Oopsie.
Tems' headpiece might have obstructed others' views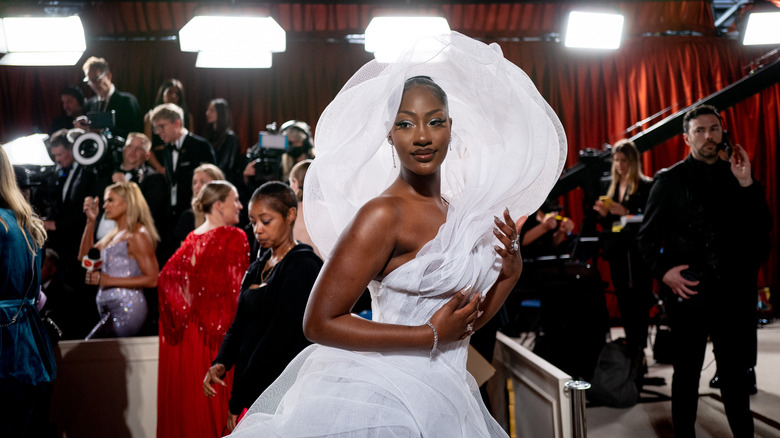 Emma Mcintyre/Getty Images
Fashion faux pas?
"Crazy Tings" crooner Tems slayed the red champagne carpet at the 2023 Oscars in a beautiful, flowing white Lever Couture gown, complete with a large matching headpiece. But when it was time to sit down and enjoy the show, viewers quickly realized how impractical the dress was, as it appeared to completely obstruct an attendee's view who just so happened to be sitting behind the singer. Actor Devon Sawa even took to Twitter to poke fun at the situation, while others went as far as to call Tems' Oscars look downright rude.
It should be noted, however, that this isn't the first time an Oscars attendee has ruffled some feathers with their fashion choices. In 1986, singer Cher opted to wear an all black Bob Mackie ensemble, complete with an enormous feathered headpiece. Think: extra long feathers poking out from every direction, creating a large and in charge wreath around her head. It's probably safe to say the attendees sitting behind her were also less than thrilled. Perhaps next year the powers that be at the star-studded affair should provide some guidance regarding headgear and what constitutes an appropriate size. TBD, we suppose.