How Robert Downey Jr.'s Wife Susan Turned His Life Around (& His Career)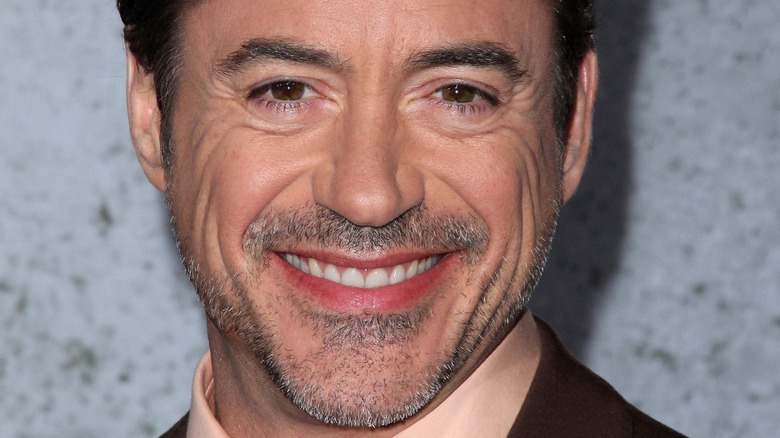 s_bukley/Shutterstock
The following article includes mentions of addiction.
Robert Downey Jr. seemingly had everything — until he didn't. Per IMDb, he was a successful award-winning actor. However, alcohol, drugs, and depression took over his life. The Guardian reports that Downey Jr.'s life spiraled, resulting in his first arrest and the infamous "Goldilocks incident" where the dazed and confused actor was discovered in a neighbor's house curled up in bed snoring loudly — while on probation awaiting trial.
At the time, Downey Jr. was married to his first wife, Deborah Falconer. The couple wed in 1992 and had a son, Indio Falconer Downey. After a decade of helplessly watching addiction tighten its grip resulting in multiple trips to rehab and jail, their relationship fell apart. "I'm just sinking deeper into my depression sessions," Downey Jr. reportedly said. "Sometimes I'm just dead." After he was sentenced to 3 years of incarceration, Falconer was done. She'd stuck by his side throughout but ultimately filed for divorce. It was finalized in 2004.
Downey Jr.'s time in jail was humbling. According to Vanity Fair, he worked five days a week in the institution's kitchen for a measly eight cents an hour. Initially, that would be more than he could earn in the outside world once he was released, as Hollywood deemed Downey Jr. unemployable due to sky-high insurance costs. That all changed, though, after he met his next spouse. Somehow, Robert Downey Jr.'s wife, Susan Levin, turned his life around (as well as his career).
Susan Levin gave Robert Downey Jr. a sobering ultimatum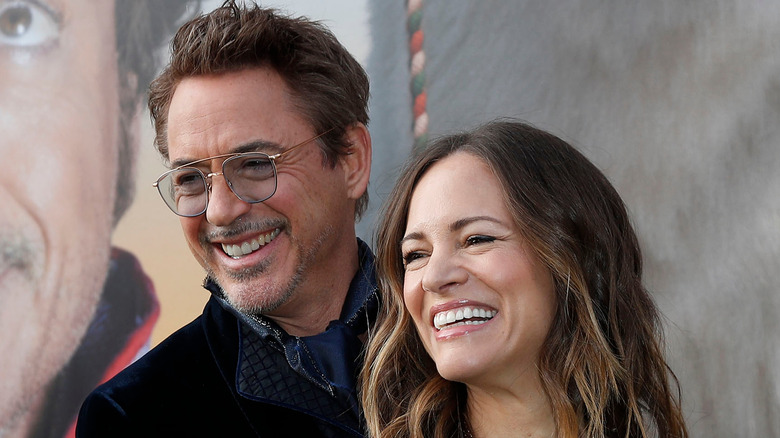 Kathy Hutchins/Shutterstock
Robert Downey Jr. was deep in the throes of addiction when he first encountered Susan Levin on "Gothika" in 2003. "The main thing I remember about meeting him was thinking how strange he was," she told Harpers' Bazaar. Meanwhile, he admitted, "Whatever I was hungry for when I met Susan, I couldn't have known how much more satisfying what I got would be."
Susan was the catalyst for Downey Jr. finally getting sober. She gave him an ultimatum: quit alcohol and drugs or split up. He chose the former, it stuck, and the couple married in 2005. However, it was and will always be one day at a time; but luckily for Downey Jr., he has a strong, hugely talented, and driven woman to help steer him through troubled waters.
Per The Hollywood Reporter, Mel Gibson initially came to Downey Jr.'s rescue, casting him in the TV version of "The Singing Detective." Gibson even stood as guarantor for the exorbitant insurance policy needed to employ the actor. In 2007 he landed the "Iron Man" role, which became a multi-million dollar smash hit franchise. Then in 2008, Susan used her connections to hook her husband up with Guy Ritchie, resulting in "Sherlock Holmes," which she co-produced. "If Susan hadn't been in the room," Ritchie told THR, "Robert probably wouldn't have become Sherlock Holmes. She facilitated it, definitely." They continued their career collaboration, and in 2010, they launched their own production company, Team Downey.
Robert Downey Jr. is embracing his second chance at life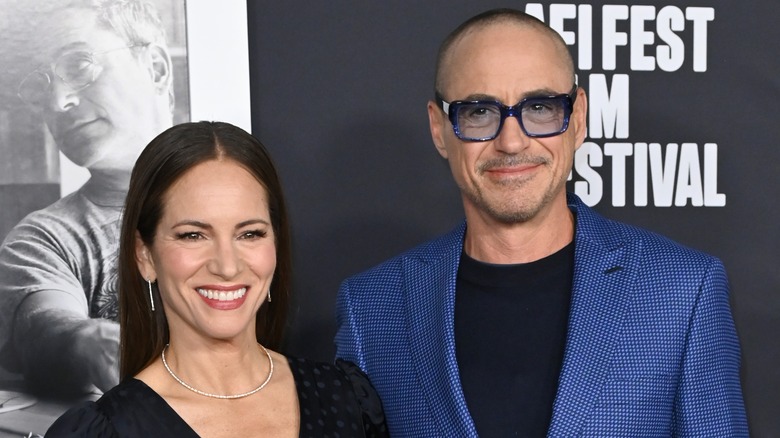 Featureflash Photo Agency/Shutterstock
Robert Downey Jr. and his wife, Susan Levin, may be opposites in many ways, but that just proves that opposites do attract. "I think our working and our personal relationship, it's all interconnected, which is why we got into business together. Because what we do takes so much of our time and energy," Susan told The Hollywood Reporter. "It also takes you out of your element together, which is, I think, also just good for any relationship," Downey Jr. added.
Meanwhile, he's filled with gratitude for his saving grace. "Today marks 17 years of unadulterated marital bliss," Downey Jr. posted in 2022 (via Fox News). "Susan, you are my bedrock, touchstone, and lucky stars to boot." The couple shares two children, son Exton Elias and daughter Avri Roel. Since meeting his wife, Downey Jr.'s life is like night and day compared to the dark past times. The Guardian reports that the most potent tipple he enjoys these days is black tea, and Downey Jr. relies on meditation and martial arts to blow off steam.
He's been given a second chance and is grasping it with both hands. "He f***ed up, but it was at his own expense. He didn't jump on Oprah's sofa or make a racist slur," film writer Ben Walter told The Guardian. "There's a built-in humility with him that comes through in his films; he's cocky but doesn't have that 'the world owes me a living' thing."
If you or anyone you know needs help with addiction issues, help is available. Visit the Substance Abuse and Mental Health Services Administration website or contact SAMHSA's National Helpline at 1-800-662-HELP (4357).