Doja Cat Fashion Moments That Set The Internet On Fire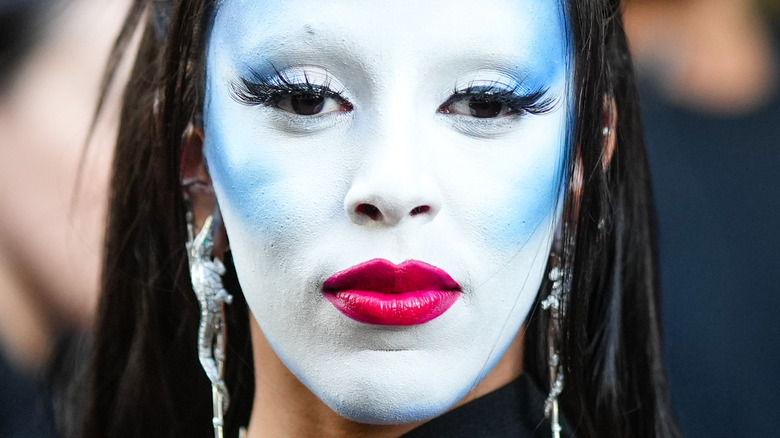 Edward Berthelot/Getty Images
Doja Cat reached newer heights in the pop music scene with the Billboard No.1 release "Say So" and hasn't missed a beat since. Sixteen Grammy nominations and one win later (as of this writing, at least), the half-South African singer-rapper is getting the masses talking as much for her quirky choice of Twitter names as she is for her style. Doja Cat has come a long way from the days she rocked beanies at events. While her fashion sense has maintained a bold edge — case in point, her all-knitted pink dress at the 2019 BET Awards — she's found a new expressive freedom that's staging itself to all and sundry. 
Given her confidence, it's nearly impossible to fathom the idea that Doja Cat was once worried about her appearance. "I actually had a problem at one point where I was doing all these music videos, I wouldn't ask to see the screen," she divulged on Audible's "Origins" podcast (via Billboard). "... I'd see myself and be like, 'Oh my God, I approved that? Why did I let myself look like that?'" 
Going by Doja Cat's snazzy red carpet ensembles, her insecurities appear to be a thing of the past. It's all systems go fashion-wise, and the internet has caught on. These are all the times she's served her fans some truly dumbfounding looks.
Her nude AVN Awards performance outfit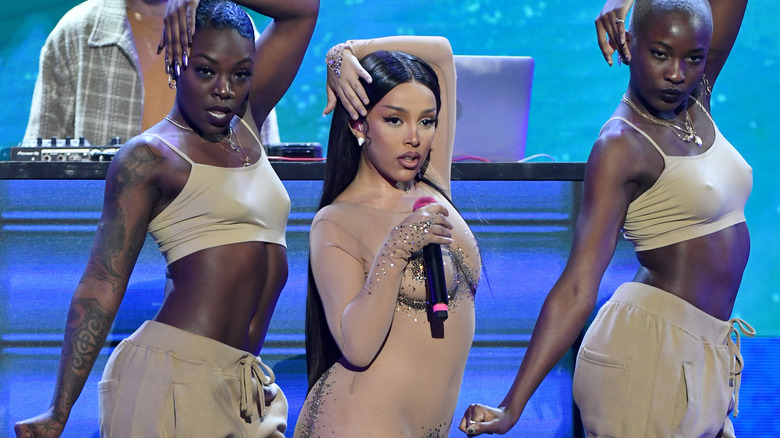 Ethan Miller/Getty Images
In December 2019, it was announced that Doja Cat would be the second female act to stage a performance at the Adult Video News Awards. Earlier that year, "Money" rapper Cardi B had made history as the first female artist to take to the AVN Awards stage. Hyping her set ahead of the performance, Doja Cat told AVN, "We've got something special planned for you all. Can't wait!" True to her word, the "Juicy" rapper hooked her audience on lyrical delivery and even more on her choice of costume.
For the event, Doja Cat sported a nude figure-hugging bell-bottom suit with a dark rhinestone finish that accentuated her bosom and backside. Firmly placed in her groin area was raven tailoring that conspicuously mimicked netherhair. In a "Smash or Pass" game with Variety, Doja Cat gave the outfit a pass. "It's really nothing against the people who made it," she remarked. "... I don't know why I said to contour the a**cheeks. It looks like I have a hairy a** and we didn't really see that coming."
She wore a chair hat at the 2021 MTV VMAs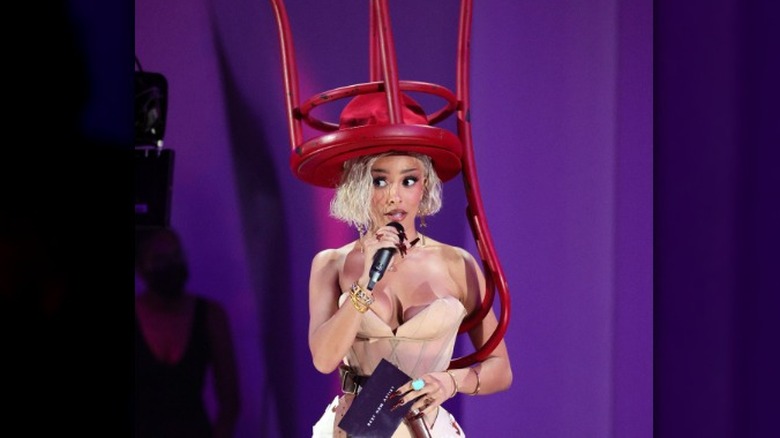 Theo Wargo/Getty Images
At the 2021 MTV Video Music Awards, Doja Cat was not only a performer but also a nominee. The "Need to Know" singer-rapper would also be trying her hand at hosting for the very first time.
When it came to turning heads, Doja Cat left no crumbs. She received the Best Collaboration award for "Kiss Me More" featuring SZA while donning a bright patterned worm dress with jewelry embellishment on a puffed-up top. "It's less of a dress and more of, like a piece of art," she said of the outfit during her "Smash or Pass" conversation with Variety.
Things got more heated in the Doja Cat fashion corner when she showed up on stage wearing a red chair hat atop a messy blonde bob. And as if to stamp her position as the queen of unorthodox fashion — um, goodbye meat dress-wearing 2010 Lady Gaga — she closed the show off with a pair of oversized, ombré chicken feet boots. Discussing the inspiration behind her final costume of that night with Variety, Doja Cat quipped, "F***ing Willy Wonka in the Chicken Factory."
Doja Cat's eyeful Grammy's plunge gown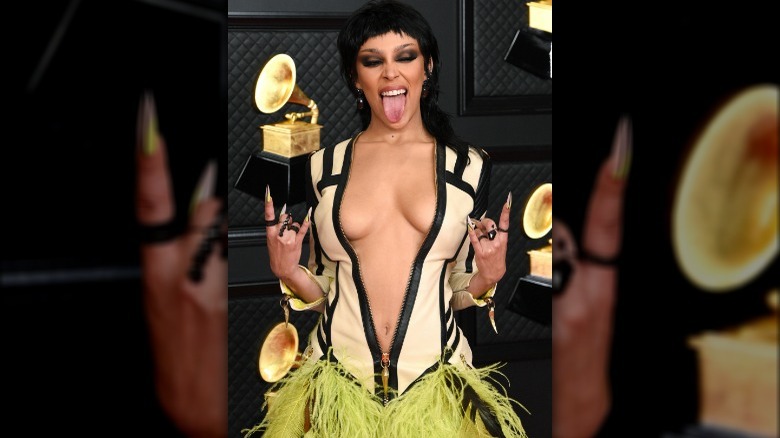 Kevin Mazur/Getty Images
In 2022, Doja Cat beat a number of veteran artists such as Justin Bieber and Lady Gaga to win the Best Pop Duo-Group Performance award for "Kiss Me More" featuring "Kill Bill" song sensation, SZA. A year prior, Doja Cat had shown up on the Grammys red carpet in a neck-plunging gown that exposed her belly button (above). She paired the part-lime green-feathered Roberto Cavalli biker dress with smoky eye makeup and a round-shaped micro-bang mullet. The ensemble even boasted cat claws on the zippers.
In many ways, Doja Cat's ensemble brought back memories of the (in)famous green Versace dress that Jennifer Lopez wore to the 2000 Grammy Awards — a gown so powerful that it actually birthed Google Images according to former Google chairman Eric Schmidt. In a 2015 essay for Project Syndicate, he wrote of the internet-breaking dress, "At the time, it was the most popular search query we had ever seen. But we had no surefire way of getting users exactly what they wanted: J­Lo wearing that dress. Google Image Search was born."
When ET's Kevin Frazier caught up with the singer-rapper on the rap carpet, he noted that the dress was serving major Jenny-at-the-Grammys vibes. Doja Cat was delighted but humble about the comparison. "Don't say that to me!" she joked. "Say that to someone else. I can't handle that. Thank you, but no. I have to respectfully disagree."
Doja Cat's real-time big chop on Instagram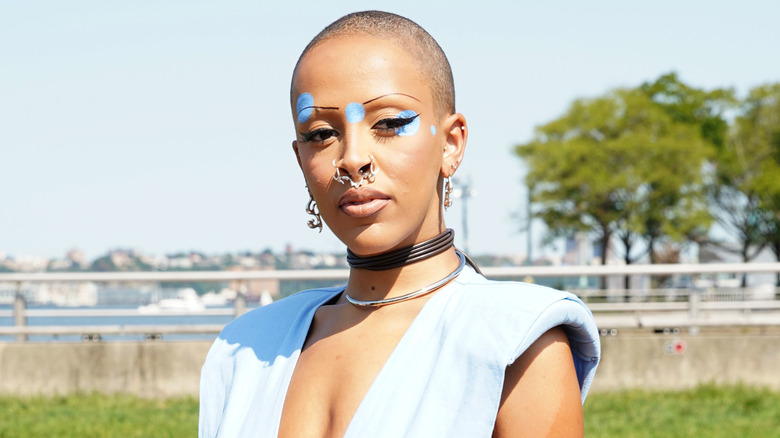 Rob Kim/Getty Images
In an Instagram live session (via Pop Crave), Doja Cat revealed to her followers that having hair wasn't really her cup of tea. If anything, it took away her ability to be productive. "I cannot tell you one time since the beginning of my life that I've ever been like, 'This is cool.' I just do not like to have hair," she shared.
In addition to debuting a bald look, she also proceeded to shave her eyebrows while her fans watched in awe. Of course, her makeup artist wasn't amused, but the moment stood out as one of Doja Cat's boldest beauty moves yet. In the hairless space her brows once occupied, the performer created a canvas for body art – colorful patterns, thin white arches with matching lashes, and emoji-inspired layouts.
Speaking to Dazed, Doja Cat disclosed that she had tapped into a liberating sense of individuality. "There's something so exhilarating about change," she said. "(It) showed me a different side of myself. I feel so new, fresh, and sexy. I also feel better without make-up — having this bare head and so little make-up is a fun experience ... I love it."
She launched a clothing collection
It's no secret that Doja Cat has an entrepreneurial side. In 2021, she debuted a makeup collection with the Los Angeles-based brand, BH Cosmetics. Less than a year later, Doja Cat unveiled a fashion line dubbed "It's Giving," a one-stop merchandise shop that sells a variety of stylish casual-wear.
On Instagram, Doja Cat's announcement of the new venture blew her followers' minds as she posed in a white branded G-string, a crop top, and a cap. The suggestive picture was accompanied by a caption urging her fans to shop at the newly opened online boutique. Without a doubt, Doja Cat's followers read the mood and rose to the occasion. The entire look also spurred a series of flirtatious comments — clearly, it was too hot for some to handle. 
In Variety's game of "Smash or Pass," Doja Cat gave herself a big nod. "I always wanted to make clothing but I wanted to, you know, start simple and do some cute little things like that ... t-shirt and panties and then sweatpants and whatever. That whole thing," she said. The star added that although she was beginning with the basics, she nonetheless had her sights set on expanding the offerings of her brand further down the line. 
She gave her head white patterns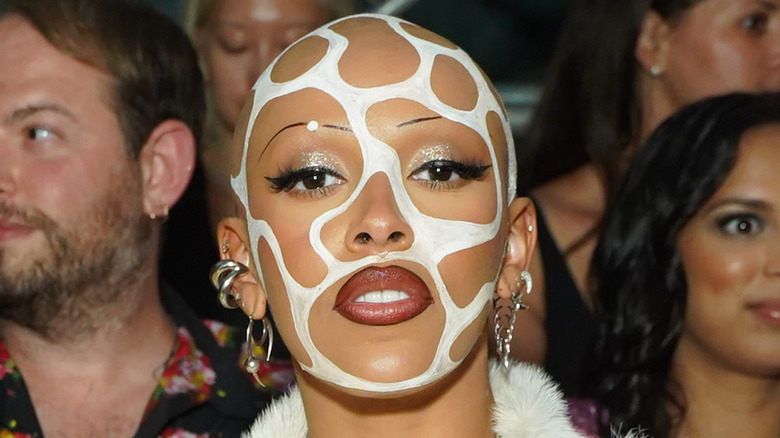 Sean Zanni/Getty Images
As it turned out, Doja Cat's hairless eyebrows weren't her only muses. Her entire face also paved way for the "You Right" singer to explore an artistic side at the Vogue World New York Fashion Week showcase. She covered her head in white webbed patterns as part of a monochrome ensemble that included a midriff shirt, a close-fitting high-low skirt, a faux-fur trench coat, and matching knee-high boots.
"It has influenced my style in an interesting way," Doja Cat said of her emerging exploratory era in a conversation with Vogue, as the publication chronicled the making of her fierce look. "I have really been able to stretch my love for makeup."
Doja Cat stops at nothing in her quest to make statements. In addition to body art, her clothes are seemingly walking the talk at a slower pace. At the Marni Fall 2022 showcase, she rocked a t-shirt emblazoned with the provocative print, "I'd rather be eating a**." As she told Vogue, she wholeheartedly stood by the tee's message. "The shirt rings true. I wouldn't wear something that says something I don't believe in ... everyone loves an iconic T-shirt." Indeed. 
Doja Cat wrapped up for Vivienne Westwood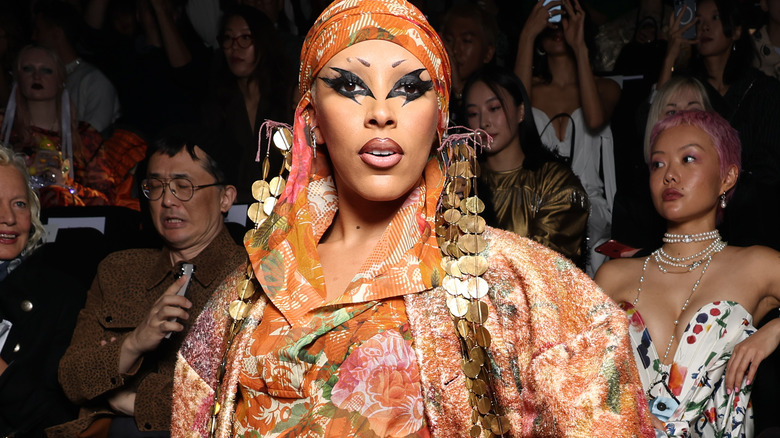 Pascal Le Segretain/Getty Images
As far as modesty goes, Doja Cat hasn't been left out of the conservative fashion game. In a twisted turn of events, far from her documented penchant for revealing clothing, Doja Cat was all wrapped up while attending the Vivienne Westwood Spring-Summer 2023 show at Paris Fashion Week. Her respectfully tailored ensemble may have had a deeper purpose. After all, Vivienne Westwood, the legendary ex-educator turned-designer renowned for shaping punk fashion in '70s London, had died just weeks earlier, at 81. This collection was the first catwalk for the fashion icon's brand without the late designer. "She represents everything for me," Doja Cat said of Westwood at the Fashion Week event, per AP Archive. "I really hold dearly punk ... close to my heart."
Doja Cat traded her signature low-cut t-shirts for a loose-fitting intricate blouse that matched her headscarf. Her lower half was covered in what looked to be multiple layered floor-length skirts paired with striped leg warmers and black open-toe wedged heels. All of it played perfectly into part of Westwood's own signature design aesthetic which often incorporated multiple layers, overblown silhouettes, and a teased sensuality hidden beneath it all. Playful with makeup as always, Doja Cat's painted eyebrow arches were nowhere in sight. Instead, a brief brow head was in place to complement a smoky eyeliner technique that had goth written all over it.
Doja Cat's gold-painted look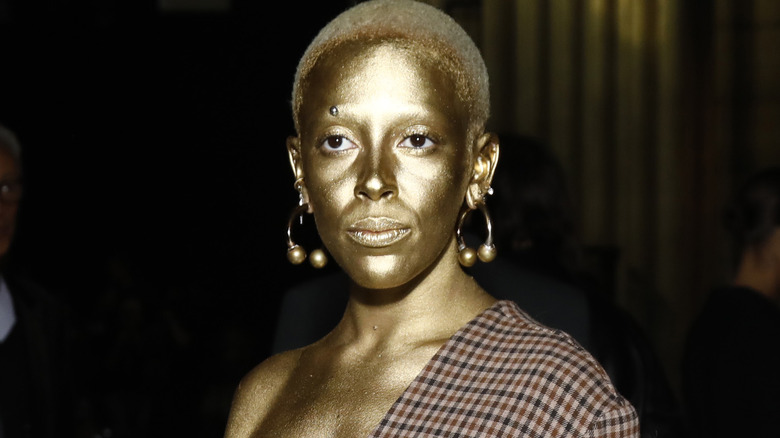 Julien Hekimian/Getty Images
In the spirit of going big or going home, Doja Cat coated her face, neck, and chest in gold paint for the A.W.A.K.E Mode Paris Fashion Week show. Sporting a checked suit with an asymmetrical neckline and pants that swept the floor, she finished off the look with a golden manicure. During her "Smash or Pass" chat with Variety, the musician explained that her motive was to highlight every aspect of her face — even the parts that some would feel inclined to disguise, rather than emphasize, with makeup. "It brought out features in my face that maybe a lot of people would hide if they had those things," she said. "Like my smile lines and these little things under my eyes," she explained.
On Twitter, an unimpressed user likened the look to an ancient sculpture and suggested that Doja Cat didn't look cute for it. "When you do makeup like this you still need to accentuate features," they advised. In response, Doja Cat insisted that she was dancing to the beat of her own drum, one which told tales without the restriction of fashion laws. "I wasn't trying to look sexy or attractive," she proclaimed.
A vampy blue and white face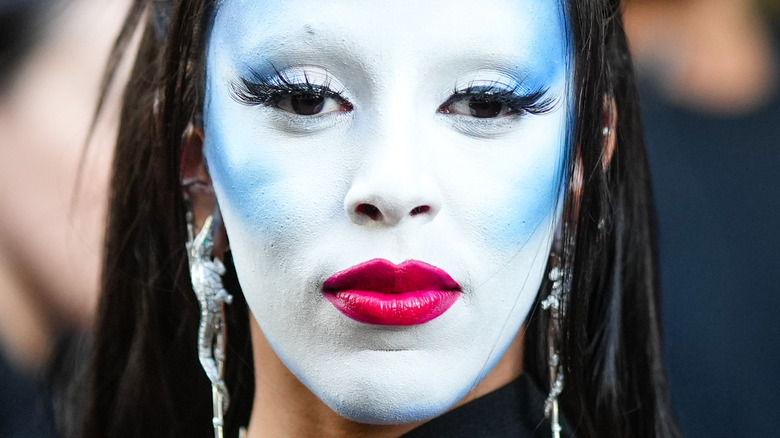 Edward Berthelot/Getty Images
For the Mônot 2023 Spring collection showcase, Doja Cat stole the show in a black dress that was an obvious head-turner, but it was her electrifying artwork that made a memorable mark. Right above her elbow, all the way to the tips of her fingers, Doja Cat was coated in a black-painted set of gloves with circular markings on the side. Her face, a mix of white and blue color, red lipstick, long lashes, and no brows, made for a striking impression. As noted by many fans online, the look appeared to be a respectful homage to the iconic makeup worn by Grace Jones in "Vamp."
It became evident that Doja Cat's Paris Fashion Week team, at the center of which was makeup artist Laurel Charleston, was leaving no stone unturned. "This look was one of my favorites because of how impactful, bold, and surreal the makeup was," Charleston said of Doja Cat's eye-catching appearance in an interview with Vogue. "I do a great deal of body painting in my work, so it was a really cool opportunity to incorporate that [paint]."
She was covered in red for a Schiaparelli show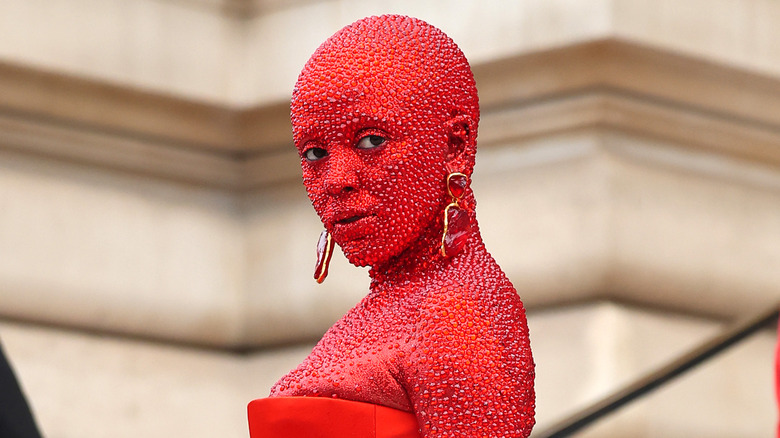 Jacopo Raule/Getty Images
At the Schiaparelli 2023 Spring Haute Couture show, Doja Cat went for an audacious all-red, part-paint, part-dress costume while covered in 30,000 pieces of Swarovski crystals. The making of the unparalleled ensemble, a brainchild of British makeup artist Pat McGrath's team, was a time-consuming affair. "Such a pleasure working with the gorgeous [Doja Cat]," McGrath expressed via Instagram, adding that Doja Cat exercised composure during the process that was two minutes shy of hitting the five-hour mark. "The final product was a magical, mesmerizing masterpiece of sparkling brilliance," she wrote.
Her sentiments were echoed by Doja Cat's fans, some of whom added a little humor to their opinions. "It's cool and cute and unique [until you] are walking down the street alone at 11:00pm and see it,' one Twitter user wrote.
Behind the scenes, Doja Cat acknowledged the magnitude of the history-making moment in a dialogue captured by British Vogue. "Thank you so much for having me. This is a f***ing blessing. I'm so, so grateful. It's the best thing I've done," she declared. In the same video, the star could be seen examining how her look had blown up online, where she appeared to be amused by one netizen who quipped in the comment section of one post, "Is this a secret X-Men meeting?"
A Paris Fashion Week lash-tache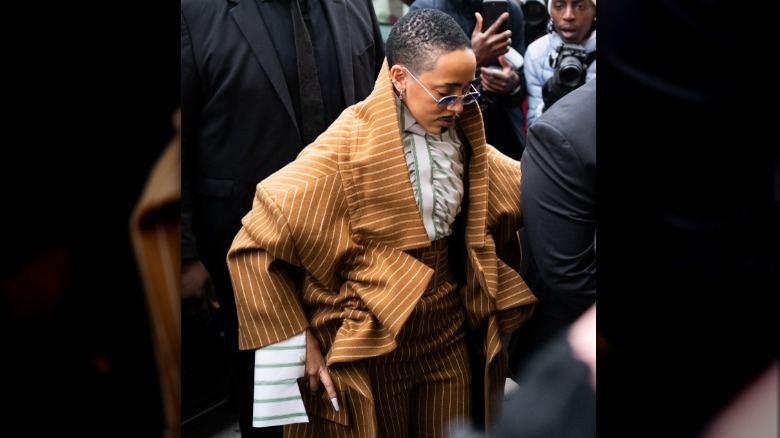 Claudio Lavenia/Getty Images
Doja Cat's visage took an unshaven turn at the Viktor & Rolf Haute Couture Spring-Summer 2023 showcase, in part due to pressure from critics. "[A] few days ago I did Schiaparelli and people are saying that I didn't have lashes and that they're disappointed ... so today I gave them lashes," she quipped to British Vogue. Of course, Doja Cat brought her hair back in a way only she could pull off – fake lashes placed in a multitude of straight arches to simulate eyebrows, a gapped mustache, and one distinct soul patch. "Is it a must-LASH?" joked one inventive fan in the comments of her Instagram selfie showing off the look. A pair of blue tint glasses complimented the look, drawing attention from Doja Cat's striped suit.
While some fans thought she looked a bit familiar and likened her to Lin-Manuel Miranda and former Vine star-turned-director Liza Koshy, others couldn't help but wait for other critical takes. "I'm yet to see conservative think-pieces on Doja Cat wearing a pantsuit and a mustache to a fashion show and how it's a sign of societal collapse..." one Twitter user joked.