11 SZA Things Only Superfans Know About The Star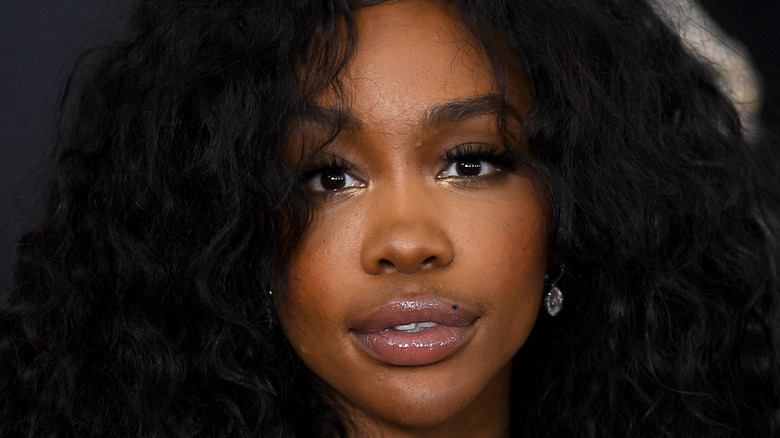 Dimitrios Kambouris/Getty Images
Born Solána Imani Rowe, Grammy award-winning artist SZA is more than meets the eye. Throughout her decade-long career, SZA has gradually risen up the music ladder, cementing her place both as a singer and songwriter. She's worked with who's who in the music industry, producers and artists alike. In between making magic with London on da Track, collaborating with Sam Smith, and getting Drew Barrymore to appear in her music video, SZA has morphed into a household name with over 12 million followers on Instagram, to boot.
For the Missouri-born musician, the life she is living now is a result of heavy manifestation. She's somehow found a way to speak things right before they happen. "I feel like my thoughts are really strong and everything that I think about happens, good or bad," SZA told Complex in 2021. Lucky for her, good things tend to happen more, and it trickles down to the Wu-Tang Clan, with whom she shares an unlikely divine history. As she told Genius, SZA was inspired by the East Coast rap group to find her stage name. She's rolled with it since, and maintains a sultry smooth demeanor, under which there are lesser-known truths.
SZA stopped wearing the hijab after 9/11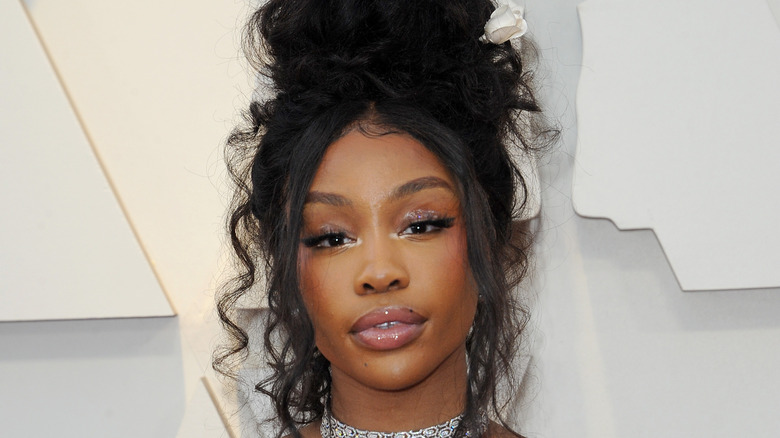 Tinseltown/Shutterstock
SZA was raised in a part-Christian, part-Muslim household. To date, she practices the faith (Islam), and only draws the line when it comes to covering up. Her reason is valid: She's likely to be profiled if she's seen in a hijab. The decision to do away with this significant part of her religion came after the September 11 2001, attacks. "I stopped covering after 9/11 because I was so scared," SZA said in a TikTok live interview with Muslim Girl. The "I Hate U" singer further revealed that she does have moments where she thinks about covering up. Her religion gave her the leeway to present herself to the music industry in an unorthodox "a little different and not polished or any of that" way but sometimes she thinks, "Oh, I want to wear a hijab. I wonder if I could."
In the daily practice of her faith, SZA admits that she could do a little better. She's yet to catch on to praying five times a day. Practicing Islam comes with a number of social restrictions, the biggest of which has been not being able to celebrate holidays such as Halloween when she was growing up. Through a 2020 tweet, the singer, while replying to a question by a fan who wanted to know how she spent Halloween, wrote: "I was raised muslim n didnt celebrate Halloween til college by then the hype had passed lmao I'm a spooky h** all yr round."
She abandoned a career in customer service to pursue music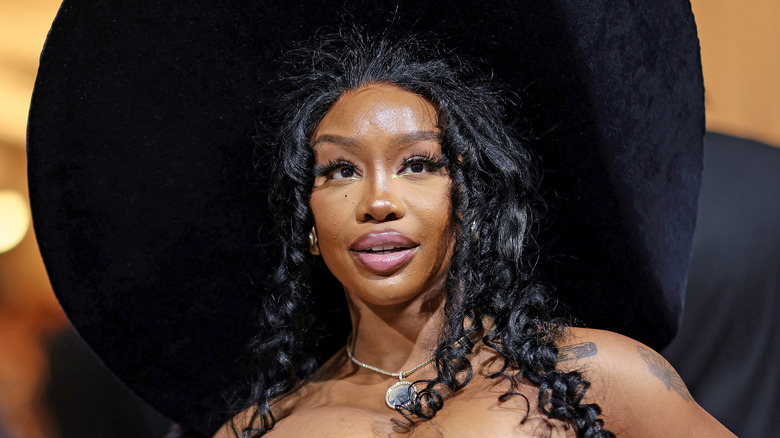 Dimitrios Kambouris/Getty Images
In 2013, 23-year-old SZA had barely made a name for herself, and was in the infant stage of her music career. The result? Being dropped from one customer service job to another. Following the release of her first extended play, "See.SZA.Run" and its sophomore follow-up "S," she conducted an interview with Billboard detailing all she had to forgo to follow her calling.
A self-confessed National Geographic fan, in an alternative universe, she would spend all her time watching "Orangutan Island." In this one, however, SZA took up any jobs she could after graduation. "But in the meantime I just needed money. I got fired from every job I had though," she said. She landed a bartending job that didn't end well because of an altercation with her boss. At the time of the interview, SZA's recollection of a day job was a brief stint at Sephora. It was surreal because her music had started making rounds but her pockets were empty.
As the music grew legs, so did her bank account and popularity. She got big enough to secure an interview with legendary producer Pharrell Williams on "OTHERtone," only to reveal that she "never wanted to sing." As far as she could remember, SZA was a gymnast and a dancer. Doing music "seemed like a job. Like a burden that would remove the joy of listening." She only got into the craft through her brother, who's a rapper, and the rest, as they say, was history.
SZA reflects on her debut album every year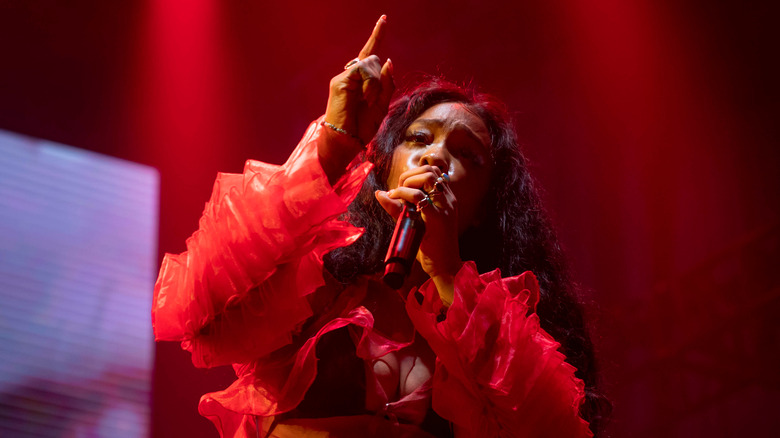 Hunter Crenian/Shutterstock
"Ctrl" is SZA's debut studio album, which dropped three years after the release of her EP, "Z." As to whether the album would drop was up for debate, if SZA's deleted tweet is taken into account (via Essence). The singer was going through a rough patch with her record label, Top Dawg Entertainment. When a concerned fan asked about the album, she responded, " I actually quit. @iamstillpunch can release my album if he ever feels like it. Ya'll be blessed."
Trouble at Top Dawg Entertainment didn't really last long. At an interview with Complex, conducted a while after her unsettling tweet, SZA let it be known that she was giving the project all she had. "Growing up as a woman, making tough decisions, and sticking by my own s**t is necessary ... I'm definitely committed to completing this and I think we'll take it from there."
On "Ctrl," SZA left it all on the table, giving her fans rawness, authenticity, and all the good earthy tones that come with supreme artistry. Every year, on the anniversary of the album's release, SZA uses the opportunity to "cry and reflect," as she explained to Vogue. "Ctrl" debuted at No. 3 on Billboard, and by 2018, it was certified platinum. For someone who took a chance and simply ran with it, the heights "Ctrl" transcended were unprecedented. "I never imagined I'd make it this far," SZA commented.
Inside the singer's love-hate relationship with fame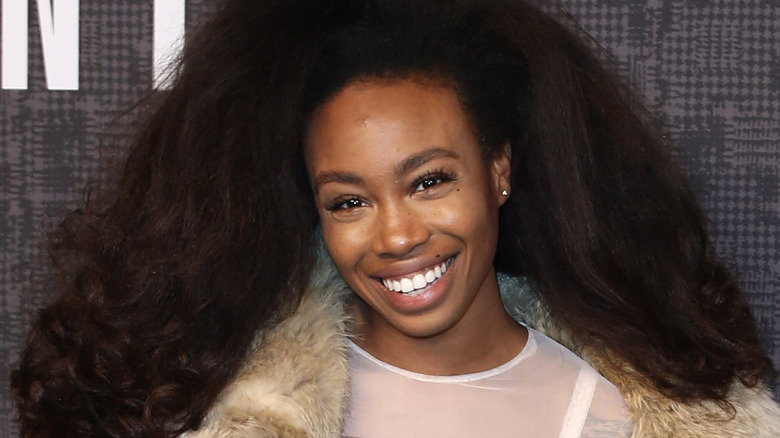 Debby Wong/Shutterstock
SZA's entry into the music industry came with its fair share of byproducts, the biggest of which is fame. This, seemingly, is the part she doesn't like the most. From not going to events and blatantly emphasizing that she's only still in the business because of "purpose," her disdain for celebrity culture is not nuanced at all. "I swear to God if I didn't accidentally fall in love w music .. I would NEVER COME OUTSIDE. Y'all suck the joy and life out of EVERYTHING," she tweeted.
In the past, SZA has been vocal about her struggles with anxiety. Fame, as it turns out, doesn't come naturally to her. During an interview with Finish Line Women, SZA revealed that she was forced to leave the Met Gala early because she was anxious. "I snuck out the back as soon as Lenny Kravitz hit the stage because I was feeling very [much] like, 'Whoa, my anxiety's going crazy," she narrated. Through a tweet, SZA begged not to be invited to any industry events because, "I have way too much anxiety to be outside."
When it comes to dealing with social media trolls, her answer to bullies on TikTok was leaving the platform. Through her Instagram Stories (via Complex), she wrote that the move was in light of mental awareness month, writing, "I encourage everyone to delete anything anyone and everything that doesn't serve you."
If you or someone you know is struggling with mental health, please contact the Crisis Text Line by texting HOME to 741741, call the National Alliance on Mental Illness helpline at 1-800-950-NAMI (6264), or visit the National Institute of Mental Health website.
She will only do interviews under one condition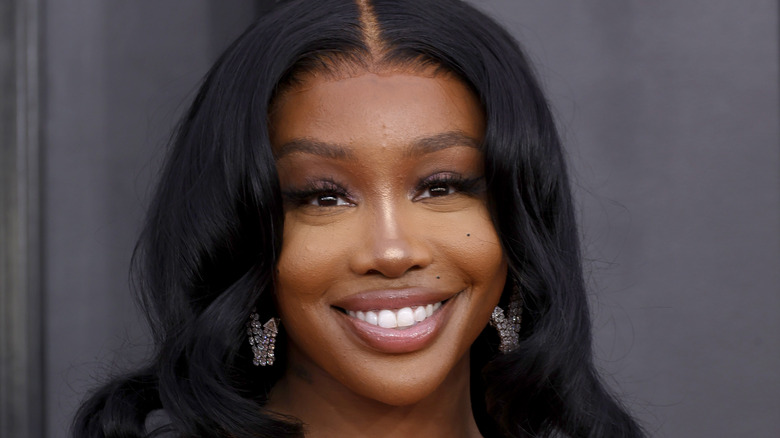 Frazer Harrison/Getty Images
Not only do events awaken the anxiousness in SZA, interacting with the media does, too. This is largely because however much she tries to be in charge of her own image, she gets the short end of the stick. This discovery prompted her to eventually opt out of interviews. In February 2020, SZA tweeted that she would not be giving any interviews going forward. "Not doing any videos Interviews or photos for the rest of my life lol don't ask," she wrote.
SZA would later change her mind and grant an interview to Wonderland, explaining the reason behind her change of heart. "The only reason is because I get creative control over this whole spread and I get to take my own pictures for once in my life," the "No Love" singer remarked. She was hell-bent on owning her narrative and not letting anyone else get in the way of how she presented herself to her fans, down to what she wore. "I get to dress how I wanna dress and light myself how I wanna light myself. When you don't get to decide how people see you, or what is even beauty to you, or anyone else... Through the lens of someone else it can just get real dangerous."
SZA has nothing but love for other female artists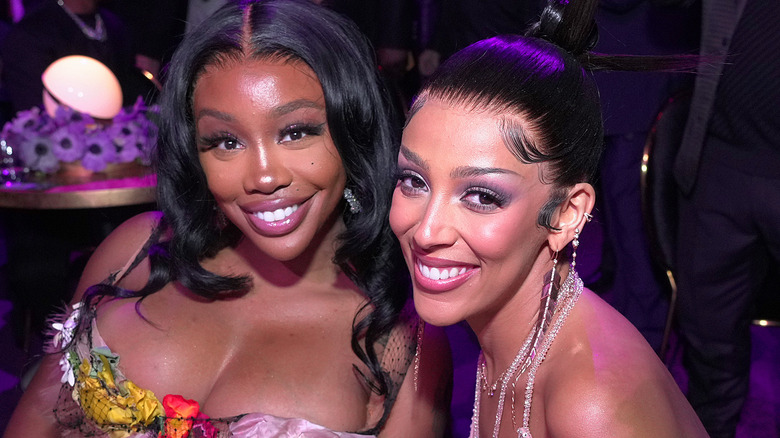 Kevin Mazur/Getty Images
When it comes to relating to other artists in the music business, SZA tends to maintain a cordial front. Besides the revelation of her former relationship with Drake, everything else is on the low. She's had beautiful collaborations with female artists in the past, including "Kiss Me More" with Doja Cat, which has amassed over 300 million views on YouTube.
Sometimes female artists can get a little petty, like the time Azealia Banks tried to imply that she was the inspiration behind SZA's style on the "Drew Barrymore" video in a since-deleted Instagram post. In that instance, SZA borrowed a leaf from the playbook of Beyoncé, who's earned a strong reputation for letting people talk as she does her own thing.
In an industry where artists are often set up as rivals, SZA maintains a strong love for other musicians, particularly ladies in the game. Speaking to Billboard, she disclosed that her playlist goes beyond hip-hop and R&B, although she's more likely to be listening to rap on a good day. "I love Tiana Major9. She's so crazy ... I've been listening to all the girls. Of course, Summer [Walker], Kehlani, and Ari [Lennox]. Those are my favorites, but I love all these new ones coming out. I think it's a beautiful time for music," she declared.
Her friendship with fellow singer, Lizzo
In addition to showing support to female artists in the industry, SZA shares a special bond with singer and body positivity activist, Lizzo. The pair are friends, not just in an industry sense, but have gone as far as having photoshoots together just for the sake of it. On Valentine's Day 2021, Lizzo shared pictures of the pair in red lingerie, with a cute caption and an emoji.
According to SZA, her friendship with Lizzo is nearly effortless. Speaking to PopSugar, she said, "I never feel like I have to be anybody else around her, ever ... I love that we're completely different people, and we vibe and have fun in ways that are completely different." They regularly send each other unreleased music, a gesture which, in the eyes of SZA, is "so inspiring." Though they are worlds apart, both Lizzo and SZA share a love for healing and meditation, so much so that they hosted a virtual meditation session online, back when the pandemic was at an all-time high.
Lizzo and SZA have their own way around fun, including attending a Harry Styles concert where they got to hang out with K-Pop's finest, BTS. Or how about the time they enjoyed a simple dinner with Kehlani in the full glare of the paparazzi.
Songs you didn't know were written by SZA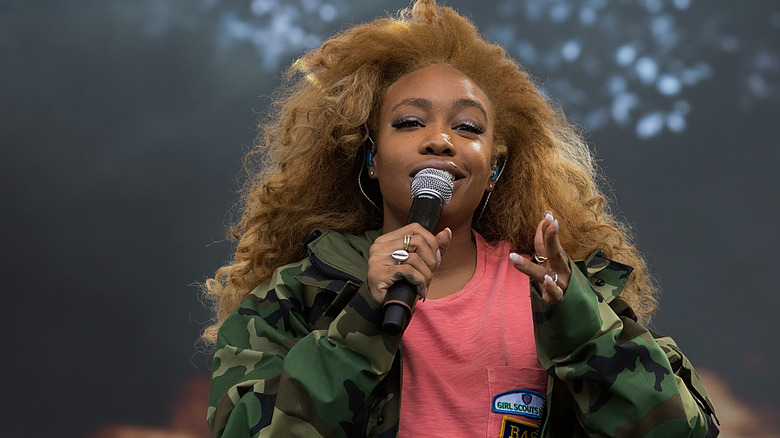 Andrew Chin/Getty Images
SZA does a pretty fantastic job when it comes to releasing hits. Besides her own collection of top-charting tracks such as "Good Days" and features like "What Lovers Do," SZA could easily have a successful career as a songwriter. She's responsible for Beyoncé and Nicki Minaj's "Feeling Myself," released off of the rapper's "The Pinkprint" album. For a since-deleted interview with Sway's Universe (via MTV), she said, "Yeah, I wrote parts of that. A nice chunk of that." SZA is also credited with writing "Consideration," the opening song from Rihanna's last known studio album, "Anti."
In a Rolling Stone interview, SZA shared parts of her writing process, which on occasion can be as fun as writing at Rick Rubin's house. According to SZA, the producer's house "is a very healing place." Of her songwriting process, there's a solid rule that towers above all. SZA does not name any of her songs after the lyrics. "It's stupid," she said at a past interview with GQ, further adding that she'd rather name a song after the topic in question as opposed to simply asking "What's a cool name for this song?" or "What did I say in the hook again?"
Some of her songs are from real-life experiences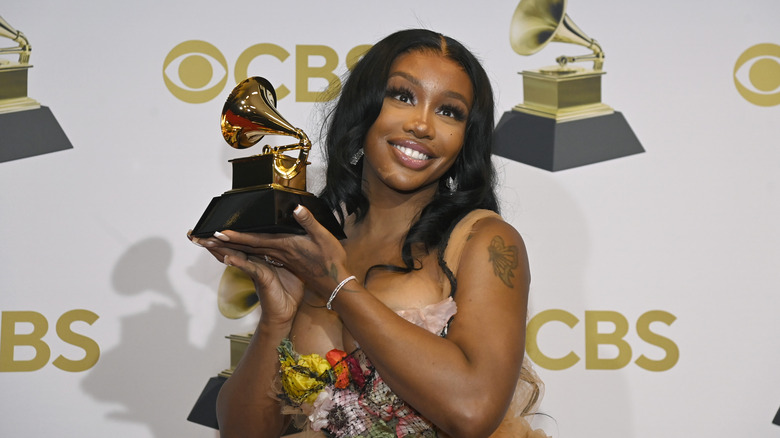 David Becker/Getty Images
It's not an uncommon trait for artists to use their lives as a canvas through which authentic art is created. Adele, for one, has mastered this technique that has birthed some of her biggest hits to date. Adele's song "Send My Love (To Your New Lover)" was written for an ex-boyfriend, something she explained to The Guardian. 
Just like Adele, SZA incorporates truth in her music, regardless of how it's received. In her song, "Supermodel," she talks about getting naughty with her boyfriend's friend, something that did take place in real life. The finer details of their encounter were recounted to "The Breakfast Club." As she explained, "It was ... a boy that I liked and I'd been seeing and we had been kinda talking, and I wasn't giving him any play because I liked my boyfriend."
As much as the singer was in love with her boyfriend at the time, the thrills of this possible new fling were a little too hard to resist. Her feelings eventually caught up with her. "On Valentine's day he, like, AIMed with that (it was crazy!) He AIMED me. He didn't call me, he didn't text me," SZA said. She further told Charlamagne tha God and Angela Yee that she knew better afterward, and put a lot of intention towards making "Supermodel" a good experience, unlike the situation she found herself in.
How SZA coped with losing her loved ones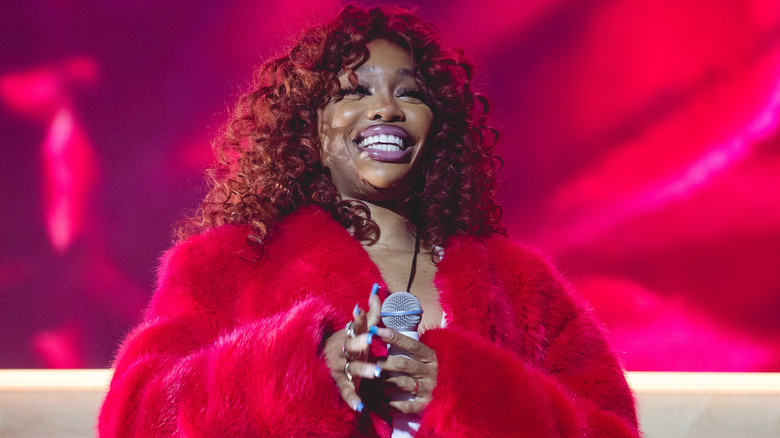 Rick Kern/Getty Images
Being in the public eye does not exempt SZA from experiencing pain. Life has a way of taking a toll on everyone, and she's been handed a number of lemons in the past. In the aforementioned Rolling Stone interview, SZA revealed that losing some of the people she loved resulted in severe depression. "I've buried so many people in my life, you would think that I would be used to it, or just have a threshold," she told the publication. The result of being thrown headfirst into a dark space was a lack of desire to make music. It was a lonely period for SZA. "I was just trying to not kill myself, and not quit, period."
For someone whose music has been said to heal, SZA had recovery of her own to do, and exercise and meditation provided that. Spending time in the gym has proven to be beneficial in the long-term, and SZA's killer abs can be seen on display in some of her music videos, including "Hit Different." Meditation, on the other hand, is a practice that allows SZA to keep her feet on the ground. "Meditation is the easiest way to re-center and ground yourself. Sometimes, I get really tired; I feel like I'm hitting a wall I'm about to break through. I just know I have to keep going because there's about to be some sort of weird endurance experience after," she said during an interview with Jada Pinkett Smith for V Magazine.
If you or anyone you know is having suicidal thoughts, please call the National Suicide Prevention Lifeline​ at​ 1-800-273-TALK (8255)​.
The S.O.S. album cover was inspired by Princess Diana
SZA's 2022 couldn't have had a more perfect ending. In September, the singer was named on Time 100's Next List, sharing the spot with a number of great talents, including former actor Jennette McCurdy and rapper Jack Harlow. 
On November 30, SZA shared a set of pictures on Instagram and wrote, "What is this? Some sort of album?"; she also confirmed to Billboard that "S.O.S," her sophomore project, had a December release date. In the image, SZA is seated at the edge of a diving board surrounded by the deep blueness of a sea. She is sporting a jersey, with both her name and the album's title in print, and a set of Timberlands. Her posture — body arched to the front, head tilted toward the sky, eyes gently closed, legs dangling off the board — signifies calm.
In an interview with Hot 97, SZA shared that the cover is an homage to a famous image of Princess Diana. "Originally I was supposed to be on top of, like, a shipping barge, but in the references that I pulled for that, I pulled the Diana reference because I just loved how isolated she felt and that was what I wanted to convey the most," she said. "S.O.S" was released on December 9, 2022.