Will Smith's Contentious Relationship With Tupac Explained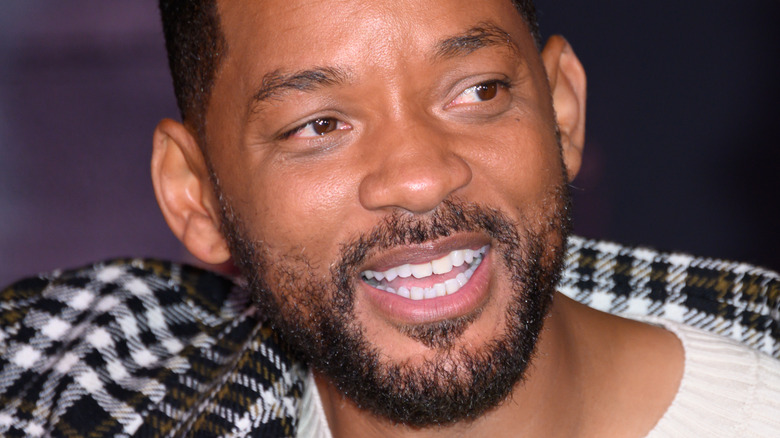 Silvia Elizabeth Pangaro/Shutterstock
Before #SlapGate, Will Smith had a reputation as a Hollywood nice guy. However, it turns out there's a shady side to Smith. Since the Oscars attack, people have been crawling out of the woodwork to share horror stories. Actor Paul Rodriguez told The U.S. Sun that Smith "bullied and humiliated him" daily during the filming of "Ali." Comedian Fazion Love told Vlad TV that Smith was "that guy through high school. A macho type of guy, a high school football player," just like the ones who'd brutally bullied Chris Rock throughout his childhood.
Sure enough, Smith was definitely cocky and arrogant back in his teens. "Can I have y'all attention, please? He's here," Smith announced to everybody on his first day at a new school. During an episode of "Storytime," he admitted that the students were decidedly unimpressed by his grandiose entrance. "Man, don't nobody give a f**k that you're here," one said. "Just give me 10 minutes. Your girl gonna care," Smith fired back leading to a beatdown. 
In 1988 he was arrested for assault after his bodyguard attacked a record promoter who was irritating Smith. "Dude's head explodes like a watermelon," he wrote in his memoir, "Will." After suffering a broken "left eye socket" and "irreparably damaged cornea," the victim attempted to sue. "The joke was on them," Smith wrote gleefully. "I didn't have a dime." He confessed to also suffering from raging jealousy, which ultimately resulted in Smith's contentious relationship with Tupac Shakur.
Will Smith's raging jealousy prevented him from even talking to Tupac
Tupac Shakur, born Lesane Parish Crooks, never got any California love from Will Smith. Smith first met Jada Pinkett in 1994 on "The Fresh Prince of Bel-Air" set, two years before Tupac was gunned down in a Las Vegas drive-by. However, the actor was so consumed by the green-eyed monster over Tupac's longtime friendship with Pinkett that he refused to ever speak to him.
Tupac and Pinkett had a relationship that spanned back to childhood. The couple had a super tight bond and shared a deep love for each other. This did not go down well with Smith (despite him still being married to Sheree Zampino while he was dating Pinkett, per Us Weekly.) "They grew up together ... [Pinkett] just loved him. He was the image of perfection, but she was with the Fresh Prince," Smith said during a 2022 appearance on "Breakfast Club."
Apparently, despite Pinkett begging the Fresh Prince to give Tupac a chance, vowing they'd become good friends if he did, Smith just wouldn't do it. "I hated that he was what I wasn't in the world, and I suffered a raging jealousy: I wanted Jada to look at me like that," Smith wrote in his memoir. "The way Jada loved 'Pac rendered me incapable of being friends with him," he explained. Smith said he's "rarely felt more validated" than when Pinkett chose him over Tupac.
Will Smith kinda got over his Tupac issues three years after the rapper's death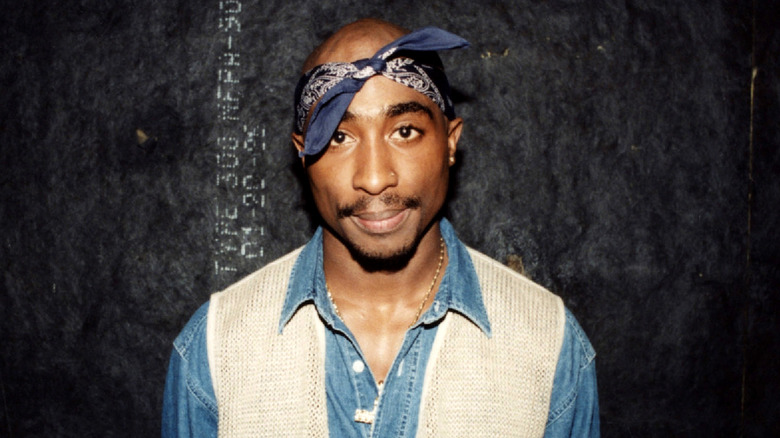 Raymond Boyd/Getty Images
The truth about Jada Pinkett's relationship with Tupac will likely never be known. She insists they were very close, but strictly platonic friends. However, Will Smith appeared to think otherwise, and Tupac's resurfaced poem to her didn't help. 2PacNews posted a segment on Twitter as a Flashback Friday memory. "I worry that we'll grow apart and I'll end up loosing U," Tupac wrote. "U will never fully understand / How deeply my heart feels 4 U / U bring me 2 climax without sex."
Mutah "Napoleon" Wassin Shabazz Beale told "The Art of Dialogue" that Pinkett had hurt the rapper by asking him not to harm Smith. "He's like, 'What do you think this is? I'm not just walking around being this impulsive, violent individual,'" Napolean recounted. He shared that Tupac didn't have an issue with who Pinkett dated because he "loved and respected her."
Meanwhile, Smith had finally, sort of, managed to quell his raging jealousy by 1999 — three years following Tupac's untimely death. After winning the best rap solo performance Grammy for "Gettin' Jiggy Wit it" (Tupac must have been turning in his grave), he presented the award for best rap video. Smith shared the stage with Tupac's mom, Afeni Shakur, and Biggie's, Voletta Wallace. Smith forced the occasional nod and shoulder touch during Afeni's speech, grinned with delight when Jay-Z won over Tupac, and then yanked Afeni off the stage by her arm. RIP Makaveli.