The Truth About Jada Pinkett Smith's Relationship With Tupac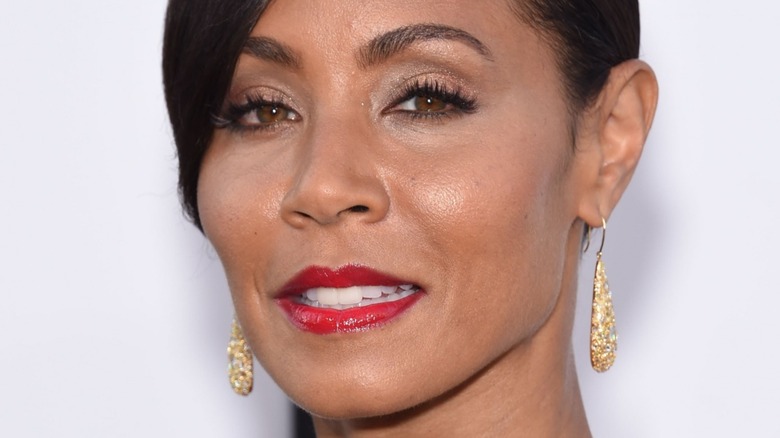 DFree/Shutterstock
In case you missed it, the late rapper Tupac Shakur is now something of a permanent figure in Jada Pinkett Smith's decades-long marriage to Will Smith. Every time there is a drama involving the Smiths, internet users somehow find a way to link it back to Tupac — even if it's not actually related to him at all.
Take, for instance, the recent infamous Oscars slap, where Will stormed the stage after Chris Rock made a joke about Jada's shaved head. "Will Smith slapped Chris rock and it was all Tupac's fault fr," one person jokingly claimed on Twitter. Another user tweeted, "Will smith put so much strength behind that slap he probably pretended Chris rock was Tupac." So yes, for every new Will and Jada headline, Tupac's name is lurking just somewhere in the corner.
That is because, for many years now, Jada has seemingly given people more than enough reasons to do just that. Back in 2021, fans went wild after Jada shared an old poem Tupac wrote to her. Per the online reactions, many seem to believe that Jada and Tupac were in love at one point. But is that really the truth to their relationship? Or is this just yet another Hollywood rumor that won't go away?
Jada Pinkett Smith met Tupac back in high school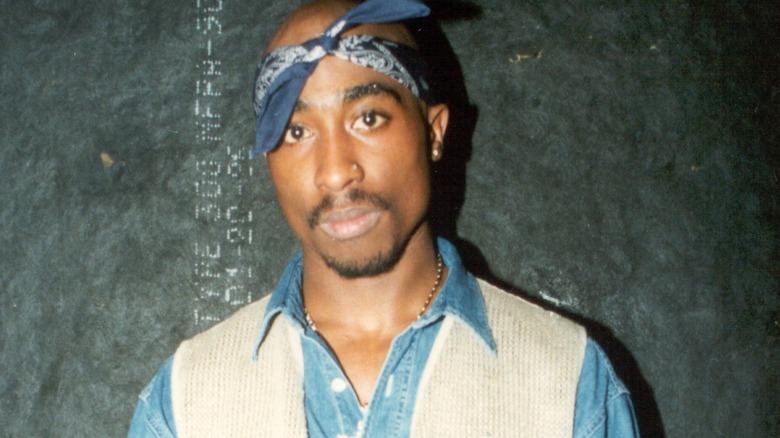 Raymond Boyd/Getty Images
Per Insider, Jada Pinkett Smith and Tupac first met back in the '80s when they were both students at the Baltimore School of Arts. "It was the first day and he came over to me and introduced himself," she said of their first meeting. The two immediately connected, despite Tupac not being the kind of guy she would normally roll with. "And in high school, Pac was a little funny looking. Definitely from looking at him, wasn't necessarily the type of cat that I would even like, deal with," Jada added.
But none of that seemed to matter, as the rapper went on to become one of her best friends. Even though the pair's bond was mostly platonic, in 2015, Jada told Howard Stern that she once forced Tupac to kiss her — but it was a total disaster. "There was a time when I was like, 'Just kiss me! Let's just see how this goes,' and when I tell you it had to be the most disgusting kiss for us both," she said with a laugh. She explained that it must've not worked because a "higher power just did not want that."
This revelation has, of course, not stopped people from speculating that Tupac and Jada had something more than friendship, with Will Smith once admitting that he was jealous of the two's friendship. "He was the image of perfection, but she was with the Fresh Prince," Will told "The Breakfast Club" in 2020. "I was deeply insecure and I wasn't man enough to handle that relationship."
Jada Pinkett Smith and Tupac were estranged when he died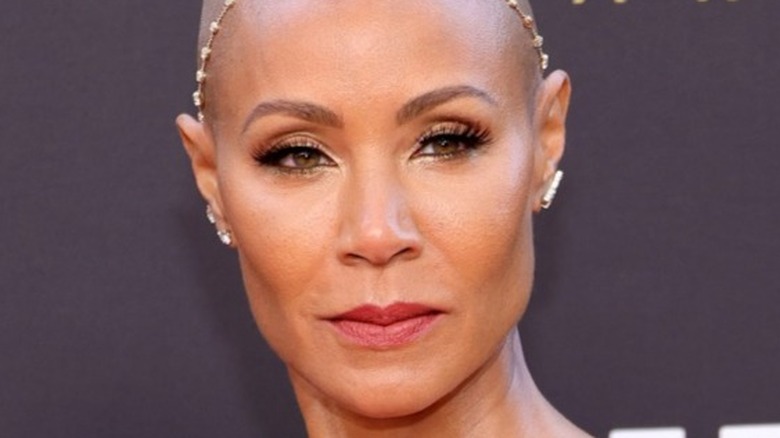 Matt Winkelmeyer/Getty Images
When Jada Pinkett Smith first met Tupac, she was in a much different place than she is now. "One of the things that's very interesting that I've never really said before is that when I first met Pac when we first met, I was a drug dealer," Jada said during an appearance on SiriusXM's "Sway In the Morning." But while Jada was trying to get out of the drug-dealing business, Tupac was trying to get in. "As I was coming out of the life, he was going more into the life," she said. With the two friends going in very opposite directions, their friendship was put to test and they ended up having a major falling-out.
Jada revealed to Howard Stern that she and Tupac were not on speaking terms at the time of his death — because she was not okay with the new life he had chosen. "We had a very hardcore disagreement ... I just wasn't in agreement with the direction that he was taking," she explained. Jada battled guilt following Tupac's death, but she was comforted that he knew exactly how much she loved him. "But, I know he knew that," the "Girls Trip" star said. "It wasn't the first time that we had a bad argument and had stopped speaking. That was kind of a constant in our relationship."
Even all these years later, it's clear Jada had a deep level of care for her former friend.