Jimmy Kimmel And Martha Stewart Share An Unexpected Connection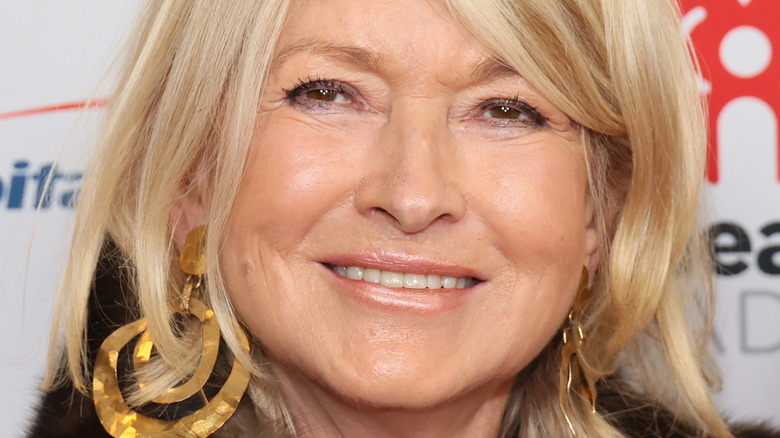 Dia Dipasupil/Getty Images
What do Jimmy Kimmel and Martha Stewart have in common? Apparently, a lot more than people may think. Both Kimmel and Stewart are famous in their own right, but the reasons for why they gained fame are incredibly different. Fans know Kimmel for having a fun personality and quick wit that shines through every night on his hit show "Jimmy Kimmel Live!" It's hard to believe that the show has been on-air since 2003, and Kimmel has provided plenty of laughs over the years — especially his longtime bit with Matt Damon. 
In turn, Stewart is known as the DIY guru and has proven time and time again that her talents are endless. From cooking to gardening and ensuring she's the hostess with the mostest, there's seemingly nothing Stewart can't do. It's honestly hard to believe Stewart started off as a stockbroker and then later in her life, she formed a widely talked-about relationship with rapper Snoop Dog, showing that, like Kimmel, she can also do a little bit of comedy. So, we guess that's one of the connections that links her to the popular late-night host. 
It does not appear that Stewart has appeared on Kimmel's show, though she's visited his counterpart Jimmy Fallon's late-night show before. Still, she and Kimmel have different roots from compared to what she does with Fallon, and you won't believe the relationship. 
Jimmy Kimmel and Martha Stewart are distant cousins
Jimmy Kimmel and Martha Stewart have more in common than just both being well-known figures in Hollywood. If you can believe it, the two are actually distantly related! Kimmel discovered the connection during a 2019 appearance on the PBS show "Finding Your Roots." In the episode, Kimmel sat down with host Henry Louis Gates Jr., and Gates asked Kimmel to guess to whom he's related. At first, he jokingly wondered if it was Hitler, but once the late-night host flipped a page to reveal a cousin, he saw Stewart's photo. "You gotta be kidding me!" he exclaimed with a surprised look on his face. The star also pointed out one similarity he has to the DIY guru — his ability to make his own vinegar. "Well, this is great news for the holidays. I mean, it's very bad news for her, but it's very good news for me," the father of two added before he cracked another joke. "Bad news Martha, you're a Kimmel!"
It didn't take too long for Kimmel to reveal the news to Stewart during an appearance on "Martha & Snoop's Potluck Dinner." On the show, he chatted with his distant cousin, and she seemed pretty pleased about the connection. "It's a pleasure being related to you," she told him before he cracked another joke. "Yes, I would love to see what our connection is, if I could get a urine sample." Gotta love these fun cuzzos! 
Jimmy Kimmel and Martha Stewart's other family dynamics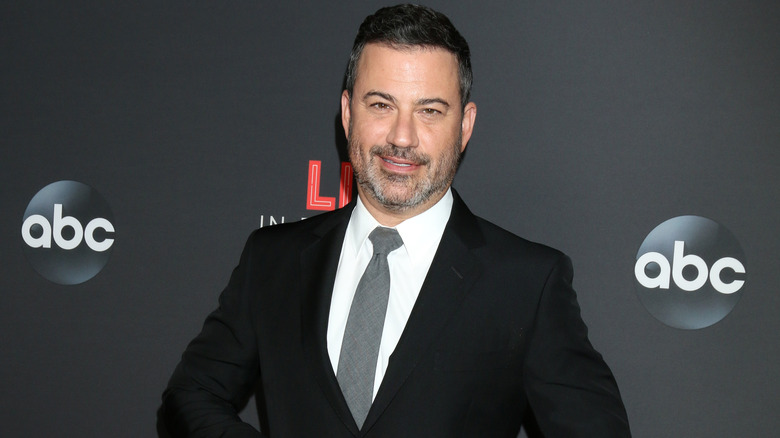 Kathy Hutchins/Shutterstock
While Jimmy Kimmel and Martha Stewart share a cool family connection, there are other close members of their families that they also hold dear. On his late-night show, Kimmel regularly talks about his son, Billy, and his heart condition. Doctors diagnosed Billy with Tetralogy of Fallot when he was born, and since learning of his condition, Kimmel and his wife Molly McNearney have been doing their best to raise money for hospitals and charities. "We never imagined that this organization that we'd supported financially and by hosting events for them would be a place that we needed to go — so that came as a bit of a shock, but it all worked out," Kimmel said at a fundraiser. It's clear that Kimmel will do everything in his power to support his son and others with the same or similar problems.
In turn, Stewart has a bit of a different relationship with her daughter, Alexis Stewart. Alexis wrote about her relationship with her mother in her book, "Whateverland: Learning to Live Here," sharing several examples of how her upbringing with Stewart as a mother wasn't exactly conventional, as she didn't celebrate Halloween. Christmas was a similar story. "Martha was not interested in being kid-friendly," Alexis wrote in the book. "She would hand me things right before Christmas and say, 'Now wrap these but don't look inside." Who knew?