Are Niall Horan And Zayn Malik Still Close After Their One Direction Days?
Dave J Hogan/Getty Images
It's been a hot minute since One Direction headed in different directions. The British-Irish boyband — who were together from 2010 to 2015 (save for Zayn Malik, who departed in early 2015) — announced they were taking an extended hiatus after their half-a-decade run. Despite claims that they weren't disbanding, many fans believe otherwise. "We're not breaking up," Niall Horan told Entertainment Tonight. "We're literally taking time out to see our friends and see our family, and reflect on what we've done over the last few years."
In the years since their hiatus, the former quintet released their solo projects, with Harry Styles even nabbing the coveted album of the year trophy for his 2022 release "Harry's House" at the 2023 Grammy Awards. Horan said in an interview with The Straits Times, "I've heard Liam [Payne]'s new song and Louis [Tomlinson]'s stuff, and they've heard some of mine," adding that they offer each other feedback. "It's good to have that because we will be honest with each other if we don't like it, especially because we've done that for so many years."
However, it's a different story when it comes to their friendship. Although they insist they will be friends and "brothers" for life, many fans aren't convinced. Horan, who appears to be the friendliest chap of the group, looks like he's still on good terms with everyone. But does that include Zayn Malik?
Niall Horan is Zayn Malik's favorite member of One Direction
Zayn Malik doesn't shy away from picking favorites among his former One Direction bandmates. The "Pillowtalk" singer once admitted to SiriusXM that Niall Horan is the best in the band. "I'll tell you what. Niall's my favorite. How about that?" he said.
But just because Horan is his pick doesn't mean they're as tight as they used to be. According to Horan, Malik is the hardest to get ahold of, so they don't talk as often as he'd hoped. "I haven't spoken to Zayn in a while. I spoke to him at Christmas then I spoke to him again a couple of months ago," he told AP News in 2017, two years post-hiatus announcement. "Zayn, not a lot of people would be able to say that they get in touch with him. He's the hardest man to get in touch with. He is always changing his number."
Malik, for his part, told Billboard that he had "every intention of remaining friends with everybody," but he found that all of them were reluctant. "I guess certain phone numbers have changed and I haven't received calls from a lot of people. I've reached out to a few of them and not got a reply," he confessed. "Certain people have pride issues, but it's stuff you overcome in time."
Zayn Malik is a big fan of Niall Horan's music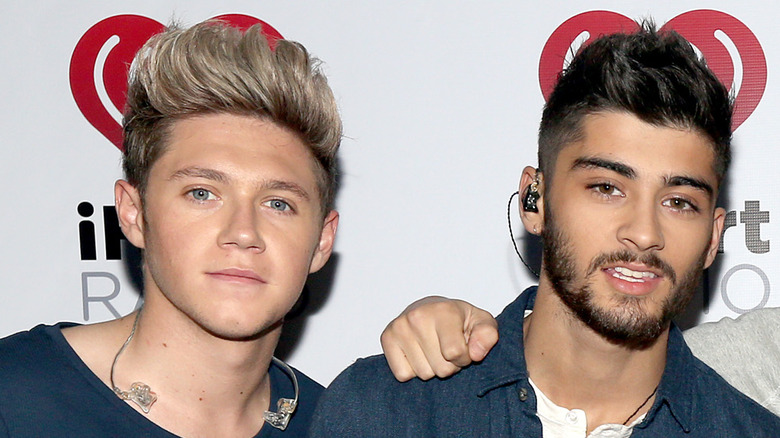 Christopher Polk/Getty Images
Communication issues aside, Zayn Malik still listens to his former bandmates' music — and thinks Niall Horan releases the best material. "He makes the best music," he said in his SiriusXM interview. "Yeah, he makes better music than me. I'm a Niall fan."
However, a reunion may not be in the cards for the boys of One Direction. While Malik has covered One Direction songs on his Instagram, Horan revealed the former bandmates have had a falling out, making it uncertain if they could mend their relationship. "As long as I've known him, Zayn's been the hardest man to stay in touch with. Then we had a falling out a few years ago," he explained to GQ. "To be honest, that's just the dynamic: you have people you are friends with and people you are not." Malik seemed to confirm this in his British Vogue feature. He said, "That's just the way it is. People move on, people grow apart, people grow up."
Harry Styles has a different opinion, though. While he's objectively seen the most success since the group disbanded, he doesn't balk at the idea of reuniting sometime in the future. "I mean, I think the thought of it is really nice," he said on "The Spout" podcast. "I think we all went through something really special together, and there's a lot of love there. So yeah, I think if there's a moment for us to do it in the right way, I think it'd be great."