Aaron Rodgers Clears Up His Next NFL Move (& Why It's Taking So Long)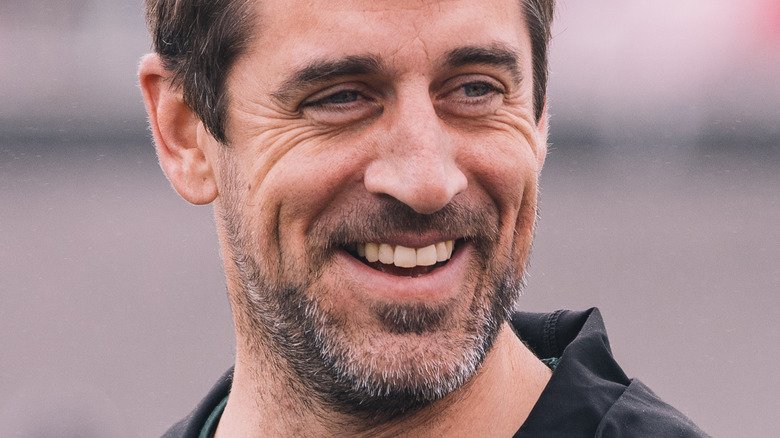 Aubrey Lao/Getty Images
Aaron Rodgers has finally made up his mind about his NFL future. The rumors surrounding a move from Rodgers dated back to 2021, when a recorded comedy sketch aired at the ESPYs saw celebs giving their best guess on where the quarterback would end up in the 2022 season. The quarterback ended up playing for the Green Bay Packers for another season.
During a January 2023 post-game press interview, Rodgers repeatedly expressed that he wanted to "take the emotion out" of the possibility of leaving the Packers, in order to have a professional conversation with the organization at a later time. "I'm not going to hold [the Packers] hostage," he said, adding that the decision will be mutual no matter what he chooses to do. The NFL star seemed to contradict himself by dodging negotiations with the organization in the months that followed, going so far as to enter a bizarre darkness retreat to contemplate his decision. Fans were left wondering if Rodgers was debating switching teams to the New York Jets, staying on in Green Bay, or retiring.
Rodgers joined "The Pat McAfee Show" on March 15 to address the chatter. "Be a friend, tell a friend," the NFL analyst and reporter tweeted, hyping up the anticipation ahead of the interview. "You are cordially invited." At long last, the quarterback spoke out about his next intended next move.
Aaron Rodgers has all but his bags packed for NYC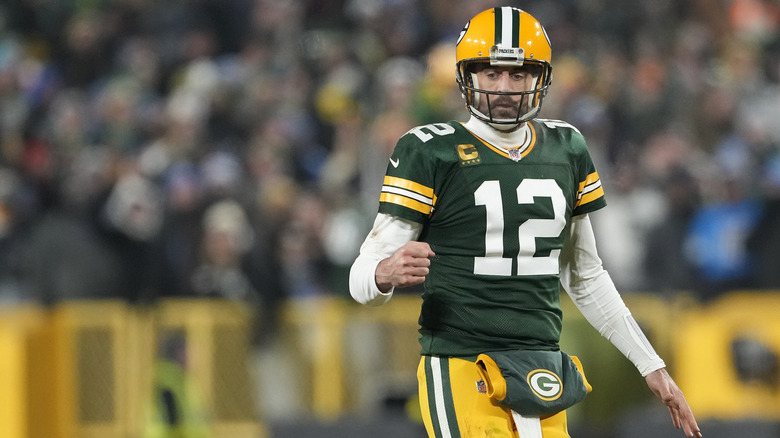 Patrick Mcdermott/Getty Images
Aaron Rodgers has confirmed he's not done with the NFL, and he wants to head to New York next season. "I've made it clear since Friday my intention is to play and play for the New York Jets," Rodgers said on the Pat McAfee show on March 15.
Rodgers clarified his appearance on the broadcast wasn't to make a big announcement, but rather to clear up misconceptions about his free agency. According to Rodgers, the Jets are just waiting on the go-ahead from Green Bay. "I'm still under contract with the Packers," he explained. Rodgers described the move as "just a matter of getting it done at this point."
The last time Rodgers was on "The Pat McAfee Show" in January, he still wasn't fully ready to make a decision on the 2023 season. He mentioned that he had talked with the organization and at the time, and they weren't expecting a definite answer. He also added that if the Packers decided to rebuild their team, he would choose to leave. Rodgers now appears to have made his choice, and the ball is in the Packers' court to relinquish him to the Big Apple.