The Green Bay Packers May Go To Extreme Lengths To Keep Aaron Rodgers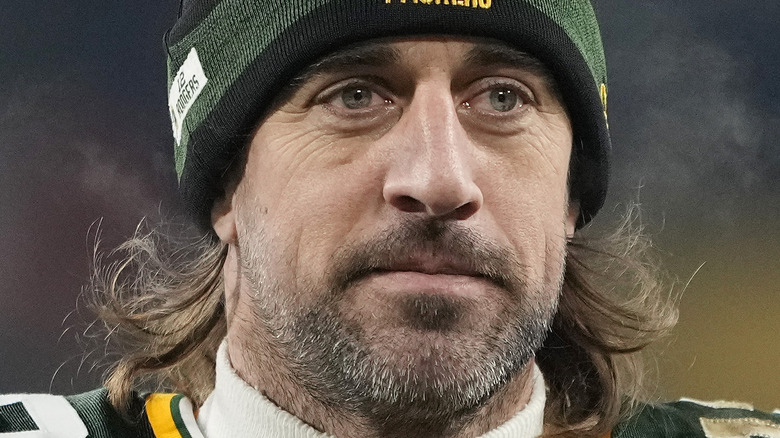 Patrick Mcdermott/Getty Images
Aaron Rodgers and the Green Bay Packers had a tumultuous start leading up to the 2021 NFL season, as the legendary quarterback was so frustrated with the franchise that he considered retirement. "Because they wouldn't commit to me past 2021," Rodgers told Fox Sports in September 2021. He mentioned how the Packers drafted a young quarterback as a not-so-subtle hint that the team was ready to move in a new direction. Plus, Rodgers revealed he only wanted to return if he was "able to 100 percent commit to everything" being an NFL quarterback entailed.
Suiting up for the Packers wound up being a great decision for Rodgers, as a stellar season led to him taking home his fourth MVP trophy. However, that didn't solidify Rodgers' return for the following season. "I'll do some contemplating and make a decision here pretty quick," the quarterback told NFL Network's Taylor Bisciotti after receiving his MVP.
While considering his future, Rodgers wanted to ensure he remained at an elite level. "One of the things, wanting to not be a bum on the way out and still be able to play ... is important to me," he said in late December 2021, per NFL.com. Besides continuing to play at an MVP level, Rodgers also worked out tensions between himself and management. "I've enjoyed being a part of conversations that directly affect my job," Rodgers said. Reports later circulated that the franchise was ready to prove their commitment to the quarterback with an extremely lucrative offer.
Aaron Rodgers could become the highest paid player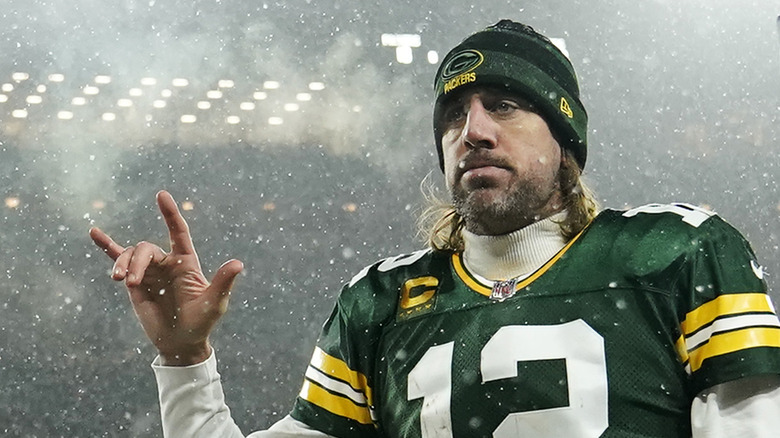 Patrick Mcdermott/Getty Images
Reportedly, the Green Bay Packers do not want to send any mixed messages to Aaron Rodgers and they want to make it clear that his return is the team's top priority. "Packers are prepared to go all in for Aaron Rodgers in 2022, spending as close to the cap this year," ESPN's Adam Schefter tweeted on February 13. The team would use the void provision, which would impact their salary cap in future seasons. Apparently, the Packers are willing to offer Rodgers "a two-year pact worth more than $45 million annually," per NFL.com. That new contract would give Rodgers the highest annual salary of any quarterback in the league.
Besides the jaw-dropping salary, Rodgers wants to consider multiple factors before committing to a new contract. That includes his relationship with the organization, which seems to be mostly patched up since the previous off-season. Another major factor for Rodgers's return to the sport is his drive and motivation. "Mentally, do I still have the passion, the competitiveness, the desire to keep playing?" he said while appearing on "The Pat McAfee Show" on January 25. "I think it's a feeling, and you just kind of know when the offseason has started," Rodgers added.
While on "The Pat McAfee Show," Rodgers also mentioned wrapping up his career with a "fairy tale ending," but if the quarterback does choose to step away, then that would be his final decision. "One thing I would not do is retire and then come back a year later," Rodgers added.