Aaron Rodgers Dropped A Bombshell About Retiring From The NFL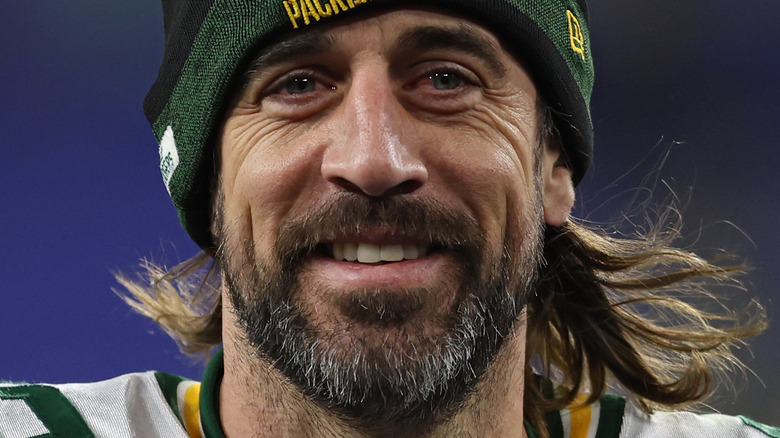 Patrick Smith/Getty Images
Aaron Rodgers has made many headlines throughout his career, for both personal and professional reasons. The Green Bay Packers player has been linked to stars like Olivia Munn and Danica Patrick, and in 2021, he got engaged to actor Shailene Woodley, dropping the bombshell announcement during his NFL MVP acceptance speech.
Rodgers has also come under fire for a statement he made regarding his vaccination status after he tested positive for COVID-19 and was forced to follow league protocols and sit out for 10 days. Before the COVID diagnosis, Rodgers said that he had been immunized, but it turns out that he did not get vaccinated. The quarterback clarified his statements, sharing that he was allergic to two of the vaccines and opted not to get the Johnson & Johnson vaccine after learning that some people experienced clotting issues. 
Rodgers has also been vocal about defending himself against critics following all of the backlash. He took the time to slam naysayers in an interview with "The Pat McAfee Show." "Well, most of these people have absolutely no following, and they come after me and they have zero retweets or likes," he said. "When did we lose the ability to respect somebody's opinion? ... My thoughts on COVID are my opinion. Why can't we have more conversations between people with different opinions?"
Another hot topic has been Rodgers' future in the NFL and what he plans to do in 2022. Could the Green Bay star be hanging up his cleats?
Aaron Rodgers isn't ruling out retirement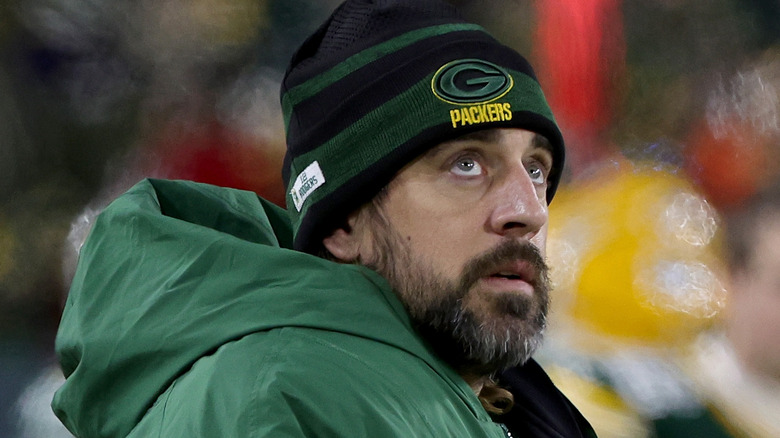 Stacy Revere/Getty Images
Could Aaron Rodgers be at a crossroads in his career? The NFL superstar is poised to win the NFL MVP for the second consecutive year and is at the top of his game. While we don't have a crystal ball to predict what's ahead, Rodgers has been open and honest about what his future may hold. During an interview on December 29, a reporter asked the Green Bay quarterback to clarify some statements that he made regarding his future on "The Pat McAfee Show" earlier in the week.
"Thanks for letting me clarify that; I don't, uh, I wouldn't rule that [retirement] out," Rodgers said. "I'm just enjoying this season for this season, and I think playing next year will definitely be in the thought process," he added. The football star stated that one of the things in his thought process is "wanting to not be a bum on the way out" because "still being able to play [well] is important to me." But, Rodgers also made sure to address the fact that he can "still can play" and that he still has "a love for the game." Furthermore, Rodgers said that he's still very competitive and loves competing and playing.
Rodgers also shared that his comments don't mean that he's talking about playing elsewhere, but he does have to speak with his loved ones after the off-season to figure out the next steps. Luckily for Green Bay fans, he said he doesn't plan to drag out his decision.