Aaron Rodgers Has A Message For All Of His Critics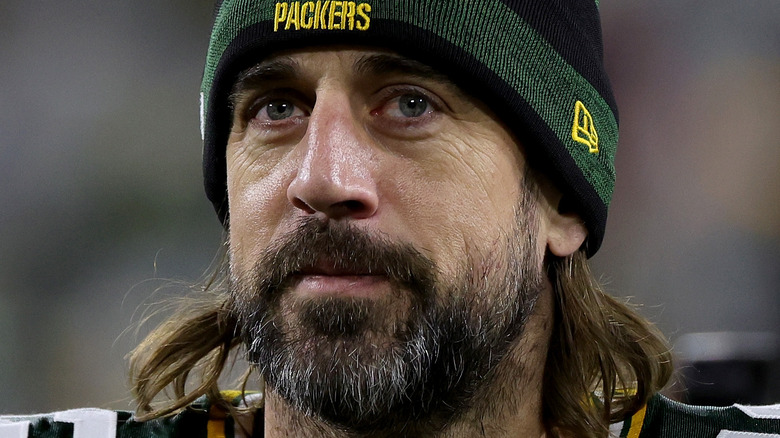 Stacy Revere/Getty Images
Over the past few years, a lot has unfolded for Green Bay Packers quarterback Aaron Rodgers. In early 2021, the future Hall of Famer surprised fans by announcing he was engaged while accepting his MVP award via video chat. At the time, Rodgers did not name anyone specifically, but soon enough, Shailene Woodley confirmed that she and Rodgers were engaged on an episode of "The Tonight Show Starring Jimmy Fallon." "For us, it's not new news, you know, so it's kind of funny," she told Fallon. "Everyone right now is freaking out over it and we're like, 'Yeah, we've been engaged for a while." 
Fast forward to the drama ahead of the 2021-2022 NFL season where Rodgers didn't know whether or not he would return to the Packers. Of course, he ultimately chose to stay, but controversy came knocking again when the quarterback got placed on the COVID-19 list. Many felt misled that the Green Bay star said he had been "immunized" even though he didn't actually receive the COVID-19 vaccine. "So before my final nail gets put in my cancel culture casket, I think I would like to set the record straight on so many of the blatant lies that are out there about myself," Rodgers said on "The Pat McAfee Show," noting that he was immunized instead, because he had allergies to some of the vaccines and opted not to get the Johnson & Johnson vaccine after some experienced clotting issues.
Now, Rodgers is coming to his defense again, this time against online trolls.
Aaron Rodgers slams his bullies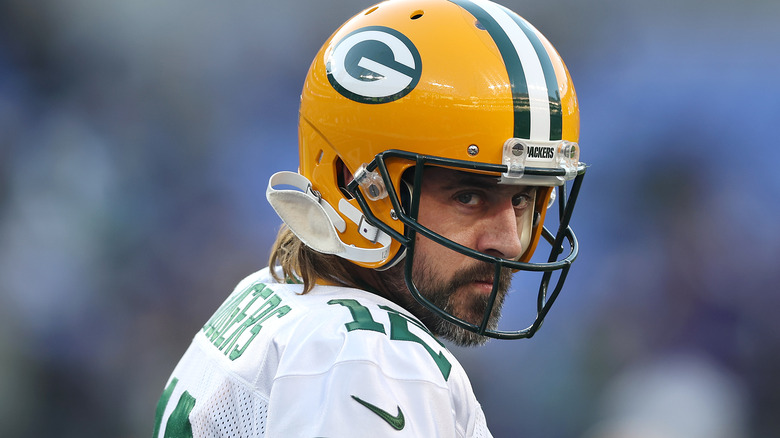 Rob Carr/Getty Images
As fans know, Aaron Rodgers doesn't seem to be shy when it comes to speaking his mind. This year, the Green Bay Packers player has made plenty of headlines, including over his COVID-19 vaccination status. During an appearance on "The Pat McAfee Show," he didn't hold anything back when asked how he feels about social media bullies who come after him and if he's ever considered clapping back.
"Well, most of these people have absolutely no following, and they come after me and they have zero retweets or likes. They have less than double-digit likes and retweets so it does zero for me to interact with these people," Rodgers said of his cyberbullies. In contrast, he has 1.9 million followers on Instagram alone. And No. 12 didn't stop there; he also spoke of freedom of speech."When did we lose the ability to respect somebody's opinion? ... My thoughts on COVID are my opinion," Rodgers noted. "Why can't we have more conversations between people with different opinions?"
McAfee suggested that Rodgers may also get in some hot water for his most recent comments, but he didn't seem to mind. "That's fine. I'm sharing my opinion. I'm not a doctor, and that's what people hammer me most about," he stated, adding that he has talked with several doctors and noting that it's not like he's "uneducated." The star also referenced "cancel culture," claiming that people are trying to do that to him because they think he's just some "dumb jock." Wow.