Here's How Aaron Rodgers Is Doing After His Breakup From Danica Patrick
Alberto E. Rodriguez/Getty Images
NFL quarterback Aaron Rodgers is doing just fine since splitting up with former race car driver Danica Patrick. They broke up in July 2020 after about two years of dating even though many had speculated that they were actually headed down the aisle. Rodgers and Patrick — who are very private people — have largely stayed mum on the topic, but on Sept. 22, 2020, Rodgers opened up about his life post-split for the first time.
During an appearance on The Pat McAfee Show, Rodgers answered some fan questions about a variety of things, including how he's been doing lately. One caller asked him about how "rejuvenated" he's seemed during the current football season. "I have just a new and increased love of life and I have made decisions and changes and habits that put me in a lot better head space," Rodgers replied. "There's just a lot of things that have come together in my life over the last few months that have really been enjoyable and reminded me, given me perspective in life and in football to view things through the most positive lens I possibly can."
He added, "It's mindfulness and positivity and love and kindness and integrity. Just putting it all together, I think for me, has made me a lot happier and I'm just enjoying football and enjoying life a lot more."
Aaron Rodgers and Danica Patrick haven't revealed why they broke up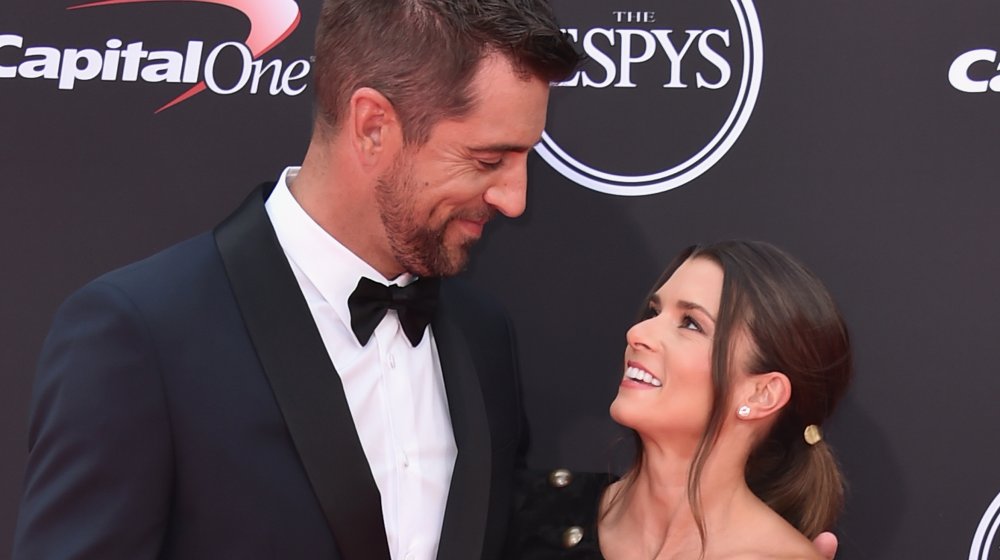 Alberto E. Rodriguez/Getty Images
Aaron Rodgers and Danica Patrick haven't revealed any concrete information about why they broke up in July 2020. When Patrick's rep confirmed to Us Weekly that the couple had split, no reason was provided, just simply that they are "no longer together." But to fans, the breakup seemed to come out of nowhere. Patrick and Rodgers had just been traveling together in March 2020, and their Instagram posts from the trip looked as happy as ever.
Patrick even joked to Jenny McCarthy in late 2019 that the two might be nearing an engagement. "You can't be attached to something going a certain way because if you really want something to happen there's that equal energy of being afraid that it's not going to happen, so you just have to let it go and be like, 'Well, am I having fun today?' Yep, then life's good," she said on McCarthy's SiriusXM show. "I'll probably get proposed to tomorrow now."
But alas, the relationship wasn't meant to be, and we may never know exactly why, but it sounds like Rodgers has moved on from it quite well. Rather than dwelling on the heartache, he's throwing everything into football and remaining positive. It's coming across in his work, too — his team, the Green Bay Packers, won both games handily before Rodgers gave this interview.