The Tragic Story Of Stephanie Seymour's Late Son Harry Brant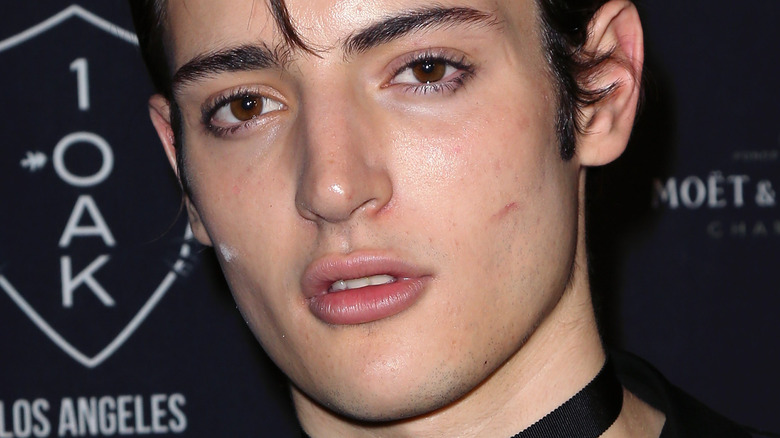 David Livingston/Getty Images
The following article includes mentions of substance abuse.
Stephanie Seymour was one of the most iconic supermodels of the '80s and '90s. She stunned as "The Bride" in the video for Guns N' Roses hit song "November Rain." Her son, Harry Brant, followed in her footsteps, establishing himself as a force of fashion. Of course, Harry grew up in a hub of creativity, as his father, Peter Brant, was a wealthy art collector, according to The New York Times. At a young age, Harry attended high-profile fashion shows and international parties, including the Met Gala at age 16.
Beyond his family name, Harry was recognized for his bold, gender-bending approach to clothing and beauty products. He and his brother, Peter Brant Jr., co-founded a unisex makeup line with MAC, launching collections in 2015 and 2016. In 2016, Harry told W Magazine, "I really think that once you leave high school, you realize that being normal is something that people want to shy away from, and the more true you are to yourself and the more individual you are, the more people are inherently attracted to you."
In addition to being a makeup mogul, Harry was a model and writer for Interview magazine. The young star seemed to have a promising career ahead of him. But sadly, Harry's life came to a sudden end in 2021.
Harry Brant battled addiction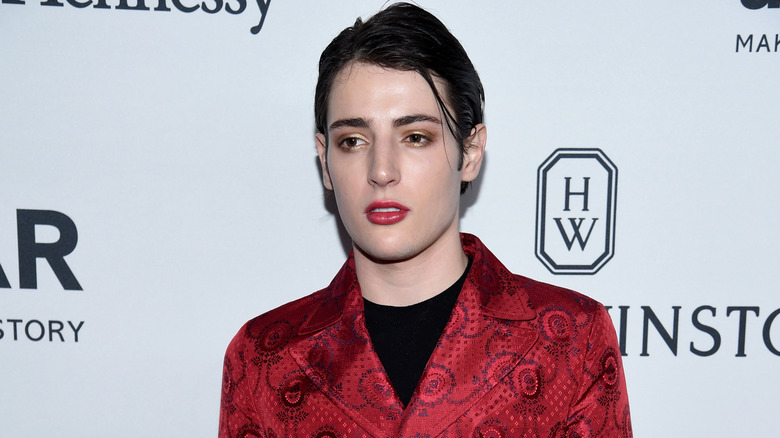 Dimitrios Kambouris/Getty Images
In January 2021, Stephanie Seymour's son Harry Brant tragically died at the age of 24. In a statement to People, Seymour and Harry's father Peter Brant revealed that his cause of death was an accidental overdose of prescription medication. They said, "Our hearts are shattered. Harry wanted to overcome his addiction and was just days away from re-entering rehab." Apparently, Harry battled addiction for numerous years. According to a source, Harry's father had concerns about his son's well-being and was "trying to get him to go to rehab again." The insider added, "He was supposed to go to rehab again [on Monday]. It's hard, anyone who knows addiction knows this."
During his lifetime, Harry had some troubling moments, as he reportedly faced a run-in with the law. In 2016, he was arrested for not paying taxi fare and holding a bag containing "a white substance that later tested positive for narcotics," per Page Six. According to a police report, he initially resisted arrest. He was charged with illegal possession, larceny in the sixth degree, and interfering with an officer.
If you or anyone you know needs help with addiction issues, help is available. Visit the Substance Abuse and Mental Health Services Administration website or contact SAMHSA's National Helpline at 1-800-662-HELP (4357).
Stephanie Seymour's unique way of honoring her son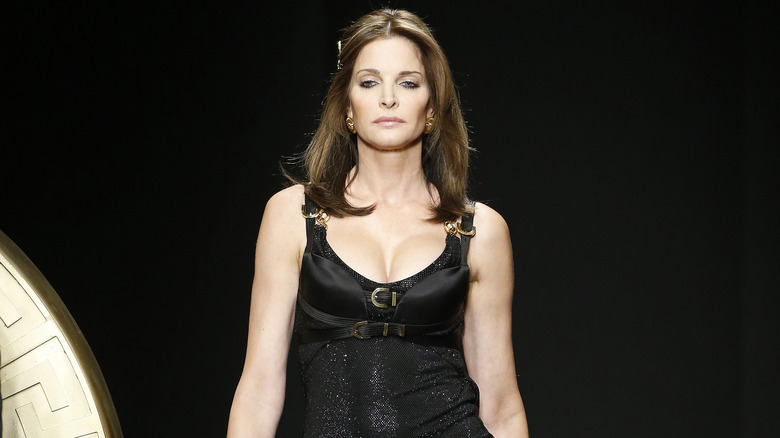 Estrop/Getty Images
In 2023, Stephanie Seymour detailed what helped her cope with the loss of her son. She told WSJ Magazine (via Vanity Fair), "If I think that Harry would love something, I do it, and it does help me with my grief." She's held on to many of his favorite clothing items and occasionally incorporates them into her own wardrobe. In this way, she commemorates his love of fashion and style. In one photo, the supermodel dons Harry's Saint Laurent suit. The blazer sits on her chest, with her son's name "Harry" etched on her back with a red heart. She said, "It still feels so good to put his clothes on."
Following Harry's death, loved ones took to social media to mourn the socialite. His younger sister, Lily Brant, honored her brother on Instagram. She posted an adorable throwback photo of them in matching outfits, writing, "my amazing big brother and my best friend, words cannot describe how much i will miss you. you were the most amazing brother to me and you stuck with me through everything. you had the most beautiful and sensitive soul and a sense of humor that could brighten anyone's day."