Why David Hasselhoff Has A Huge German Fanbase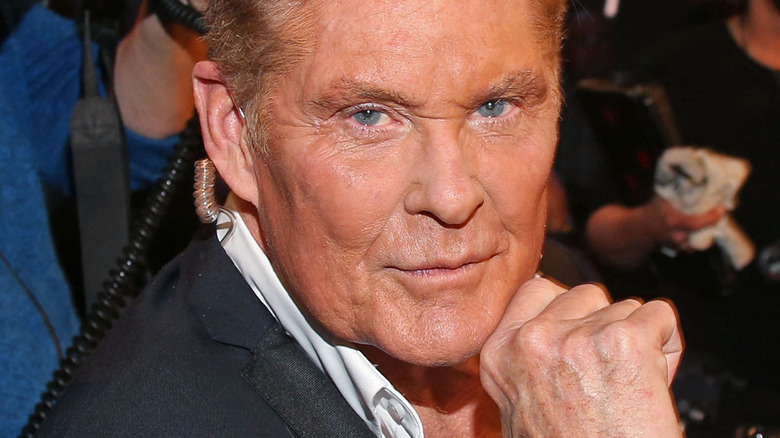 Tristar Media/Getty Images
David Hasselhoff is a man of many talents: a lifeguard, a crimefighter with a car that's a virtually indestructible weapon that fights for justice and has conversations with him, a piranha, and a dishy daytime doctor — and that's just some of his acting credits. Having been in the biz for decades and having starred on one of the biggest shows of the '90s made Hasselhoff a household name — and a record-breaking legend.
According to the Guinness Book of Records, in 2011, he was crowned "the most-watched man on television of all time" thanks to his lead role in "Baywatch." The esteemed facts and figures publication notes that at its height in 1996, an estimated 1.1 billion viewers tuned into the Malibu beach-based drama each week to watch  Hasselhoff show off his acting chops as LA County Lifeguard, Lieutenant Mitch Buchanon. And, maybe, Pamela Anderson clad in the iconic red swimsuit, running along the beach in slow motion had something to do with the series' popularity.
In addition to being an actor, Hasselhoff is also a producer, a director, a reality star, a TV host, a music video maestro, and a singer extraordinaire. Maybe the last two are a stretch to those of us in the USA but in Germany? Nein! The Hoff ist ein Rockgott! It's a mystery to those who aren't in the Hoff know, but he's a massive music star in Deutschland. So, why does David Hasselhoff have such a huge German fanbase?
No, David Hasselhoff wasn't responsible for the Berlin Wall falling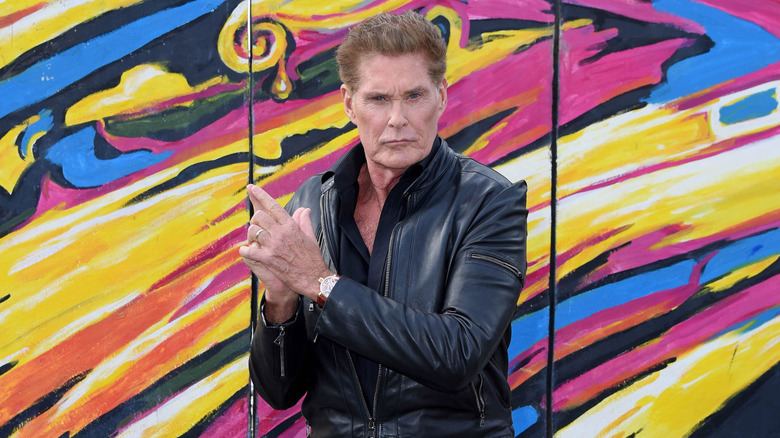 Tristar Media/Getty Images
To those outside of central Europe, David Hasselhoff is just another of those actors with embarrassing music careers, like William Shatner and Steven Seagal. But to those in central Europe, especially Germany, Hasselhoff is a rock icon and so much more. There's a rumor that the Hoff boasts about being responsible for bringing down the Berlin Wall, a symbol of repression that had divided East and West Germany since the beginning of the cold war, but The Hoff himself has long discredited that one.
Like most fake news, there is some truth involved. Hasselhoff was in Germany, and the Berlin Wall did fall, but he wasn't the driving force behind it. Per The Washington Post, in June 1989, Hasselhoff released his album, "Looking For Freedom." It was a smash hit that was embraced by the German public as an anthem of hope and a cry for unity.
Six months later, on New Year's Eve, Hasselhoff was in a bucket crane, suspended in the night sky over the rubble of what once was the Berlin Wall. He sang the title track from "Looking For Freedom" to the thousands celebrating below. At that moment, pop culture merged with a moment of great historical and political significance and Hasselhoff became a symbol of democracy and peace in Germany. However, in reality, the Berlin Wall was demolished on November 9, 1989, following years of negotiations, and international diplomacy.
But he's a legend in Germany and a symbol of hope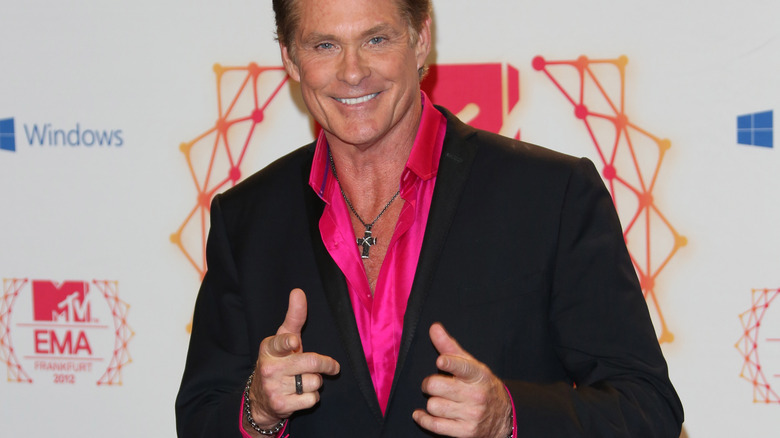 Featureflash Photo Agency/Shutterstock
David Hasselhoff quit as an "America's Got Talent" judge in 2010 to pursue a career in reality TV. The resulting A & E show documented the Hoff at home and followed the trials and tribulations of the single father, along with David's daughters Hayley and Taylor-Ann Hasselhoff, as they traversed the Hollywood gauntlet. Sadly, according to The Hollywood Reporter, "The Hasselhoffs" was yanked after just two episodes due to poor ratings. Thankfully, however, David had his central European music career to fall back on.
He's performed in the continent multiple times over the past three decades. In 2019 he embarked on the "Freedom! The Journey Continues" tour and then sang at the "Germany 30!" concert, celebrating the country's reunification. David told Time that it had been a life-changing experience for him. "I have a plethora of stories of people who come to me and testified that 'Looking for Freedom' was an anthem or a hymn of hope that they would sing," he said.
David shared that one tearful man, who'd grown up in Eastern Germany, praised him for helping to bring down the Berlin wall. The actor told him he'd just been "singing a song about freedom, and I went behind the wall and met some girls." But the man insisted the song meant so much more for the German public by providing aspiration during a time when they were desperate for liberation and democracy.