Nicola Peltz Beckham Isn't Budging When It Comes To Those Victoria Beckham Feud Rumors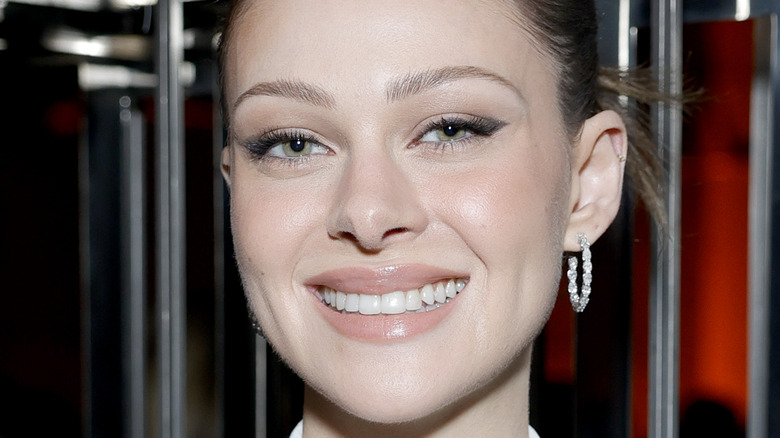 Stefanie Keenan/Getty Images
Ever since Nicola Peltz Beckham got married to Brooklyn Beckham on April 9, 2022, there has been talk of her allegedly tumultuous relationship with his mother, Victoria Beckham. According to a source, "They can't stand each other and don't talk," per Page Six. The insider told the publication that there's been "non-stop petty drama" between Nicola and Victoria Beckham leading up to the wedding and things only got worse when the "Tatler" called the actor "The New Mrs. Beckham."
In an interview with Variety, Nicola Bekham tried to put the rumors to bed and stated that they may have started when she didn't wear a Victoria Beckham wedding gown for her wedding. "I was going to and I really wanted to, and then a few months down the line, she realized that her atelier couldn't do it, so then I had to pick another dress. She didn't say you can't wear it; I didn't say I didn't want to wear it. That's where it started, and then they ran with that," she explained. Nicola doubled down on her claims with The Times. "It's not a feud! I keep seeing everywhere that word, 'feud, feud, feud!?' I mean, maybe they picked up on something? And now they're labeling it feud?'" she insisted. Apparently, the public is not ready to let the issue go and Nicola found herself having to defend her relationship with Victoria Beckham yet again.
Nicola Peltz Beckham finds the feud rumors weird
Nicola Peltz Beckham refuses to say one bad word about her mother-in-law, Victoria Beckham. When the topic of the supposed feud came up during her interview with Cosmopolitan, "I've said this so many times. There's no feud. I don't know. No one ever wants to write the nice things. It's really weird, actually, whether it's my life or someone else's life or whatever, when you know the truth and then you read something totally wrong." She went on to say that she tries not to let the rumors get to her and wishes people would stop judging her.
The Beckhams proved that there was no bad blood between the family when they all showed support for Victoria Beckham during Paris Fashion Week on March 3. Posing with David Beckham, Harper Beckham, Cruz Beckham, Brooklyn Beckham, and Nicola Beckham, the former Spice Girl wrote on Instagram, "I couldn't do it without you, I love you all so much x." Nicola replied, "A beautiful show! We love you!" Perhaps sometimes, rumors are just rumors.