Beyoncé Worked With Britney Spears Years Before Their Collab Fell Through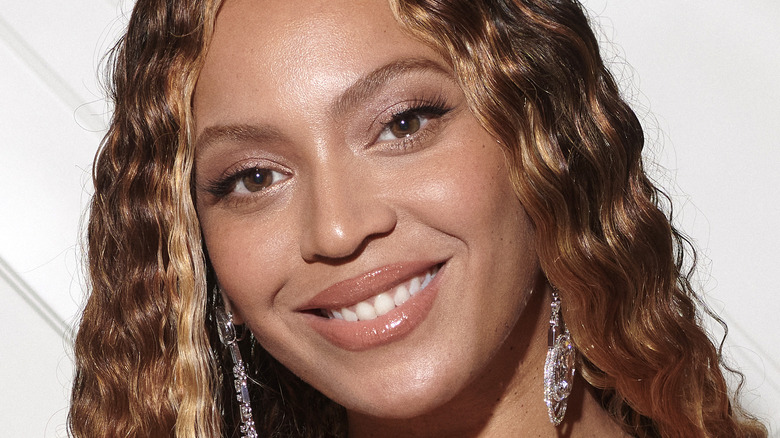 Mason Poole/parkwood Media/Getty Images
Terrible news, pop music fans! According to Page Six, Beyoncé recently attempted to get Britney Spears to appear in her video for an unspecified project. Unfortunately, Beyonce's team-up with Spears fizzled out before things ever got off the ground. So far, there's been no solid details on what exactly went down or what song Beyoncé wanted Spears featured on. With that said, Beyoncé appears to have scrapped the previously-teased visual material for her 2022 album, Renaissance, so that could be what the hold-up is. 
Regardless, the failed project has induced a severe case of FOMO in fans of both artists, who've been domineering forces within the pop and R&B world. Had the collaboration taken place, it could've also served as one of Spears' first post-conservatorship musical projects. So far, Spears has gotten her feet wet by lending her voice to Elton John's song, "Hold Me Closer," which was released in the Spring of 2022. And while the song was met with mostly positive reviews, there's no doubt that a team-up with Beyoncé would've made an even bigger splash. But before you start to mourn over the collaboration that never came to be, you should remember that Beyoncé and Spears actually collaborated in the past ... and it was absolutely epic!
Beyoncé and Britney Spears once starred in a Pepsi ad
In 2004, Beyoncé, Britney Spears, and Pink partook in one of the beverage giant's most memorable commercials. During the ad, the fabulous trio posed as gladiators, then gathered in the middle of a lively coliseum. Instead of fighting to the death, as the Roman emperor — portrayed by Enrique Iglesias — clearly wanted, they threw down their weapons and then took turns singing Queen's "We Will Rock You." After a lively introductory note from Pink, Spears opened the verse with her signature tone, giving the rock anthem an appropriate pop flair. Beyoncé then swooped in, blessing the track with soulful melodies before Pink's raspy vocals brought the tune to a lovely close. 
The iconic collaboration came on the cusp of Spear and Pinks' musical peak, but right before Beyoncé became the worldwide sensation she is today. In any event, it's a glorious time capsule, representing the pop landscape of the early '00s. And despite the life or death stakes shown onscreen, a behind-the-scenes video proves that the stars had a blast filming the ad. Plus, the musicians spent a good deal of time together during the commercial's red-carpet premiere. "To have this premiere is pretty amazing," Spears said at the spot's premiere. "Filming the ad was awesome, it made me feel empowered and I got to work with these two fantastic gladiator women."
Beyoncé and Britney Spears have a long history of supporting each other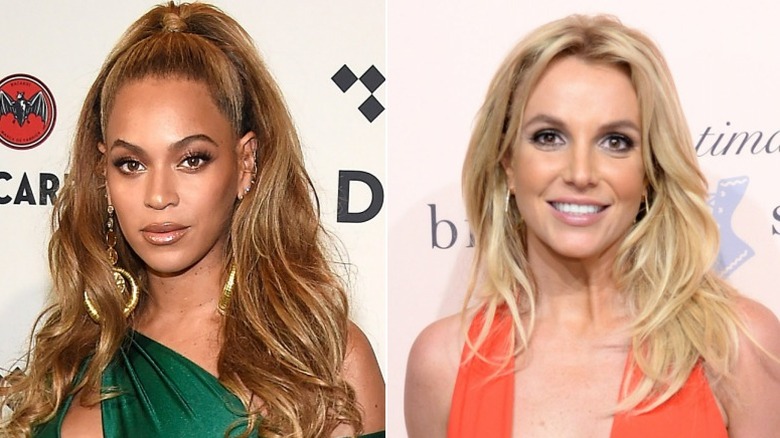 Kevin Mazur/Getty & Kevin Mazur/Getty Images
Even though a new musical collab has thus far failed to take shape, Beyoncé and Britney Spears have a long history of supporting each other. During Queen Bey's Destiny's Child days, she and her groupmates had some seriously sweet things to say about Spears. "Look at Britney, you go girl," Beyoncé exclaimed as Kelly Rowland showed her a photo the "Drive Me Crazy" singer took with the group. Beyoncé also agreed with Michelle Williams' assertion that Spears had remained "down-to-earth" despite her success. "You can tell she has the southern hospitality," added Beyoncé.
Then, in 2015, Beyoncé and Jay-Z supported Spears by attending her Las Vegas residency. And while Beyoncé wasn't vocal during the #FreeBritney movement, which Spears acknowledged helped her to break free from her 13-year conservatorship, she's shown support in other ways. In 2020, the "Upgrade You" singer wished Spears a happy birthday on her website.Recent years have also seen Spears speak positively about Beyoncé. In 2017, Spears listed Beyoncé and Madonna as two of her female inspirations. And this past December, Spears posted a since-deleted Instagram video dancing to Beyoncé's song, "Feeling Myself." As noted by Women's Health, she wrote, "Diff edit!!! Feeling myself and with my hair up messy !!! Nasty I like it !!! Feeling myself !!!"