The Very Young Age Jada Pinkett-Smith's Mom Adrienne Gave Birth To Her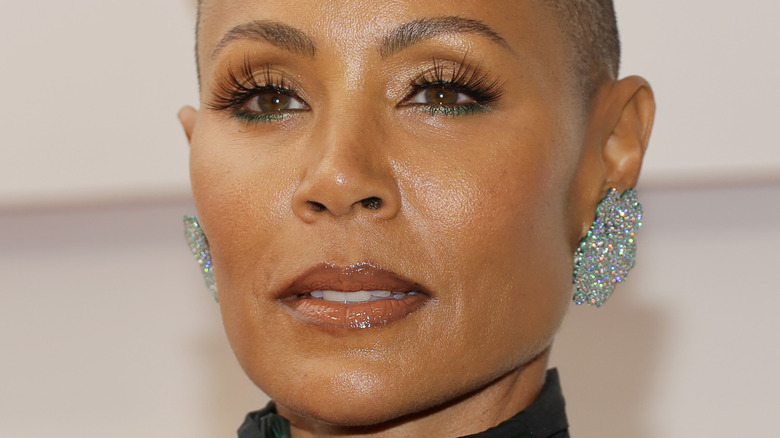 Mike Coppola/Getty Images
Viewers of "Red Table Talk" know that Jada Pinkett Smith, her mother Adrienne Banfield-Norris, and her daughter Willow Smith aren't afraid to discuss intimate — and often difficult — details of their life with one another. That's what they were going for when they launched the Facebook Watch series in 2018. "I just realized that in part of my growth, the women and the people who had the courage to be very transparent with me with certain aspects of their journey really, really helped my journey tremendously," Pinkett Smith told NPR in 2019.
"The Matrix" star wanted to break tabus and encourage other women to open up about their own journey. "I was like: Why don't we talk about this more often? Why is it such a secret of what people go through?" Pinkett Smith added. Since then, grandmother, mother, and daughter have talked just about anything, from sex to domestic violence. They also don't shy away from discussing their own relationship. "Red Table Talk is about raw truth, love and deep passion," she told People. "My mother is old school, Willow is new school, and I find myself right in the middle."
She may be from an older generation, but Banfield-Norris certainly doesn't look it. Even Will Smith can't get over how youthful his mother-in-law is. "When your grandmother looks like your sister," the "King Richard" star captioned an Instagram photo of Banfield-Norris with Willow and Jaden Smith. Regardless of her ageless beauty, Banfield-Norris isn't actually a whole lot older than her daughter.
Adrienne Banfield-Norris was just 15 years old when she had Jada Pinkett-Smitha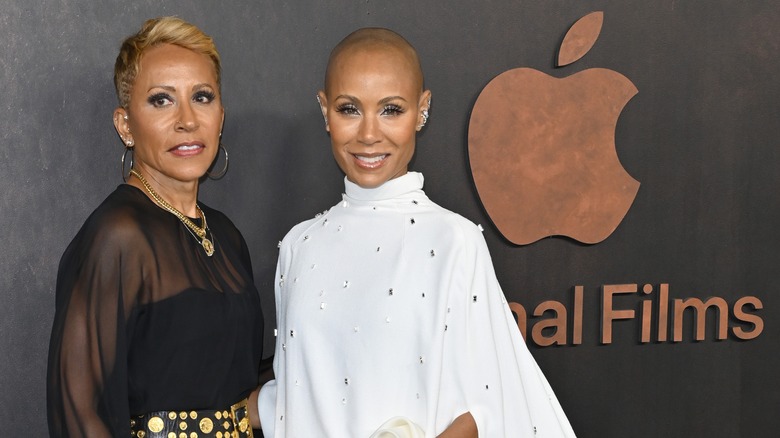 Featureflash Photo Agency/Shutterstock
Adrienne Banfield-Norris was just 15 when she fell pregnant with Jada Pinkett Smith. As a result, the then-high school student married Jada's father, Robsol Pinkett Jr., but the marriage lasted just a few months. The relationship was short but plenty long to cause lingering trauma. In a November 2018 episode of "Red Table Talk," Banfield-Norris opened up about the domestic abuse she suffered during those years, the scars of which she carries to this day.
The large one on her back — acquired when Robsol threw her over a banister — is the reason Jada knows her mother endured violence at her father's hand. "As a child, I was just curious. I was like, 'Oh, Mommy, what's that? What's that?'" Pinkett Smith described. Willow Smith — who knew her grandfather before he died in 2010 — had never heard of Banfield-Norris's experience of domestic violence until they filmed the episode.
Banfield-Norris also suffered another type of physical abuse during her relationship. "I have [had non-consensual sex], but it was also with my husband. Your dad, actually," she revealed in an October 2020 "Red Table Talk" episode. Banfield-Norris may have been young, but she was courageous enough to gather her daughter and leave him. "I actually ran for my life," she said in the 2018 clip. For most of his violent outbursts, Robsol was under the influence. It doesn't excuse his behavior, she said, but it made things that much worse.
If you or someone you know is dealing with domestic abuse, you can call the National Domestic Violence Hotline at 1−800−799−7233. You can also find more information, resources, and support at their website.
Adrienne Banfield-Norris suffered from a heroin addiction
Jada Pinkett Smith knew her mother's behavior was strange. Adrienne Banfield-Norris often forgot to pick her daughter up from school or slept in the middle of chores, Pinkett Smith said in a July 2018 episode of "Red Table Talk." But she learned what the issue was only much later. "I think I didn't find out my mother was addicted to heroin until I was in my teens," she said. That's when Pinkett Smith was old enough to put two and two together. "You just realize, 'Oh, that's not being tired. That is a drug problem.'"
Banfield-Norris used drugs for more than two decades. But in her 30s, she found the strength to seek help. "I spent so many years in that insanity of active addiction, running in and out, and just that revolving door. You know, trying to get my life back together," she said in a December 2021 Instagram video to commemorate the 31st year of her sobriety journey. Banfield-Norris reflected on the importance of the mantra "one day at a time" promoted by Narcotics Anonymous. "That passage couldn't be more appropriate on a day like today because, for me, that passage is about surrender," she said.
As the daughter of two parents who suffered from drug addiction, Pinkett Smith also had issues with substance abuse. "Alcoholism and drug addiction runs through my family," she said in the "Red Table Talk" clip. "And I've had my own addictions that I've had to get over."
If you or anyone you know is struggling with addiction issues, help is available. Visit the Substance Abuse and Mental Health Services Administration website or contact SAMHSA's National Helpline at 1-800-662-HELP (4357).