Why Khloé Kardashian Wasn't Allowed To Speak At Kim And Kanye's Wedding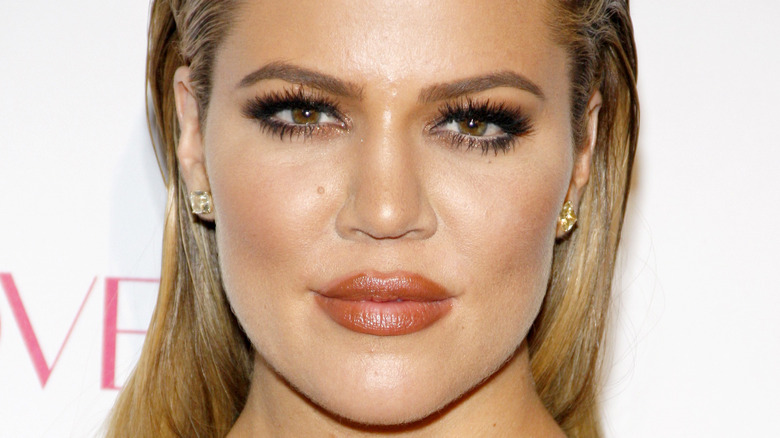 Tinseltown/Shutterstock
When Kim Kardashian and Kanye "Ye" West got married in 2014, there's no doubt that it was the event of the year. Ye is known for going over the top for almost anything he does in his life and career, and the same goes for everything from his proposal to his wedding. In case you were living under a rock, Ye popped the question to Kim in an over-the-top way, renting out the AT&T baseball stadium in San Francisco and hiring an orchestra to play music. If that isn't romantic, then we don't know what is!
The couple's wedding followed with the same theme, and it was an event that we could have only dreamed of attending. Photos shared by ABC News show the pair standing in front of a stunning wall of flowers as they said their vows at Forte di Belvedere in Florence, Italy. According to Vogue, Kim rocked a Givenchy dress, and Andrea Bocelli, aka one of the greatest singers on the planet, performed at the wedding. As if that wasn't enough, the rehearsal dinner also included fireworks and a performance by Lana Del Ray. Yep, they did it up BIG.
Of course, Kim's sisters served as her bridesmaids for the big day, and while there was a little bit of controversy over their dresses (which Ye found to be a little bit too risque), things still went off without a hitch. But, there's one person who Kim didn't want talking at her wedding — Khloé Kardashian.
Kim Kardashian stopped Khloé Kardashian from rambling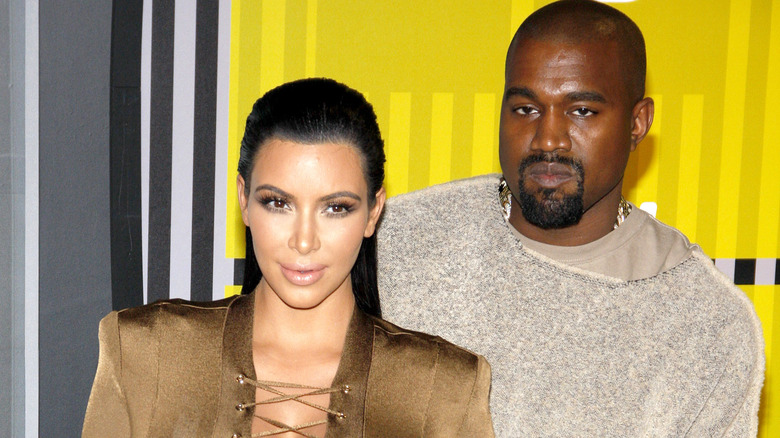 Tinseltown/Shutterstock
Khloé Kardashian and Kim Kardashian may be close in their relationship, but that doesn't mean that Kim necessarily wanted her baby sister to speak at her wedding. In fact, Kim actually banned the Good American founder from taking the mic at her wedding. During an appearance on "The Late Late Show With James Corden," Khloé explained that while Kanye "Ye" West gave a 45-minute speech at the wedding (and rightfully so since it was his wedding), Kim didn't allow her to talk. "I'm such a talker, and I feel like I'm such an open book," Khloé told Corden. "I wasn't allowed to give a speech because I just ramble, and I think I'm maybe giving a compliment, and I'm not saying the right thing." Khloé also said that she felt like Ye was taunting her during his speech because he kept offering to give her the mic. "It was like one ranter to another ranter; I want that mic," she added.
Even though Kim banned Khloé from speaking at her big day, that doesn't mean any love is lost between the two siblings. Khloé still served as a big cheerleader for Kim and Ye during the time that they were married, including a few big milestones. "It's your anniversary!!!!! I love you guys!!!! I believe in love at first sight, but I will always believe that the people we love we have loved before," she wrote on the couple's anniversary in 2016. How nice!
Khloé Kardashian is still one of Kim Kardashian's biggest cheerleaders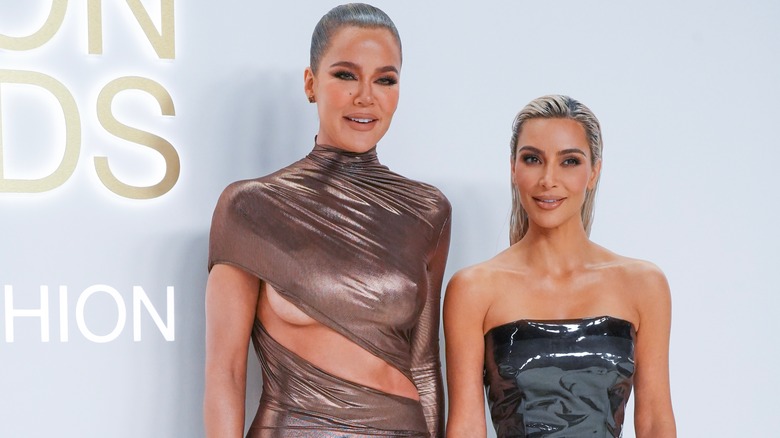 lev radin/Shutterstock
Kim Kardashian and her sister, Khloé Kardashian, are as thick as thieves, and fans have gotten the opportunity to see their dynamic play out both on their hit show "Keeping Up With the Kardashians" and their new Hulu series, "The Kardashians." Despite the snub at Kanye "Ye" West and Kim's wedding, Khloé still stays involved in Kim's love life, even post-Ye. When Kim dated "Saturday Night Live" star Pete Davidson, Khloé showed her support for them on a few different occasions. According to the Daily Mail, Khloé interacted with another Twitter user who was watching an episode of the family's hit show and saw Kim talking about Pete. The Good American founder replied to a tweet that read, "Kimberly is in LOVE lmao; it's so cute," saying, "Isn't it??? She is in LOOOOOVVVEEEE." Talks about a supportive younger sis!
Khloé also talked about the romance in an interview with "Good Morning America" ahead of the premiere of the family's show, "The Kardashians," after momager Kris Jenner sang his praises, as well. "He's a really nice guy. He just makes her laugh, and she laughs all the time," she told Robin Roberts of Davidson. Most of us are well aware that Davidson and Kim went their separate ways, but we're sure that once Kim strikes up another romance, Khloé will be uber-supportive — even if they don't invite her to take the mic at any of their special events.