Violet Affleck's Famous Godfather Was Her Mom Jennifer Garner's Co-Star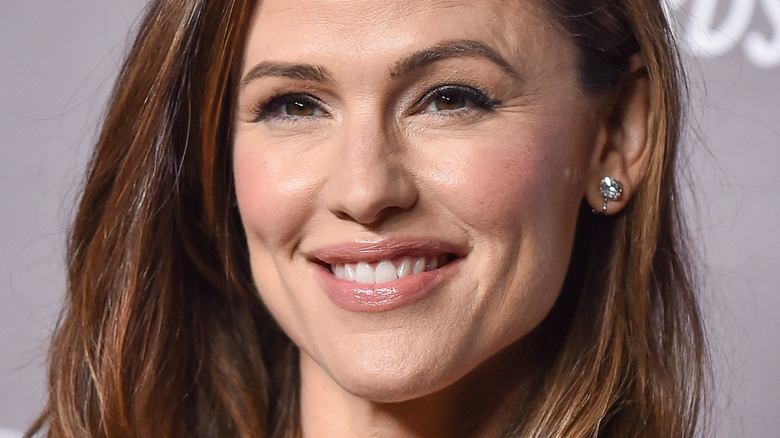 DFree/Shutterstock
Jennifer Garner has made her way into our hearts, and we've come to know (and love) her for starring in hit movies like "13 Going on 30" and TV shows like "Alias." She's also established a loyal social media following thanks to her funny cooking videos and other silly antics. Sure, she's an A-lister in Hollywood, but at the end of the day, she's just a mom to three kiddos — Violet, Seraphina, and Samuel.
Garner shares her children with her ex-husband Ben Affleck, and she regularly talks about mom life in the press. "There's an internal battle. I need to work, I need to work, I need to work, and I need to be home with my kids, and the kids win. It's about getting the kids up and fed, getting one to school, getting the other down for a nap, going to the grocery store, picking one up from school, getting the other one down for another nap, cooking dinner... I live my life at these two extremes," she once told Us Weekly. "I'm either a full-time stay-at-home mom or a full-time actress." Garner has also compared her roles in movies to her real life. "I'm really glad that I'm playing moms, because there's no more rich time in women's lives than when you have your babies, and when you're trying to figure out how to parent them and balance everything," she told "Today." 
Garner's work life and home life frequently collide, including when choosing a godparent.
Victor Garber took on this major role in Violet Affleck's life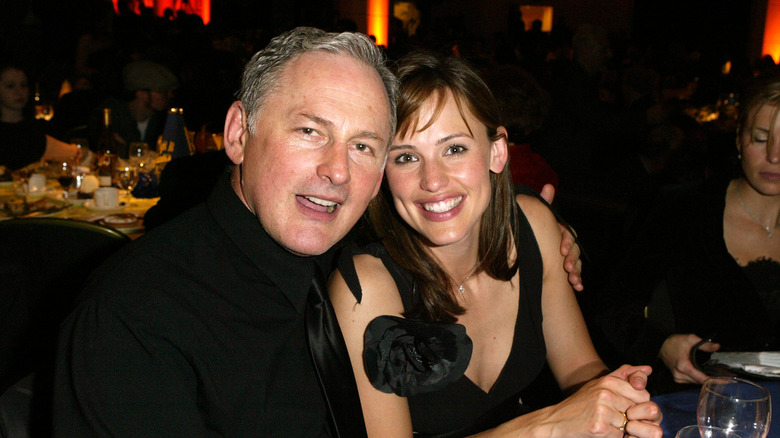 Frazer Harrison/Getty Images
Violet Affleck is one lucky little lady! Most people know it's a huge honor to be named someone's godparent, though it's not always an easy decision for parents to make. While some godparents are related to the child, other godparents are just really good friends of the parents, which is the case with Jennifer Garner's daughter, Violet. According to E! Online, Garner's former "Alias" co-star, Victor Gaber, serves as Violet's godfather — which is pretty cool if you ask us.
Obviously, Garner and Garber share much more than just two similar last names, and they both have a lot of respect for one another. In a 2019 interview with Us Weekly, Garber raved over how amazing Garner's kids are, including his goddaughter Violet and her siblings, Seraphina and Samuel. "Those children are so daunting and intimidating. They are so smart that I feel unequal," he told the outlet of the trio. "They're just beyond brilliant, those kids." Garber also gushed about Garner, and while he may be older, he still insisted that Garner is more of a "parental figure" to him. "She's so smart, and she takes care of me," the "Titanic" actor added.
Garner has also made it clear that Garber is special to her. "I spoke to @therealvictorgarber today, and it made me miss him. I love you, SpyDaddy," she wrote in a 2022 Instagram post.
Victor Garber officiated Jennifer Garner and Ben Affleck's wedding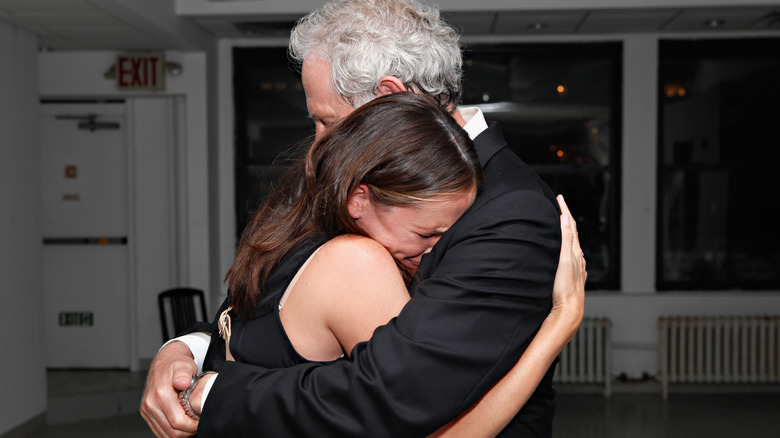 Cindy Ord/Getty Images
You know you're a big deal in someone's life when you get asked to be in their wedding. Before Jennifer Garner asked Victor Garber to be Violet Affleck's godfather, she asked him to be a special part of her life in a different capacity: as the officiant at her wedding. Sure, it's an honor to be named a groomsman or a bridesmaid, but asking someone to be the literal "power invested" in making the marriage official is a tremendous honor.
According to PopSugar, Garner and Ben Affleck tied the knot with a super-small ceremony in Turks and Caicos in 2005. Garber, the officiant, was one of the only people who nabbed an invite to the big day, and he told Entertainment Weekly that it meant a lot to him. "It was an incredible honor and one of the most special events of my life. I will never forget it," he beamed. "It's embedded in my heart." In the same interview, Garner shared that she would love to work with her former co-star again and said she always puts in a good word for Garber. "Everything I do, I say, 'I have a father in this! You know who would be great?' I don't know why they don't go for it," she stated. 
Garber and Garner starred in the hit show "Alias" from 2001 through 2006. Garber played the role of Garner's on-screen dad and they've shared a special bond ever since.