Diamond Expert: Kate Bosworth's Rumored Engagement Ring Has A Stunning Price Tag - Exclusive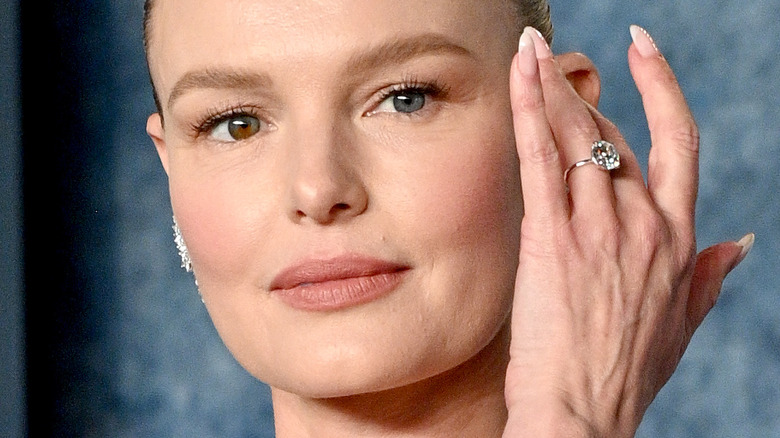 Lionel Hahn/Getty Images
When Kate Bosworth posed on the Vanity Fair Oscars party red carpet, everybody noticed the giant diamond on her wedding finger, not her stunning Monique Lhuillier dress. Then, a series of Oscars "day after" photos featuring another diamond beside a ring box sparked rumors that Bosworth and Justin Long's lowkey romance has ramped up to the engagement level.
Bosworth and Long were first linked while filming "House of Darkness" in 2021. "Holy moly [Justin Long], you are a truly spectacular / fun / funny / kind / rare / thoughtful / totally. f*kn. rad human being," the actor captioned photos of the two hanging out in Arkansas. Later that year, Bosworth took a major step toward ending her marriage by announcing she'd split from her director hubby, Michael Polish. "Fireworks, magnets, rebellion — the attraction," she wrote. "The onset signals a wide open expanse of possibility. Inherently we fear an ending."
Then, Long added fuel to the Bosworth dating rumors in December 2021 when he confirmed he had a girlfriend on his podcast, "Life is Short with Justin Long." He admitted being "so happy" that he wanted "to scream it from the rooftops." In 2022, Us Weekly reported that the couple had been seeing each other for months but "staying low-key and private about their relationship." Well, it appears that they've moved way past that stage now. As betrothal reports swirl, Kate Bosworth's rumored engagement ring has a stunning price tag that makes it anything but low-key or private.
What is the cost of love?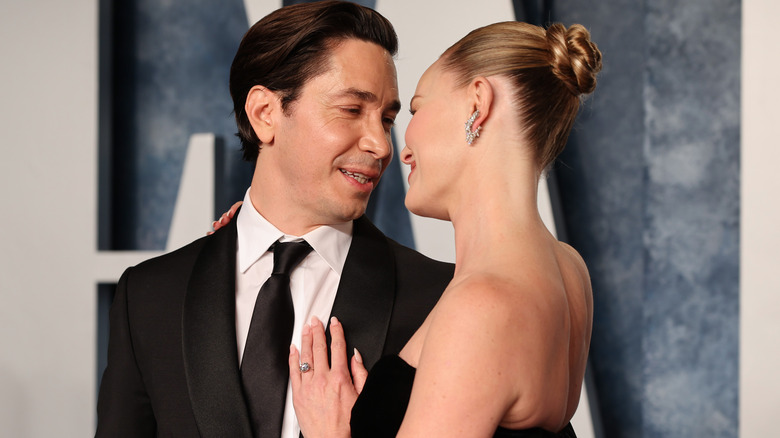 Cindy Ord/vf23/Getty Images
Jewelry experts say that when it comes to choosing a diamond, it's all about the "4 Cs." Carat, color, clarity, and cut. They don't mention the most important C for most of us 99 percenters — the cost. Well, it seems that wasn't even a consideration for Justin Long when he splashed the cash for Kate Bosworth's rumored engagement ring. Mike Fried, CEO of The Diamond Pro, cast his expert eye over Bosworth's bauble and gave Nicki Swift an estimated price. OK, brace yourselves.
"There's no doubt it took countless hours of searching for Kate's enormous 10-carat diamond," Fried exclusively told Nicki Swift. "High-quality diamonds of this carat weight are very rare and take a special eye to find a beautiful stone. Set on a thin band, her diamond can receive maximum light, making it a brilliant centerpiece. I'd estimate the value at half a million dollars, but I wouldn't be surprised if it is worth more."
Celebrities! They're just like us! But with half a million dollars or more to drop on an engagement ring. There's been no official announcement from either Long or Bosworth so far, but speculation is growing by the day. ET has gone all out by reporting that the couple is definitely heading to the altar. "They are both thrilled, and their loved ones are incredibly happy for them," a source told the site. "They make an amazing couple, and they're so excited."