Justin Long Adds Major Fuel To Kate Bosworth Dating Rumors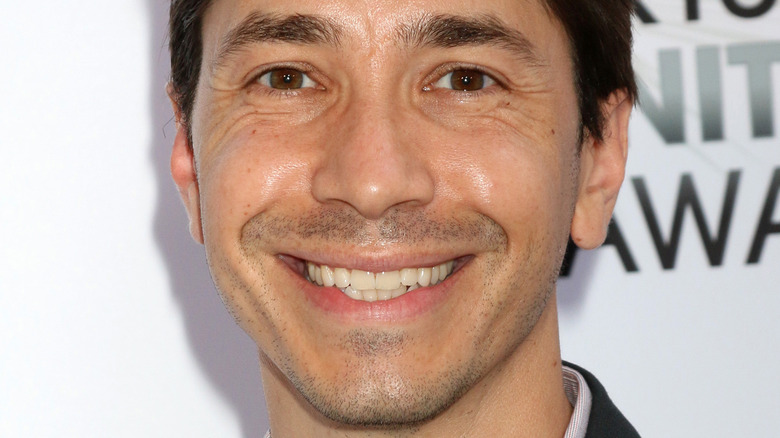 Kathy Hutchins/Shutterstock
Chatter of a romantic connection between Justin Long and Kate Bosworth began to ripple after they worked together on the upcoming film "House of Darkness" in early 2021. To celebrate the end of shooting, Bosworth took to Instagram with a special shout-out for her co-star. "Holy moly [Justin Long] you are a truly spectacular / fun / funny / kind / rare / thoughtful / totally. fckn. rad human being," she wrote in the caption. Bosworth shared several photos of their time in Fayetteville, Arkansas posing with street art, meeting a baby calf, and exploring the town.
In August 2021, Bosworth and her husband Michael Polish announced they were separating after nearly eight years, per Vanity Fair. The amicable decision was shared in a heartfelt post on Bosworth's Instagram, which left the possibility of a relationship with Long to stir up those rumors once again.
The pair was spotted together in a car — Long at the wheel and Bosworth in the passenger seat — as they drove around Los Angeles on April 4, according to People. Neither actor has confirmed nor denied the dating rumors, but it sounds like there could be more details coming soon, as Long opens up more and more about his personal life.
Has Justing Long found 'the one'?
Justin Long sat down with Nick Viall on "The Viall Files" podcast and gave a little insight into his love life — while remaining just vague enough on the details. He quickly noted getting to a point where he was "comfortable" with himself and ready to find "the one." This follows news from December 2021 when the actor confirmed having a girlfriend on his own podcast, "Life is Short with Justin Long."
On revealing more about the relationship, he shared, "It's weird. I want to, but I also want to be protective." He continued, "I want to scream it from the rooftops, but I also want to be protective. It's sacred." What he could confirm freely to the host was this: "I am so happy." Long and Viall went on to offer relationship advice to callers while this tiny bit of information is sure to send fans into a speculation spiral. With very few breadcrumbs, folks are eager to point at Kate Bosworth as "the one" as continued sightings of them together help the rumor stand.
A source claimed to Us Weekly in early 2022 that Bosworth and Long have been an item for months and have been quietly traveling together. Apparently, the actors aren't hiding the news of making it official. The couple is "just staying low-key and private about their relationship," per the source. Surely with Long's buzzing joy over finding his person, some kind of update will clear things up.