Bad Bunny Seemingly Shades Kendall Jenner's Ex Devin Booker In New Song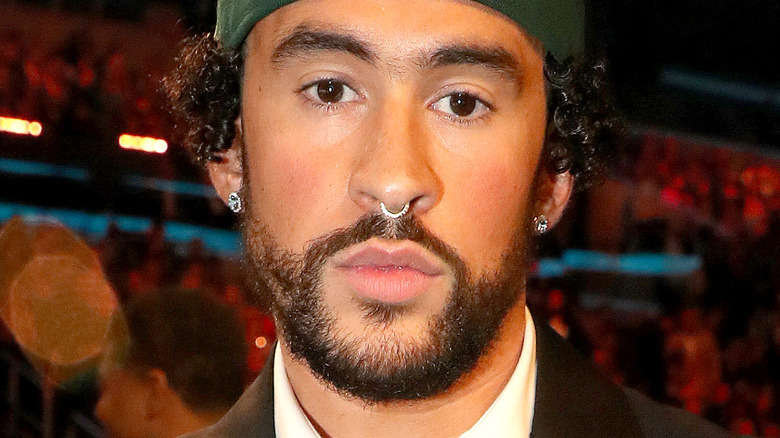 Johnny Nunez/Getty Images
It's a battle of the new boo versus old. In the red corner is Bad Bunny, aka rumored Kendall Jenner hook-up. In the blue is Devin Booker, aka former Kendall Jenner hook-up. Both men are young, successful, on top of their game, have some swagger in their step, and share a reality TV star love interest. So, it's little surprise that the rapper and baller are apparently beefing.
True to form, Jenner kept her relationship with Booker low-key. Following their first public sighting in April 2020, they vacayed with Justin Bieber and Hailey Baldwin, ate sushi in Malibu, hung out at the beach, and golfed. "They seem to be on the same page," a source told People. "They both seem to enjoy the quiet time together." Sadly, the couple that golf together don't always stay together. After a tumultuous spell, Jenner and Booker called it quits in October 2022. "They have a lot of love and respect for each other and wish only the best," a People source insisted.
It didn't take long before rumors began swirling that Jenner had moved on to Bad Bunny. The gossip intensified after the couple was spotted smooching and exiting Jay-Z and Beyoncé's Oscars party together. Page Six reports that they were spotted leaving in the same car after the party. Now, yet more fuel's been thrown on the rumor fire as Bad Bunny seemingly shaded Kendall Jenner's ex Devin Booker in his new song.
Apparently Kendall Jenner's a dangerous woman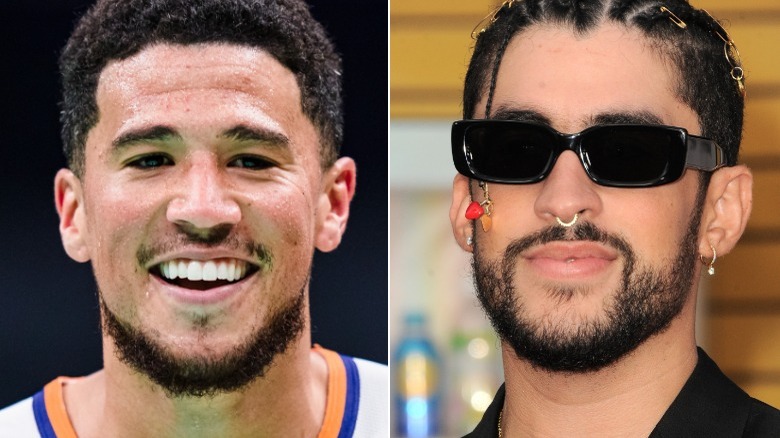 Tinseltown/Shutterstock & Jacob Kupferman/Getty
Bad Bunny isn't just seemingly shading Devin Booker in his new track with Eladio Carrión. In "Coco Chanel," he also appears to spit a bar about Kendall Jenner. "Las de escorpio son peligro," Bad Bunny raps ("Scorpios are dangerous"). For non-Kardashian fanatics, Jenner's birthday is November 3.
"Yo no soy malo, nah, bebé, eso e' un gimmick / Pero el sol de PR calienta má' que el de Phoenix / Ella lo sabe," the performer continues ["I'm not bad, baby that's a gimmick / But the sun in Puerto Rico is hotter than in Phoenix / She knows it."] It's a pretty thinly veiled dig, given that Booker is a Phoenix Suns point guard and Bad Bunny is a full-blooded Puerto Rican. Booker is also of Puerto Rican descent. He was born in Grand Rapids, Michigan to a Puerto Rican and Mexican mom.
However, Booker's not taking the diss lying down. The athlete clapped back in an Instagram post about the beef. "He worried about another MAN again," Booker wrote. Given Bad Bunny's net worth, it's unlikely he's worried about anything these days. The performer made it onto Forbes' "World's Highest-Paid Entertainers" list for 2022. The magazine claims he raked in a staggering $88 million thanks to endorsement deals and his U.S. and Latin America tours (which garnered a combined $400 million in ticket sales alone).