Courteney Cox And Neve Campbell's Decades-Long Friendship Goes Beyond Scream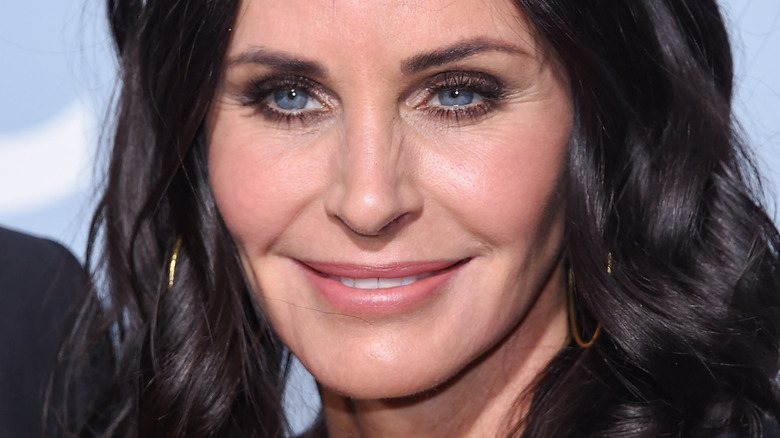 DFree/Shutterstock
Since the dawn of cinema, moviegoers have engrossed themselves in horror movies. From Alfred Hitchcock's "Psycho" to A24's "Hereditary," the genre has introduced viewers to some of the most notable monsters, storylines, and survivors. One film that has forever changed the horror landscape is "Scream." Directed by the late Wes Craven, the beloved 1996 film follows Woodsboro teen Sidney Prescott as she tries to avoid the murderous Ghostface. Since its release, the film has continued to earn acclaim for its cutting-edge story and for breaking the horror film mold. 
Alongside its critical and financial success, the film solidified Neve Campbell and Courteney Cox –– who played Sidney and Gale Weathers, respectively –– as household names. "I'm very thankful for the 'Scream' movies. They were fantastic for my career," Campbell told Black Book magazine regarding Scream's legacy. Cox echoed similar sentiments in an additional interview with ET, "I've been lucky to do a lot of things for long periods of time," she explained. In addition to their extensive involvement in the franchise, the two talents have built a heartwarming friendship outside of "Scream."
Neve Campbell and Courteney Cox bonded over growing older and motherhood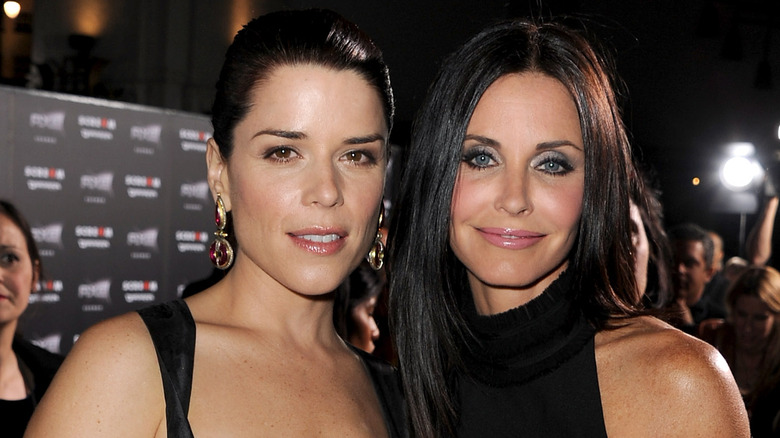 Kevin Winter/Getty Images
Throughout the expansive "Scream" franchise, Neve Campbell's Sidney Prescott and Courteney Cox's Gale Weathers have had a strenuous relationship. From Sidney punching Gale in the face to the latter exploiting the Woodsboro murders in a tell-all book, their path to friendship has undoubtedly been rocky. But even though their on-screen relationship has faced roadblocks, their off-screen friendship has been the complete opposite. In fact, the two beloved talents have developed a close bond after filming five films together.
"We've been making these movies together for 25 years, so we're always super, super happy to see each other when we get the chance to," Campbell told ET. Cox echoed similar sentiments before attributing their close bond to growing older. "I think we're closer, though in a weird way, because we're older now.," the Friends star explained. "I think our conversations and our bond is, for some reason, because we've known each so long, it feels, I don't know, I feel, 'Yea aw.'" In addition to getting older, Campbell attributed their close bond to their shared motherhood experience, stating: "That's obviously a big one."
Courteney Cox missed Neve Campbell while filming Scream 6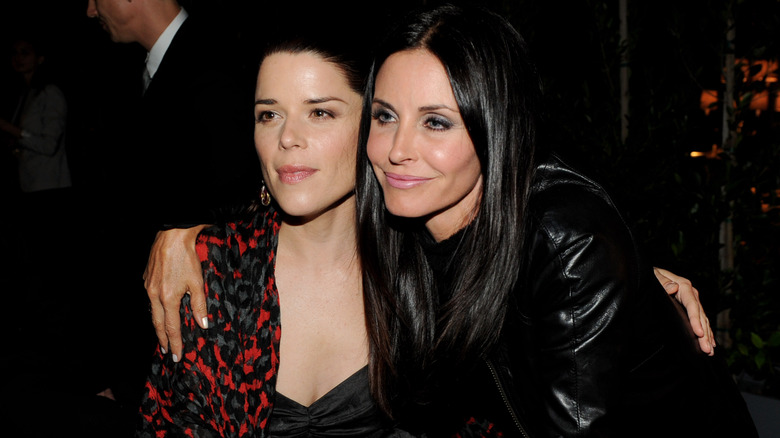 Kevin Winter/Getty Images
Back in January 2022, "Scream" fans were finally treated to the highly anticipated fifth installment. Due to its critical and financial success, a six-film was green-lit by Paramount Pictures. However, a few months after the exciting news was announced, Neve Campbell revealed that she wouldn't be reprising her role as Sidney Prescott due to salary disputes. "Sadly, I won't be making the next 'Scream' film," she told People. "I did not feel that what I was being offered equated to the value that I bring to this franchise and have brought to this franchise for 25 years." Unsurprisingly, Campbell's statement shocked the fanbase –– with many pop culture enthusiasts curious and saddened over the absence of the ultimate final girl.
However "Scream" fans weren't the only ones disappointed by the news. Ahead of the release of "Scream VI," Courteney Cox revealed that she "missed" seeing the "Party of Five" star on set. "I missed working with her, but I'm going to support whatever she feels is right," she told Variety. Cox's interview came a few months after Campbell admitted that her former cast mates, including Cox, supported her decision to step away from "Scream" franchise. "Everyone's been incredibly supportive ... And they were very understanding, very supportive and also sad," she told People. While Campbell and Cox won't be sharing the silver screen anytime soon, their friendship show's no signs of slowing down.