What Lindsay Lohan's Husband Bader Shammas Really Does For A Living
Jamie Mccarthy/Getty Images
Actor Lindsay Lohan made headlines everywhere on March 14 when she announced that she and her husband, Bader Shammas, are expecting their own little bundle of joy. "We are blessed and excited!" the mother-to-be penned in a revelatory Instagram post, along with a bright white baby onesie that read, "Coming soon..." 
The masses first learned that Lohan and Shammas were married after Lohan referred to him as her "husband" in a July 2022 Instagram post that has since been deleted. "I am the luckiest woman in the world. Not because I need a man, but because he found me and knew that I wanted to find happiness and grace, all at the same time," she penned. "I am stunned that this is my husband. My life and my everything. every woman should feel like this everyday." Her rep later confirmed the news. As you may recall, the couple got engaged back in November 2021 after Shammas popped the question with a square-shaped diamond reportedly weighing in at approximately six carats. (Cha-ching!) But what does Shammas do for a living to be able to afford such a hefty rock? The answer may or may not surprise you...
Lindsay Lohan's hubby is a banking magnate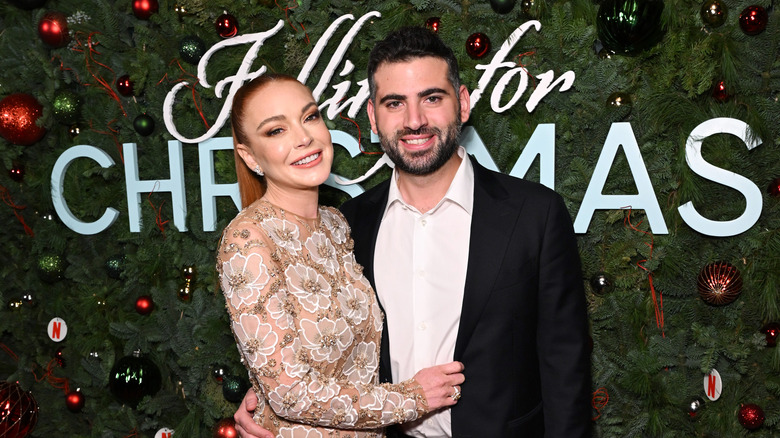 Bryan Bedder/Getty Images
It's all about the Benjamins, baby!
Lindsay Lohan's hubby, Bader Shammas, is a big-time banker. It's reported that he earned two degrees, one in Mechanical Engineering from the University of South Florida and another in Finance from the John H. Sykes College of Business at the University of Tampa. He then worked at BNP Paribas Wealth Management as an associate. He currently serves as the Assistant Vice President at Credit Suisse, a banking firm in Dubai. 
And, as it turns out, Shammas is exactly the kind of guy Lohan was looking for. Back in 2019, she opened up to radio host Howard Stern about her ideal partner. "I want to date a guy that's a businessman — doesn't have Instagram, doesn't have social media, and is completely off the grid in terms of that kind of stuff," she revealed. "I think it will happen when it's meant to happen," she declared. Wow! Talk about speaking something into existence!
Bader Shammas is different
But maybe Lindsay Lohan wasn't really concerned about what kind of job her future husband held, so long as she didn't have to chip in on her engagement ring when the time came...
"The biggest difference is that this time she didn't have to pay for the ring herself," Mike Fried, the CEO of The Diamond Pro, shared with Page Six when discussing the similarities and differences of the ring her hubby, Bader Shammas, gave Lohan and the one her ex-fiancé Egor Tarabasov had previously proposed to her with back in 2016. As you may recall, the pair ultimately split after a violent altercation on the sandy beaches of Mykonos. "The truth is, I wanted to make things work, but now I'm not sure that I can," she told the Daily Mail. "I need closure. I genuinely fell in love with him but he broke my trust and made me feel unsafe."
Fortunately for Lohan, Shammas also appears to be way less reactive than Tarabasov. "I have an amazing husband, who's a very calm person," Lohan gushed to Cosmopolitan in October 2022. Congrats, Lindsay!