RHONJ: Danielle Staub's Criminal Past Explained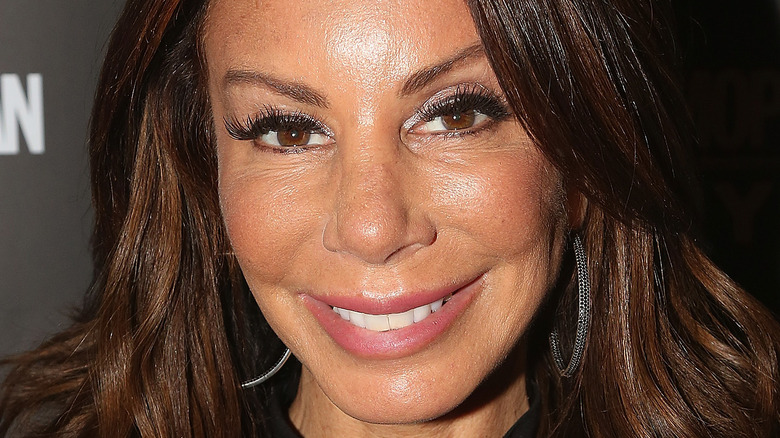 Bruce Glikas/Getty Images
Danielle Staub has been one of the most controversial cast members of "The Real Housewives of New Jersey" since her Season 1 debut. Originally a friend of Jacqueline Laurita's, she failed to break into the other housewives' inner circle due to her dubious past. While Laurita tried her best to help her friend ease into the group, it didn't help that Dina Manzo openly snubbed Staub due to a past tiff. "RHONJ" matriarch Caroline Manzo tried to give Staub a chance, but her mama bear instincts kicked in when her castmate danced a little too close to her son, Albert Manzo Jr. during a group salsa lesson.
After hearing rumors about Staub's past, Caroline and Dina found the book, "Cop Without a Badge." The sisters shared the true-crime biography with the other cast members and revealed that Staub was involved with kidnapping and extortion. The shocking news led to one of the biggest moments in "RHONJ" history — Teresa Giudice's infamous table flip. While Staub didn't deny she had been arrested, she was reluctant to share anything else, but details soon emerged about her shady history.
Danielle Staub was arrested for her involvement in an attempted cocaine deal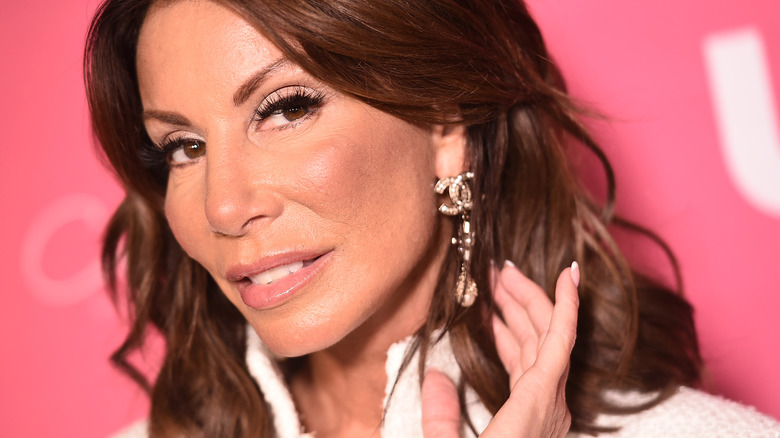 Steven Ferdman/Getty Images
Although Danielle Staub claimed in "The Real Housewives of New Jersey" Season 1 that she was just "at the wrong place at the wrong time," there was more to the story than she led her castmates to believe. According to "The Smoking Gun," Staub, whose original name was Beverly Ann Merrill, was arrested in 1986 alongside a man named Daniel Aguilar. The two allegedly tried to hold a man named Carmen Centolella hostage in Miami for $25,000 after a failed drug deal. Staub and Anguilar were found by the FBI after Centolella's father called them, alleging they threatened to harm his son unless they received money from him.
After her arrest, Staub agreed to work with the FBI and turned on Anguilar, which resulted in death threats from his family. The former "RHONJ" star was convicted of extortion and received five years of probation. She was also ordered to attend a drug treatment program and give weekly urine samples to test for drug use. Aguilar received 15 years in prison.
The court documents also state that Staub worked as an escort, which was also detailed in "Cop Without a Badge" by her ex-husband Kevin Maher. However, Staub told People, "I was never a prostitute. Never." As for her past, she simply stated, "I was arrested — what is the big deal?" Despite her blasé attitude about her alleged crimes, Centolella's take on Staub's involvement is much more elaborate.
Danielle Staub's victim claims she was the brains behind the operation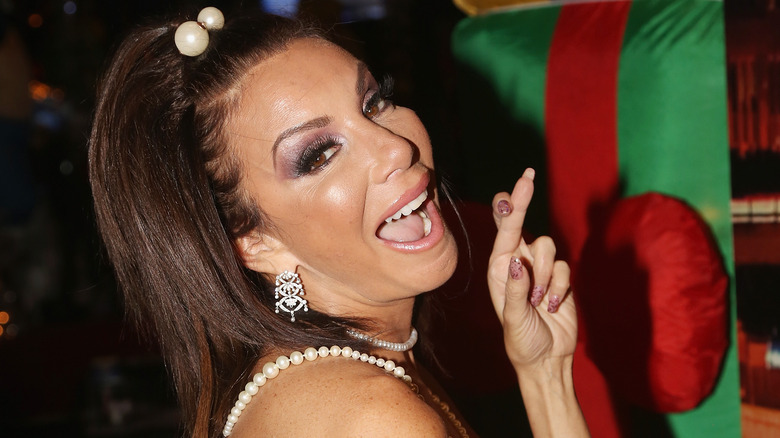 Bruce Glikas/Getty Images
Danielle Staub has tried to put her shady past behind her but Carmen Centolella is determined to tell his side of the story. He shared that Staub was the one with the drug connections and he asked her for two kilos of cocaine that he could redistribute, per NJ.com. Per his account, Staub arrived at his apartment with only one kilo, but things took a turn when the buyers held them up with a gun and took off with the cocaine. According to Centolella, Staub and Daniel Aguilar kidnapped him and tied him up. Staub allegedly hit him with a gun, forced it into his mouth, and said, "You better get this money or you're dead." After Centolella called his father for the money, the FBI was able to trace his location.
Since her brush with the law, Staub's rap sheet has remained clean. She has, however, not been able to remain drama-free. In 2020, she got involved in a fight in "RHONJ" which resulted in Jacqueline Laurita's daughter, Ashley Holmes, pulling her hair. Staub pressed charges and Holmes was found guilty by the judge of assault. In "RHONJ" Season 10, Staub was the one doing the hair-pulling after she got into it with Margaret Josephs. Thankfully, no charges were pressed and Staub was able to walk away from the show scot-free.