How Cameron Diaz Really Feels About Working With Jamie Foxx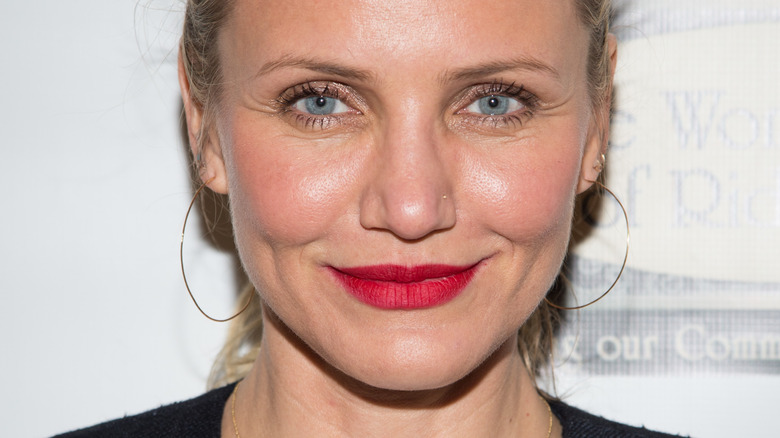 Dave Kotinsky/Getty Images
Actor Cameron Diaz made headlines back in June 2022 when it was revealed that she was coming out of retirement and set to make her triumphant return starring alongside Jamie Foxx in a Netflix action-comedy movie aptly titled "Back in Action." 
"I feel excited but, I don't know how to do this, ya know?" Diaz can be heard saying on a phone call to Foxx about her unusual predicament — a conversation Foxx later uploaded to Twitter. Fortunately, Foxx had a little trick up his sleeve to help his co-star by way of famous footballer Tom Brady, the king of retiring and un-retiring... and then retiring again. "I'm relatively successful at un-retiring," he confidently told Diaz. And apparently, Brady's motivational speech worked! But aside from helping Diaz with her un-retirement jitters, how else has Foxx helped Diaz reacclimate herself to the acting world? And how does Diaz really feel about working with Foxx? The answer just might surprise you...
Cameron Diaz is 'having a blast' filming with Jamie Foxx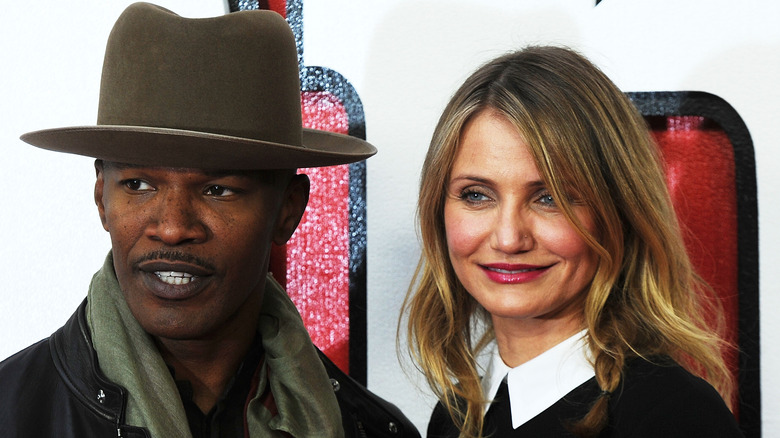 Dave J Hogan/Getty Images
No second-guessing here! Back in September 2022, un-retired thespian Cameron Diaz gushed to late-night television host Jimmy Fallon about the opportunity to work with fellow actor Jamie Foxx again. "He's so great. He's so easy. He's so professional. He's so talented... It'll be so much fun," she said. And that it has been!
A source told People in early March that Diaz is "having a blast" as she films with Foxx. "Cameron has been filming in London for several weeks. She was nervous before she arrived in London, but then very excited," the source explained. "Filming has been amazing. Cameron really enjoys it. They have been doing a lot of nighttime filming," the source added. "It hasn't bothered her, because she is jet-lagged anyway. Her family is with her for support." And as far as Foxx goes, it appears the pair are a dynamic duo! Another insider claimed that Diaz and Foxx not only "have great chemistry" but that they're also adored by everyone on set. 
"Everyone loves working with them," the source said. "They are both incredibly hard-working and never complain. Cameron is a sweetheart on the set. She is super chill and down to earth," the source gushed. "She keeps telling the crew that she is just so excited to film again," another insider added.
Alas, not everyone is singing Foxx's praises... 
Sources claim Jamie Foxx is difficult on-set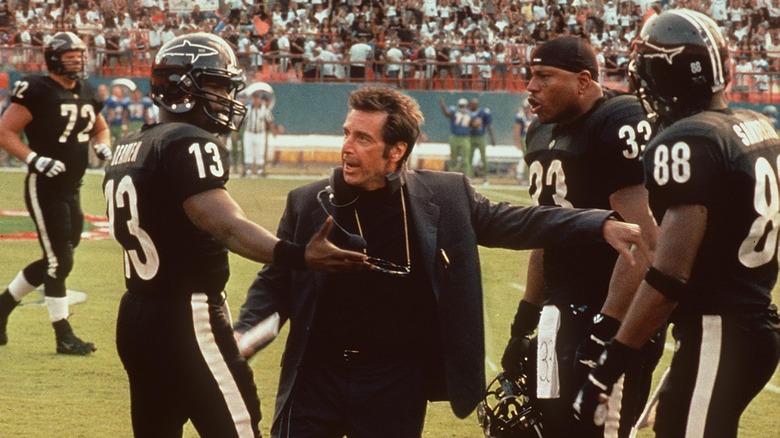 Getty Images/Getty Images
Meltdowns, and temper tantrums, and pink slips, oh my! Is Jamie Foxx hard to work with?
While Cameron Diaz appears to be drinking the Jamie Foxx Kool-aid, it's rumored that others on the set of Netflix's "Back in Action" aren't quite as enthused with the actor's purported on-set antics. "There have been some issues on set and Jamie has had a major meltdown over it all," a source recently divulged in an exclusive interview with The Sun. But that's not all. The source also claimed that Foxx had sent four employees their marching orders — including his driver. YIKES. 
"Some people working on it [the film] are totally fed up with how this has played out and Jamie has become pretty unpopular," the source claimed. Alas, this wouldn't be the first time Foxx was accused of behaving poorly on set. Way back in 1999, Foxx and his "Any Given Sunday" co-star LL Cool J got into a fist fight on set. Yes, you read that right — a fist fight. Foxx, however, is adamant that LL Cool J pushed him first. "So then it got testy, man, and we got to scrapping or whatever like that," he recalled to Showtime Sports in 2020.
Unlike his hit song with rapper T-Pain, something tells us Foxx won't be able to blame his purported less-than-stellar on-set behavior on the alcohol this time.