Who Is Lukas Gage's New Flame, Kardashian Hairstylist Chris Appleton?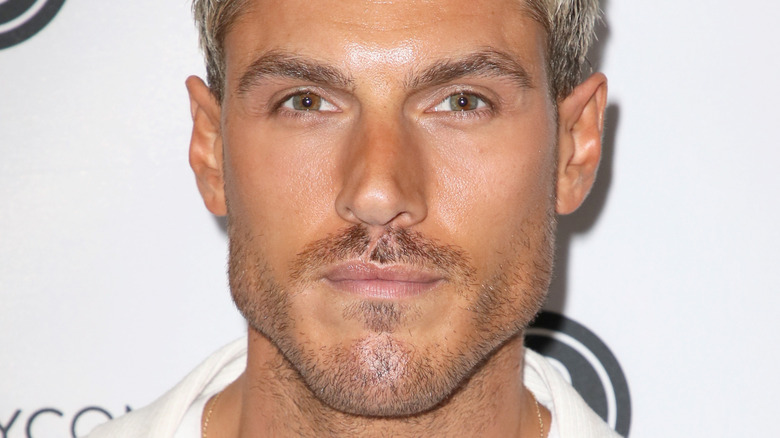 David Livingston/Getty Images
Over the last few years, emerging talent Lukas Gage has gained recognition for his expanding acting portfolio, which includes appearances in hit shows like "Euphoria," "You," "The White Lotus," and "Love, Victor." In addition to his professional life gaining traction within the pop culture sphere, Gage has also gained attention for his personal life, specifically his love life. Back in February, the "Angelyne" star made headlines when he shared a carousel of pictures from his Mexico vacation with Chris Appleton on Instagram. In the series of snaps, the two are seen riding ATVs, posing on top of one, and taking a flirtatious dip in the crystal blue sea. As for their captions, the two industry talents kept it coy and cute, with Gage writing "La mejor," and Appleton captioning his own Instagram post with  a single word: "Joyride."
In the weeks following their soft launch on Instagram, the pair neither confirmed nor denied their relationship, despite being repeatedly spotted out on the town together. With the buzz surrounding the new Hollywood couple growing, we wanted to delve deeper into Appleton and his impressive career in the entertainment industry.
Chris Appleton has worked with the likes of Kim Kardashian and Ariana Grande
While Lukas Gage is making his way up the Hollywood ladder as an up-and-coming actor, his boyfriend, Chris Appleton, has already made his mark as a renowned hairstylist to the stars. Hailing from the UK, the experienced creative first gained recognition for his work in various editorial spreads and at runway shows. However, it didn't take long for his work to catch the attention of pop superstar Rita Ora, whom he collaborated with for a few years. "I worked with her one day, and then she never let go of me; she just kept me for two years, and we travelled all over," Appleton explained to Grazia.
Due to his work relationship with Ora, the English stylist was thrust even further into the spotlight, resulting in him working with pop culture icons like Jennifer Lopez, Ariana Grande, and Kim Kardashian. When reflecting on his years as an acclaimed stylist, Appleton told The Cut that his career has been led by his passion for making anyone — celebrity or not — "look their best." "The main objective is I love what I do, and I really genuinely want to make people look their best," he explained to the publication. "I started doing this because I realized I had this ability to give people something that was like emotional medicine." In addition to his career as a  hair stylist, Appleton is also the Global Creative Director of Color Wow Hair. 
Chris Appleton says he's happy and very much in love with Lukas Gage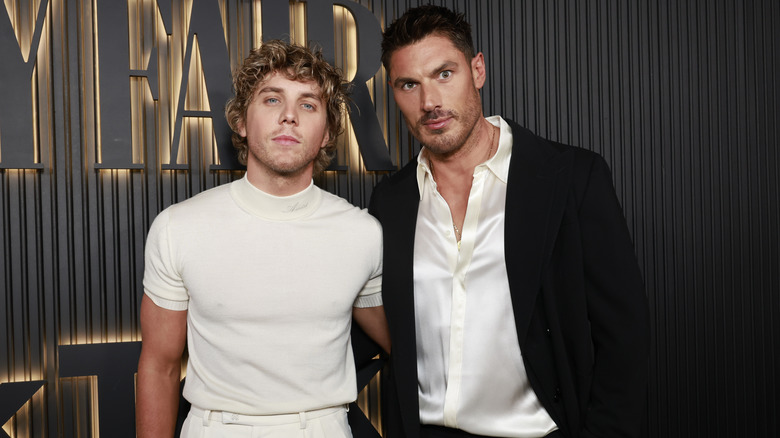 Emma Mcintyre/Getty Images
With his career as a celebrity stylist showing no signs of slowing down, Chris Appleton has recently focused his energy on his budding relationship with Lukas Gage. After making their subtle debut on Instagram, the beloved creative spilled a little tea on their relationship during an appearance on "The Drew Barrymore Show." "Listen, I am very happy," he told the "Charlie's Angels" star. "Very much in love, and I feel very grateful to share my time with someone very special. Love is a really special thing."
While Appleton has slowly started to open up about their relationship, Gage, on the other hand, has chosen to go down the coy route. While speaking with The New York Times, Gage opened up about the importance of privacy regarding his romantic life. "I'm a pretty open book about most things in my life, but I have a problem with the culture of everybody's business, and nothing can be sacred," he explained. "It's a weird line that I'm still trying to figure out." We can't wait to see Appleton and Gage's romantic relationship blossom.