How Kirstie Alley Played Matchmaker For John Travolta And Kelly Preston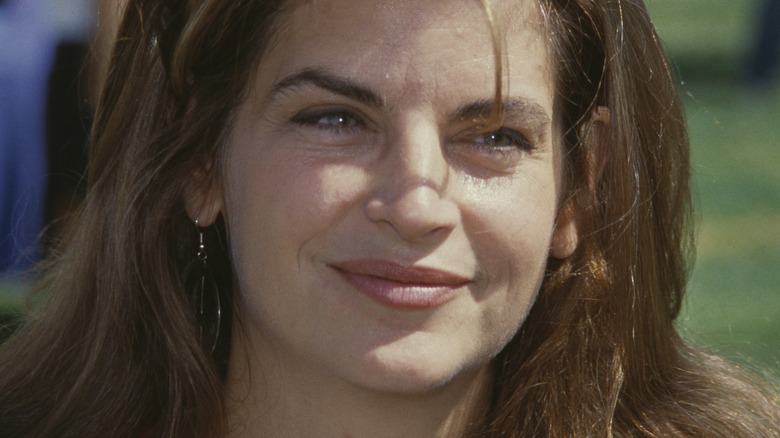 Michael Ochs Archives/Getty Images
It was a massive shock for John Travolta to learn that one of his closest friends in Hollywood, Kirstie Alley, had died. The two forged a friendship while working together on the "Look Who's Talking" franchise, in which they portrayed love interests. In a social media post honoring Alley, who died of colon cancer at the age of 71, Travolta expressed his grief and love for his late co-star. "Kirstie was one of the most special relationships I've ever had," he wrote on Instagram next to a photo of Alley and another of them smiling at each other. "I love you Kirstie. I know we will see each other again."
Alley and Travolta developed feelings for one another during the filming of the "Look Who's Talking" franchise. In past interviews, Alley had been incredibly candid about her affection for her co-star, referring to Travolta as the "greatest love of my life" despite being previously married to Parker Stevenson. "I did love him," she said of Travolta, according to People. She also admitted that she found it hard to stay faithful in her marriage because of the actor. "[Not sleeping with John was] the hardest decision I've ever made because I was madly in love with him," Alley dished.
Interestingly, despite her attraction, Alley was the one responsible for setting Travolta up with his late wife, actor Kelly Preston. After starring together in the 1989 film "The Experts," the two reconnected and soon fell in love — all thanks to Alley who played matchmaker for the couple.
Kirstie Alley set John Travolta and Kelly Preston up at a party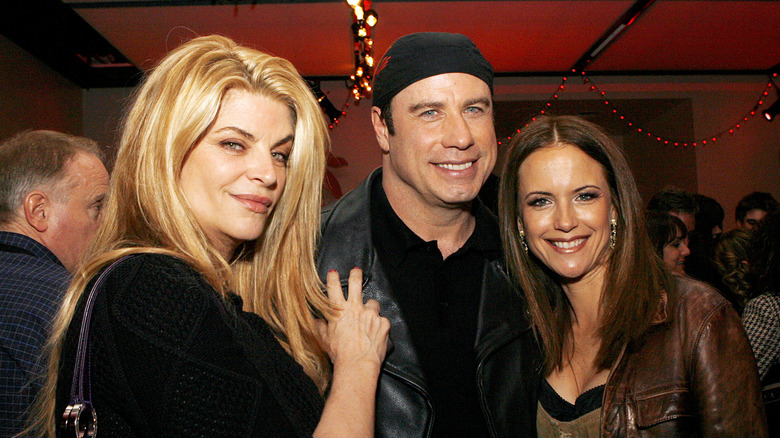 Kevin Winter/Getty Images
John Travolta and Kelly Preston first met in 1987 at a screen test for their romance-comedy film "The Experts." However, it wasn't until a few years later that the pair formed a romantic connection in real life, and that's thanks to their friend, Kirstie Alley, who set them up at a dinner party at her house. Recalling their love story on "Montel," Preston said Alley had always wanted for her and Travolta to end up together. "So, she sat us next to each other at the table and Johnny kept whispering to me, 'I really want to talk to you after dinner. Will you come back to my room? I just wanted to talk to you about something.' So I did and he said, 'Are you over?' Because we'd been broken up for months," Preston recalled.
At the time, Preston was fresh off her breakup with actor Charlie Sheen, to whom she was engaged for a short time in 1990. She continued, "And [John] said, 'Would you like to try being boyfriend and girlfriend?' I said yes." She and Travolta would go on to get engaged on New Year's Eve 1991 in Switzerland. They then tied the knot in Paris the following September, while Preston was already pregnant with their eldest son, Jett. Meanwhile, the pair remained close friends with Alley, despite the "Cheers" actor still being admittedly hung up on Travolta.
Kirstie Alley continued to flirt with John Travolta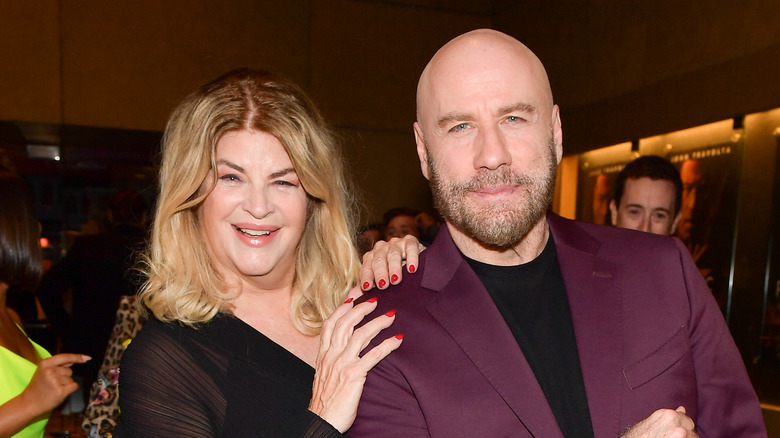 Matt Winkelmeyer/Getty Images
Kirstie Alley had a hard time letting go of her love for John Travolta. In a chat with Howard Stern, Alley opened up about her lingering feelings for Travolta, saying she continued to flirt with the actor even after he married Kelly Preston in 1991. "In the beginning, she [Preston] would bust me," Alley said. "She would be like, 'Are you flirting with my husband?' And the answer was 'Yes.'" She made a similar confession on "The Dan Woolton Interview" podcast in 2018. "Kelly came up to me, and they were married then, and she said, 'Erm, why are you flirting with my husband?'" Alley said. "And that was sort of when I had to make a decision, and that was pretty much the end of that."
It may have taken a while, but Alley eventually got over her feelings for Travolta. She also remained best friends with Travolta and Preston in the end, with the latter crediting Alley as her "rock" in a 2013 interview with Health. "Kirstie is one of my absolute best friends," said Preston. Alley had also spoken of her close friendship with Preston, who sadly passed away in July 2020 after a two-year battle with breast cancer. "Kelly ... you are Hawaii and I am Kansas. The perfect combination for best friends," Alley wrote in a tweet. "I love you forever Shooster ... so here's to 'until we meet again 'somewhere.'"