Kelly Ripa Recalls Red Flag Mark Consuelos Raised At Beginning Of Their Marriage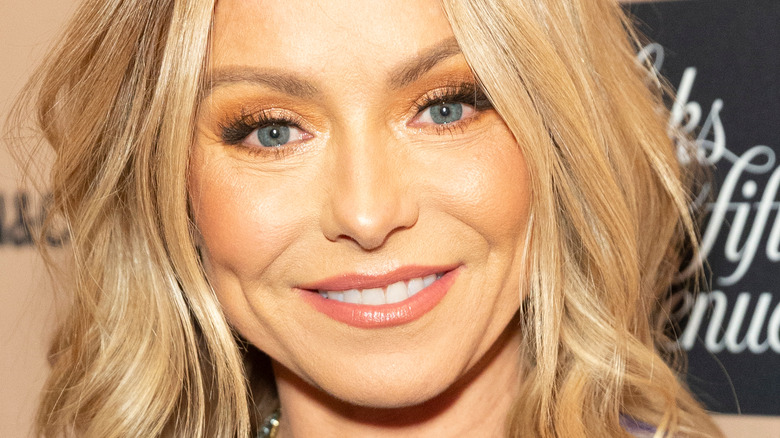 lev radin/Shutterstock
Kelly Ripa and Mark Consuelos have one of Hollywood's most endearing — and enduring – marriages. Still, it wasn't without its hiccups at the start. Per People, they met in 1995 while auditioning for "All My Children." A whirlwind romance led to a Las Vegas wedding in 1996, and three kids followed. But despite the crazy home life and busy work schedules, the couple still has that certain something. This is just as well, given they're living and working together 24/7 starting April 17.
Ripa credits her "All My Children" days for making it all possible. "We met there at the beginning of our careers and got married and had our kids while there," she told Us Weekly. "So it only makes sense for us to come full circle and work together once again." Consuelos is replacing Ryan Seacrest as Ripa's co-host. She's been on Live! since 2001 in the Regis Philbin days. Two other co-hosts have appeared between Philbin and Consuelos — Michael Strahan and Seacrest. The latter gave a teary speech on February 16, expressing his gratitude and sharing he's "excited to pass the baton to Kelly's 'real' husband, Mark." (via Variety).
Seacrest's relationship with Ripa was super close. However, for obvious reasons, Consuelos' is even closer, and their chemistry still sizzles even after all these years. However, they nearly didn't make it to their first anniversary. Kelly Ripa recently recalled the red flag that Mark Consuelos raised at the beginning of their marriage.
The red flag was more green and monster-shaped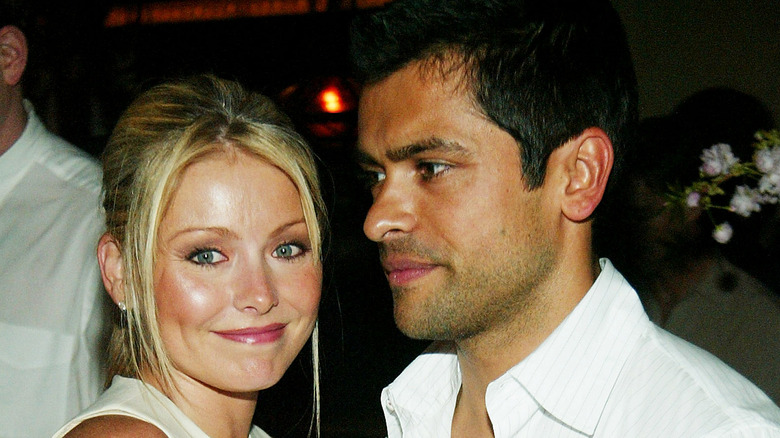 Evan Agostini/Getty Images
Because Kelly Ripa needs more on her plate than just co-hosting the most-watched morning show in the US, she's launched a podcast to help fill all her spare time. Her first guest on "Let's Talk Off Camera with Kelly Ripa" was Mark Consuelos. "Mark and I take an intimate look into our marriage since we are ripe for a 'Gray Divorce,'" the show notes read.
Ripa said she noticed a glaring red flag when they first married — or rather, a giant green-eyed monster. "You used to be insanely jealous, and that was a hard pill to swallow," she confessed. "It's very hard being married to somebody who is jealous." She shared an anecdote about Consuelos throwing a hissy fit after a waiter "in his 70s if not 80" called her "princess."
"Look, at age 25, I was pretty insane," Consuelos admitted. "But that jealousy thing definitely followed me for a while. I'm not jealous anymore." He said he worked hard to rid himself of the issue, admitting, "It's such an ugly feeling inside." Consuelos still holds tightly onto his machismo, though, especially regarding family life. "I feel like there are certain roles — it's hard to explain exactly what those roles are," he said on the "Double Date" podcast. "We had a conversation where I said, 'Hey listen, there's really only room for one man in this relationship, and it's going to be me.'"