Tom Brady Follows Up Ex Gisele Bündchen's Divorce Interview With Yet Another Cryptic Post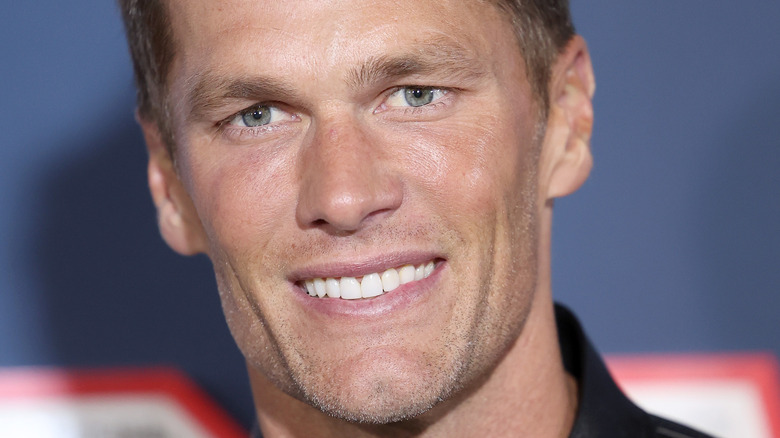 Phillip Faraone/Getty Images
The Tom Brady-Gisele Bündchen divorce rages on. If you were hoping they'd reconcile — the same way Brady has retired and unretired several times — it's probably time to give up. In what seems to be a never-ending cycle of news stories about their failed marriage (and Brady's reportedly Facetuned thirst traps), Bündchen added fuel to the fire earlier this week by giving a very telling interview to Vanity Fair.
In the emotional interview, Bündchen told the outlet that she and Brady had been drifting apart for a long time. She insisted that despite rumors, her decision to walk away had nothing to do with his returning to the NFL for another season. "Sometimes you grow together; sometimes you grow apart," Bündchen said. The supermodel explained that they were so young when they met (26 and 29, respectively) that they couldn't sustain the chemistry as they grew older. "As time goes by, we realize that we just wanted different things, and now we have a choice to make," she said. Bündchen wrapped up the Brady portion of her interview by claiming that despite the hardship, she still supported his career as much as she always has. "I have always cheered for him, and I would continue forever," she said.
That's a nice sentiment, but Brady may not have taken the interview well. In the days following its publication, the star athlete took to Instagram to share cryptic messages about his current emotional state.
Tom Brady posts a poem after Gisele Bündchen's interview
Fans noted that Tom Brady seemed a little down after Gisele Bündchen, his estranged wife, recently spoke to Vanity Fair and seemed to be moving on from their marriage just fine. So Brady jumped on Instagram and shared a lengthy poem by Ralph Waldo Emerson called "What is Success?" The piece is about accepting life's difficulties, like the "betrayals of false friends," and finding joy in the little moments by "laughing often and much." The poem closes, "To know even one life has breathed easier because you have lived — This is to have succeeded!" Brady captioned the post with three hearts.
Though he did not address the interview directly, it is known that Brady has been struggling with the divorce for months. Per his own admission, adjusting to life as a single parent has not been easy. "Obviously, the good news is it's a very amicable situation, and I'm really focused on two things: taking care of my family, and certainly my children, and secondly doing the best job I can to win football games," Brady said during a 2022 episode of "Let's Go! with Tom Brady, Larry Fitzgerald, and Jim Gray." He continued, "That's what professionals do. All you can do is the best you can do. That's what I'll just continue to do as long as I'm working and as long as I'm being a dad."