Gisele Bündchen's Twin Patricia Is Only One Of Her Five Sisters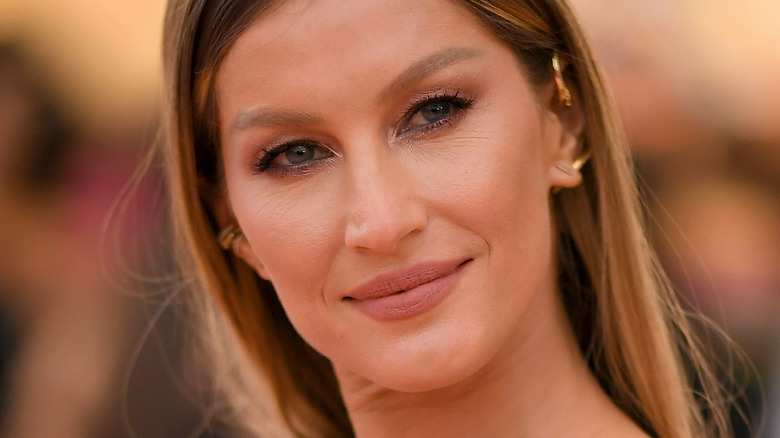 Neilson Barnard/Getty Images
Brazilian-born model Gisele Bündchen comes from a large family, consisting of her mom, her dad, and a total of six children. While we know a lot about her fraternal twin, Patricia Bündchen, her sisterhood with all of her siblings has been integral in Gisele's life.
The Bündchens grew up in Horizontina, Brazil, before Gisele was scouted by an agent at age 14 and later became the international phenomenon she is today. At one point in her career, Patricia served as her sister's manager and spokesperson. When they both reached the milestone of turning 40 years old, the supermodel posted a birthday tribute for herself and her ride-or-die. "Today Pati and I get to celebrate four decades of being alive on this amazing planet!" she wrote. "How lucky I was to be born with my twin and best friend!"
While she and her twin are definitely close, Gisele also has five other sisters who have had her back since the beginning.
Gisele Bündchen's family is full of strong women
Imagine having six sisters under one roof! While most sisters would probably quickly descend into bickering, Gisele Bündchen looks back fondly at growing up with her large family. In an interview with Vanity Fair, the former Victoria's Secret model revealed that she shared a two-bedroom, two-bathroom abode with her family of eight, which included sisters Patricia, Raquel, Graziela, Gabriela, and Rafaela.
"We did ballet, gymnastics — I think my mom was trying to keep us busy," she recounted to the publication. "She had to work, so we went to a modeling course — me and my twin and one of our sisters, Gabby, who's like the second twin because we're one year apart. We were the Three Musketeers, and we did everything together."
For International Women's Day, the mother of two shared an appreciation post on Instagram for the inspiration she's derived from the women in her family. "I feel so blessed that I got to grow up surrounded by six incredible women: my mom, and my five sisters," she gushed. "We are all so different, but we complement one another, and we help each other grow!" And it looks like Bündchen's sisters have definitely stuck with her through thick and thin.
Gisele Bündchen's sisters reportedly helped her through her divorce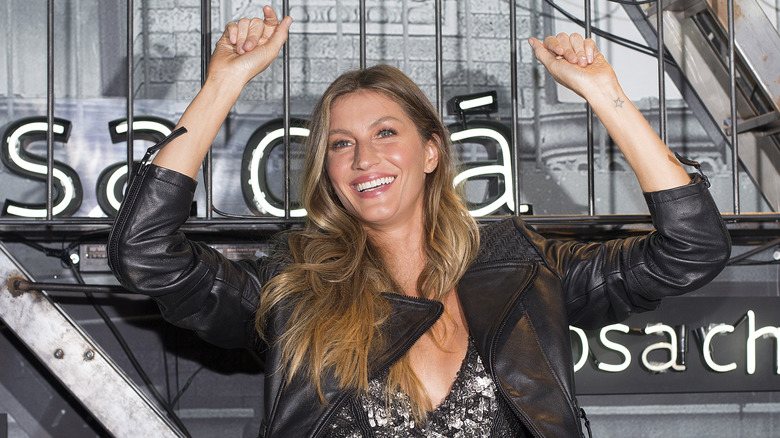 Daniel Vorley/Getty Images
When you break up with your man, all you need is your good girlfriends. For Gisele Bündchen, her five sisters are some of the people who have reportedly been there for her after her divorce from longtime husband Tom Brady. A source told Hollywood Life that all of her siblings — and especially her twin, Patricia — have "[meant] everything to her" during this tough time and she feels "grateful and blessed" to have them in her life.
Of course, Bündchen has been spotted traveling around the globe with her kids, and even attended Carnival in Rio this year, so it's not like she's been completely down in all of this. But it's still essential to have your girls around. Plus, the model opened up in her old Vanity Fair interview about the confidence and general boost she's felt due to her loving family.
"When you come from a big family, you see that growing up you're learning how to share," she explained. "Your sisters have got your back; you're not alone in this — 'We all support you!' Your family provides that; it gives you a sense of safety, and it's a very grounding feeling. That's why I feel I can fly away, because I have those roots and they're so deep."