Brendan Fraser Met His Ex-Wife Afton Smith With The Help Of Winona Ryder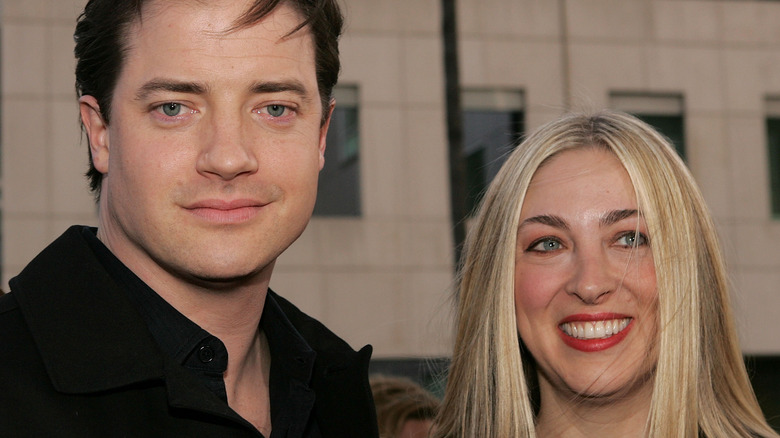 Vince Bucci/Getty Images
In the '90s and 2000s, Brendan Fraser was a major star thanks to hits like "George of the Jungle" and "The Mummy" franchise. But it seemed to fans he simply vanished off movie screens, although he has been lauded for his TV roles in "Trust" and "Doom Patrol." With his apparent comeback in the Academy Award-winning film "The Whale," Fraser seems to be back on top.
But since he shot to fame, Fraser did get married, have kids, and then get divorced. He told Entertainment Tonight that these life experiences, especially having sons, have really shaped him more as an actor. "I have kids now, and that really warrants how I make decisions, what I'm going to do — and, whatever it is that I'm doing, how I feel about what I'm doing," he said. "Somehow stakes get raised to such a point that something that may seem garden variety or normal takes on much more gravity." He said that "suddenly, everything clicks" and "increases the authenticity of what we do." 
But how did he meet the mother of his children, Afton Smith? Turns out his fellow '90s star Winona Ryder had a small part to play in their meeting.
Brendan Fraser and Afton Smith got married in 1998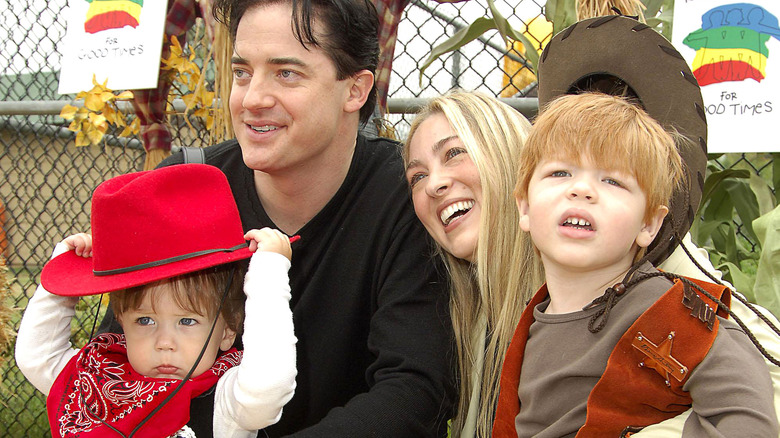 Everett Collection/Shutterstock
Brendan Fraser and Afton Smith dated for five years and got married in 1998. Winona Ryder played a cute little part in their relationship, as they met at her July 4th party in 1993. Ryder was already an established Hollywood darling at this point, with movies like "Heathers," "Beetlejuice," and "Reality Bites," a classic indie that also featured Afton Smith. 
Fraser, on the other hand, was a fresh new face to the scene. By 1993, Fraser was in popular movies including "Encino Man" (with fellow future Oscar-winner Ke Huy Quan) and "School Ties," which co-starred a young Matt Damon. Damon started dating Ryder a few years later in 1998, leading to a whirlwind, tragic romance that made Damon swear off dating fellow celebrities.
When it came to Fraser and Smith, though, the "Gods and Monsters" actor was devoted. "It's very beautiful to watch a man's love for his wife be expressed so tenderly," Fraser's "Looney Tunes: Back in Action" co-star Jenna Elfman told USA Weekend in 2003. Fraser said of his wife at the time, "I knew I could combine my personal and professional ambitions and have a friend to be within her. Five years later she did me the honor of being my wife."
The Oscar-winning star had a messy divorce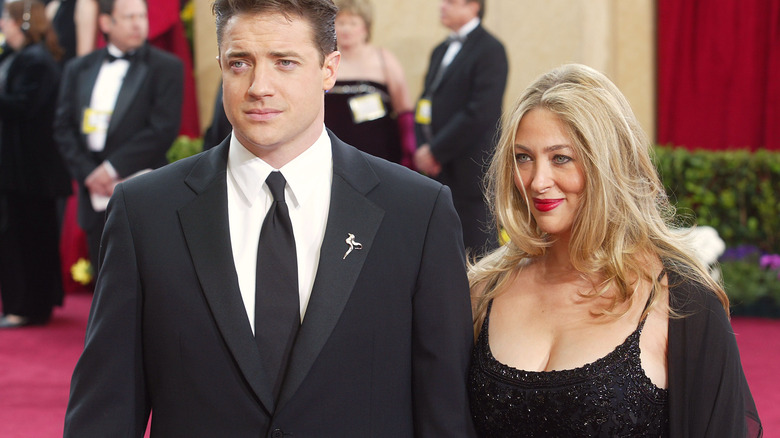 Kevin Winter/Getty Images
As stated above, Brendan Fraser and Afton Smith already had a baby by 2003 — Griffin Arthur Fraser, born in 2002 — and had two more by the time they divorced: Holden Fletcher Fraser, born in 2004, and Leland Francis Fraser, born in 2006. Sadly, Fraser and Smith went through a messy divorce in 2009.
Law Missouri reported that Smith was granted $50,000 a month when the divorce was finalized. According to Radar Online, Fraser tried to reduce his yearly alimony amount of $900k to Smith in 2013; he claimed he was no longer making the kind of money he was in 2009. By then, Fraser wasn't a blockbuster actor, partly due to medical problems, including multiple surgeries on his vocal cords, back, and knee, according to Celebrity Net Worth. Fraser also suspected he was blacklisted by the former Hollywood Foreign Press Association (HFPA) president Philip Berk after Berk groped Fraser in 2003. Fraser revealed the assault in a stunning 2018 GQ interview.
The divorce case ended with Smith accusing Fraser of hiding income from films and her lawyer saying Fraser had $24.7 million in assets, per the New York Post. According to Radar Online, the judge ruled that he'd keep paying the $50k a month until January 31, 2019, or until either person died or remarried.