RHOSLC's Meredith Marks Gives Glimpse Into Her Terrifying Car Accident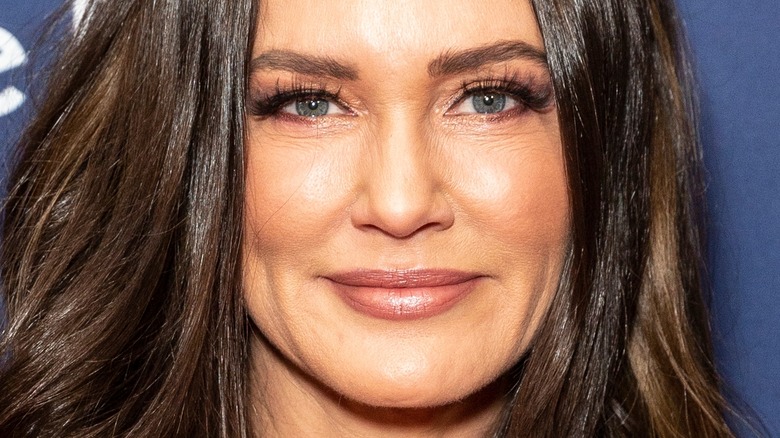 lev radin/Shutterstock
Meredith Marks has given her fans insight into her recent car accident, which could have ended in tragedy. The accident also happened ahead of a special event for the notoriously fabulous entrepreneur.
As Season 4 of "The Real Housewives of Salt Lake City" nears its shooting start date — possibly with a revamped cast — Marks has decided to give her popular jewelry line an extra boost. She announced a special event for her business in Utah to her Instagram followers. "We are beyond excited to announce that the Meredith Marks Pop-Up at Waldorf Astoria Park City will be opening tomorrow, March 24th," Marks wrote in an Instagram post. "We invite you to exclusively shop the award-winning, celebrity jewelry designer's timeless collection in the lobby of this award-winning luxury resort."
Unfortunately, Marks was in a terrifying car accident during a snowstorm in Utah. Shortly after, Marks posted about the situation and reflected on the important things in life. And while Marks and her ride buddy, designer Kathy Prounis, weren't critically injured in the accident, things could have easily gone that route ... judging by her scary video of the crash.
Meredith is grateful that things weren't more serious
Meredith Marks had a really close call on March 23. She filled her fans in on the details surrounding her crash on Instagram. The reality TV star shared a carousel, with a photo of her and her friend Kathy Prounis taken moments before the accident that almost sent them off a cliff, caused by slippery roads in the snow.  The second slide features a video showing the car lodged into a thick drift of snow. "Our driver, Brent, was, fortunately, able to maneuver the car into the snowbank," wrote Marks. "This is a reminder to always be grateful and count your blessings ... Kathy, Brent, and I are all okay and safe." Marks also urged her supporters to "be careful" while driving in snow-stricken areas, particularly those in Park City, Utah where the accident took place. "I am beyond happy to be alive and well," continued Marks. 
Marks and company fared much better than her fellow Bravo alum, Melyssa Ford. Back in 2018, Ford's car collided with an 18-wheeler. Ford suffered multiple injuries, including a fractured skull, per People. One month later, Ford posted an update to Instagram. "Just over four weeks ago, I was involved in a near-fatal car crash," wrote Ford. "I have struggled to remember a lot of what happened during the course of my recovery ... there are parts I may never remember." Ford would go on to endure a long, painful recovery.