Narvel Blackstock Reportedly Moved On From Reba McEntire With One Of Her Friends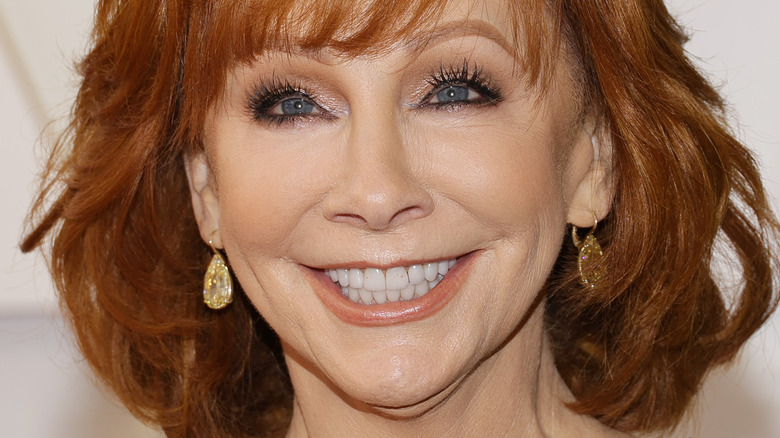 Mike Coppola/Getty Images
Reba McEntire and Rex Linn's relationship proves that romance is more than possible in their 60s. During the COVID-19 pandemic, McEntire and Linn reconnected thanks to technology, opening the door to a blossoming courtship. "It's good to have a person to talk to, laugh with, get into subjects about what's going on," she said. "Discussions about our past, our family, funny stories, him being an actor, me being an actress," the country star said on her "Living and Learning" podcast in October 2020.
McEntire and Linn, who is best known for his portrayal of Sgt. Frank Tripp in the CBS drama "CSI: Miami" and Kevin Wachtell in the hit series "Better Call Saul," found they have quite a bit in common, including a mutual admiration for each other's talents. "He's very into my music. I'm very into his career," she said. "It's just great getting to talk to somebody who I find very interesting, very funny, very smart, and is interested in me, too." In a short time, the couple has been through a lot already, including enduring the loss of their beloved dog Riddler. 
Love struck again just a few years after McEntire divorced Narvel Blackstock in 2015, a split that took her by surprise. "The divorce was not my idea," she told CMT's Cody Alan in 2016. "I didn't want it in any shape, form, or fashion." But being blindsided by it wasn't all there was to it. Apparently, Blackstock left McEntire for one of the couple's friends. 
It is unclear what happened between them
Reba McEntire and Narvel Blackstock's breakup shocked the music industry because the two hadn't just been married for more than two and a half decades but had also worked as singer and manager for just as long. But Blackstock managed to add another layer to it shortly after their divorce. Three months after the divorce was finalized, reports surfaced linking Blackstock to Laura Putty Stroud, one of his and McEntire's close friends, Page Six reported in January 2016.
According to the source, Blackstock and Stroud weren't just fooling around. "They are very serious," an insider told the outlet. "It's unclear when they started dating. The word on the street is that they're getting married." As far as we know, they didn't. Blackstock has only been married twice — to McEntire and Elisa Gayle Ritter, whom he divorced in 1988, a year before tying the knot with the country singer. McEntire has never addressed the rumors of Blackstock's relationship with the Nashville real estate agent.
However, Stroud stopped featuring on McEntire's social media around 2014. That year, McEntire shared a photo of herself, Stroud, and another friend (shown above) at a Katy Perry concert. "Having a blast!!!!" she captioned the Instagram post. It is unclear what happened between the two. As for her divorce, McEntire simply stated Blackstock deserved to live his life. "I just want everyone to be happy in their lives because our lives are too short to be miserable," she told CMT.
Reba McEntire ultimately forgave Narvel Blackstock for hurting her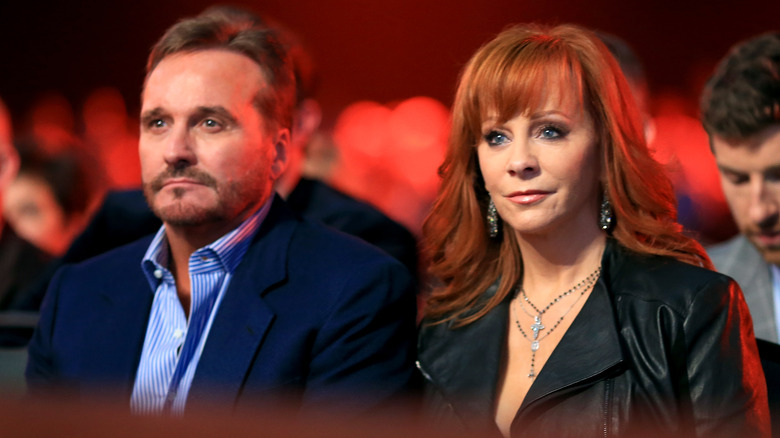 Christopher Polk/Getty Images
Reba McEntire may have taken and the high road and left the details of her divorce from Narvel Blackstock away from the public. But she never pretended he didn't cause her pain. "There's been a lot between us and I believe that to forgive is easier than forget. I can never forget some of what he did," McEntire told Parade in March 2016, without delving into any of the specifics. McEntire knew the decision to go their separate ways, albeit hard, was the right one. "It seems to me that Narvel is happier and I'm in a really good state of mind," she added.
McEntire had her faith to lean on. "Going on with life is what's really important. And my faith helped me with that," she said. "I think about what God wants me to do. I focus on that." Despite the heartache, the singer continues to value her relationship with Blackstock's children, whom she often refers to as her own. "Brandon's been my son forever it seems," she told Entertainment Tonight six years after her divorce while speaking about Blackstock's middle child and Kelly Clarkson's ex-husband. "Although he's my stepson, I still love him like he's my total — my blood."
Upon their split, McEntire and Blackstock vowed to remain close friends and a part of each other's lives. "Despite this being the end of their marriage, they continue to support each other," their joint statement read (via People).