Zachary Levi's Marriage To Missy Peregrym Didn't Even Last A Year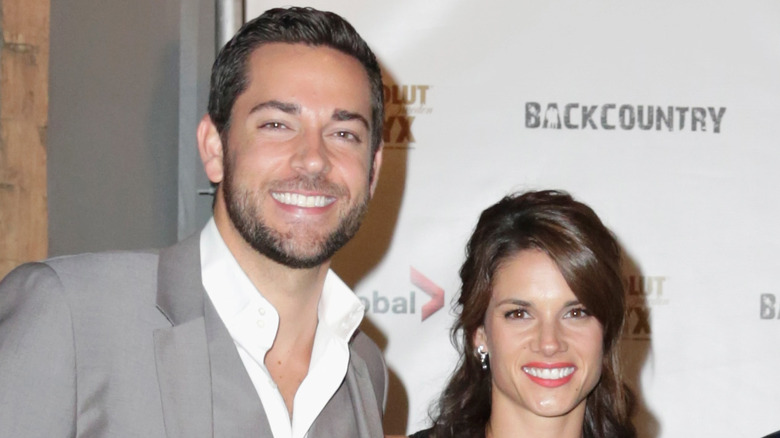 Philip Cheung/Getty Images
Like many Hollywood hookups, Zachary Levi and Missy Peregrym's marriage proved short-lived. While their union didn't deteriorate at warp speed like some other celeb marriages — which have lasted days, if not hours — it was still fairly quick.  The couple kept their romance mostly private, which made it appear even shorter to fans on the outside.
While some celebrity couples are so rushed they tie the knot within six months, Levi and Peregrym were so tight-lipped about their relationship that it seemed like their nuptials also happened quickly. When they suddenly announced their secret Maui wedding on June 16, 2014 — via a Tweet of the pair in Mr. and Mrs. hoodies — fans had no idea they'd even been dating. Details of their wedding revealed a small affair with just family and close friends, officiated by Peregrym's father and a close friend of Levy's. She wore a white Amanda Wakeley gown with an elaborate, gold Art Deco design, and he wore a blue suit from Reiss. They both seemed blissfully happy, with a source telling E! News Levi "is beyond thrilled" to marry "the love of his life" and that "Missy couldn't be happier either."
But alas, the nuptials didn't last long, and though they split amicably, the couple divorced less than a year later, with some troubles occurring even sooner.
Missy Peregrym filed for divorce much earlier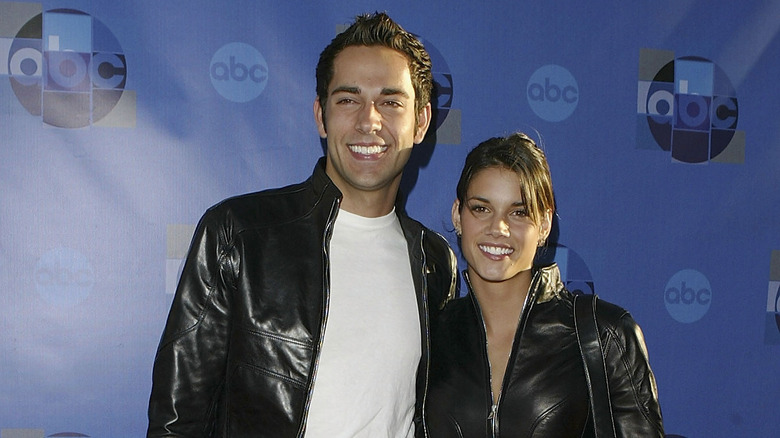 Mark Mainz/Getty Images
Missy Peregrym and Zachary Levi had reportedly been dating for 10 months before their secret wedding in Hawaii, but their romantic connection goes back years. The two had dated at least a decade prior and were photographed together at the ABC Press Tour All-Star Party in July 2004.  But in 2014, no one knew they had gotten back together until their stealthy ceremony.
Though the couple split amicably, with neither requesting spousal support nor any community property to divide,  Peregrym and Levi seemed to head toward divorce sooner than anybody expected. Citing irreconcilable differences and wanting to legally restore her maiden name, the "FBI" star filed for divorce from Levi after only nine months on April 6, 2015. However, the date of separation listed on the filing was December 3, 2014 – not even six months after the couple wed. 
Fans may have gotten hints of trouble in paradise an entire month before the official divorce when Levi spoke to reporters at an Alzheimer's Association benefit (via People) in March 2015. "Nobody can prepare you for marriage," the "Chuck" star said. "Marriage is a whole other animal." He explained how much harder a committed relationship can be. "With dating you can be 'Hey, it's not working out,' and you're out. But marriage, you make a commitment. The easy outs you don't have anymore. You're responsible for another person's life as they are yours."
They both seem happy in their current relationships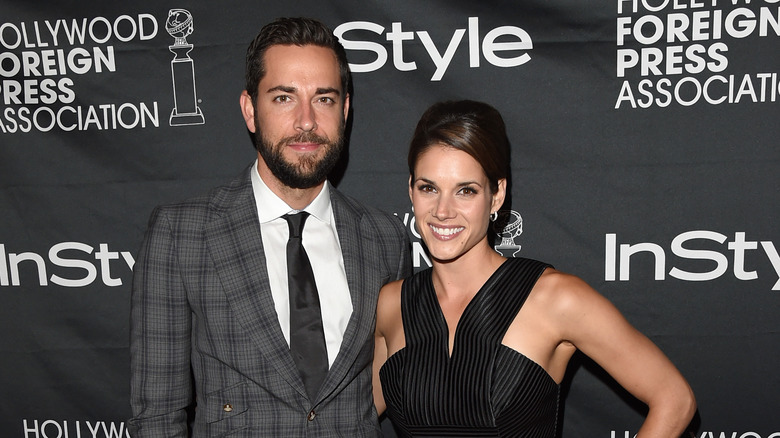 Jason Merritt/Getty Images
It's been eight years since Missy Peregrym and Zachary Levi split, and both seem to be doing well in the love department — while still keeping their relationships private. Peregrym is now married to Australian actor Tom Oakley. She posted about their December 30, 2018, wedding on Instagram, sharing a shot of the two posing in their wedding finery with matching white sneakers. Their family expanded when son Otis Paradis Oakley was born on March 21, 2020. The happy couple welcomed their second child, daughter Mela Joséphine Oakley, on June 6, 2022. Peregrym announced the birth in a July 8 Instagram post, thanking Tom for his part: "In no way has our journey been easy, but it has been full and I'm incredibly blessed that he's my partner."
As for the "Shazam" actor, Levi keeps his private life private. He told Access Hollywood in 2019 that he's enjoying his time alone. "I've been in this really kind of very good, healthy moment of being with me, loving myself, working on myself, getting stronger and healthier and waiting for that right woman to enter my life," he said, trusting that he'd meet the right woman when he's supposed to. The question is whether that time is now, because Levi is rumored to be dating Caroline Tyler. Little is known about Tyler, whose Instagram account is private, but she and Levi were photographed together on the ESPYs red carpet in July 2021. Levi called her "my special lady friend" in his Instagram post.