How A Spice Girl Inspired Emma Stone's Stage Name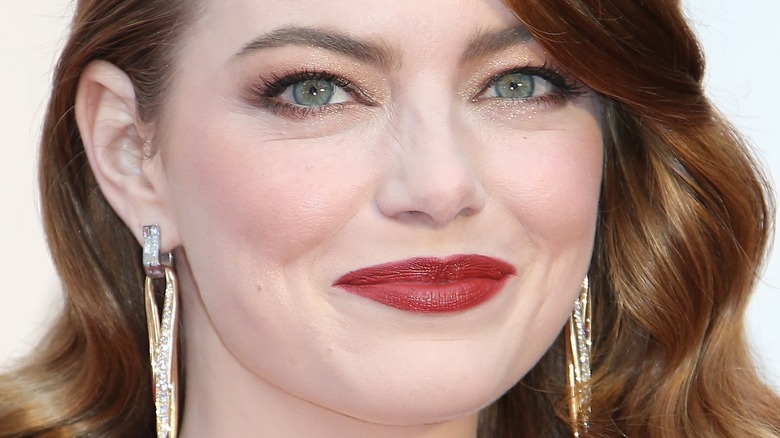 Dan Macmedan/Getty Images
Oscar-winning actor Emma Stone didn't just spice up her life like every other girl who grew up loving the '90s pop girl group the Spice Girl — no, no — the "La La Land" star went so far as to spice up her name when it came time for her to choose her Hollywood pseudonym. Born in 1988, Stone was the target demographic for the Spice Girls' young fan base when the "Girl Power" group first debuted in 1996 with their iconic song, "Wannabe." While the Spice Girls may have taken their infamous indefinite hiatus just a few years later, their empowering message seems to have stayed with the "Cruella" actor for years to come.
Like many celebrities, Stone decided to create a stage name once she became an actor as opposed to using her birth-given name, which is Emily Jean Stone. It turns out that her childhood love for the Spice Girls — between Posh, Ginger, Scary, Sporty, and Baby — helped her choose her new moniker.
Emma Stone's Spice Girl of choice was Baby Spice!
Emma Stone may be the biggest Spice Girls fan on the planet. Ever since she was little, the "Easy A" star told Entertainment Weekly in 2012 that she was obsessed with the girl group, but there was one member of the band who truly spoke to her. "I cut bangs like Baby Spice because I had blond hair," she recounted to the publication. "I wanted to be Baby Spice."
That's right, Emma Bunton, a.k.a. Baby Spice, was the one Stone took inspiration from when she changed her name for acting. In an interview on "The Tonight Show Starring Jimmy Fallon," Stone admitted the name-change began long before her film career. "In second grade, did I go up to the teacher on the first day and ask her to call me Emma? Yes, I did," she jokingly explained. "And was it because of Emma Lee Bunton from the Spice Girls? Yes, it was."
They say never meet your idols, but the "Crazy, Stupid, Love" actor did everything she could to meet Bunton. When the Spice Girls reunited for a brief tour in 2019, Stone attended the concert, and she even got a picture with Baby Spice herself! Bunton shared the sweet photo of the two to her Instagram, captioning the post, "When Emma met Emma. #2become1." The actor revealed two years later on "The Ellen Show" that she broke her arm the day before the concert but pushed through it to be able to go. That's dedication!
Adele, Kim Kardashian, and more cherish the Spice Girls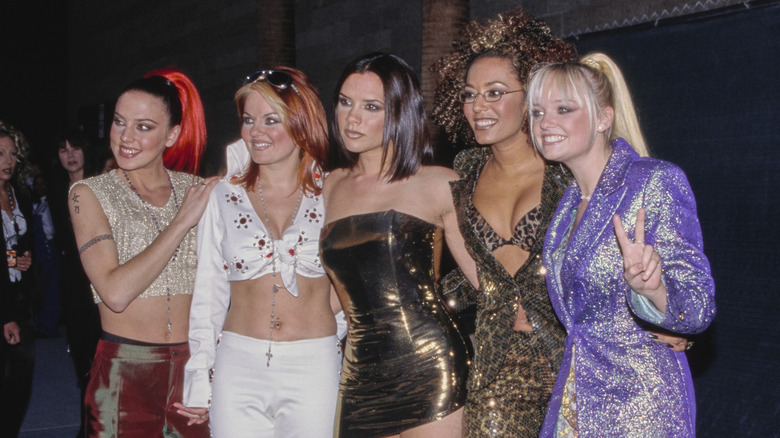 Michael Ochs Archives/Getty Images
The global impact of the Spice Girls cannot be overstated, and it's proven by the hundreds of thousands of people who were motivated by their message, including many celebrities we know today. Of course, things were more intense in the group's home country of the U.K., where Grammy-award-winning singer Adele grew up listening to the Spice Girls. When the group announced their 2019 reunion, Adele uploaded a throwback photo of her excitedly cheering with a Ring Pop in front of the multiple Spice Girls posters on her bedroom wall.
After the singer attended the reunion concert, she posted her emotional reaction to her Instagram. "Oiii last time I saw the Spice Girls at Wembley was 21 years ago! Tonight with my nearest and dearest I cried, laughed, screamed, danced, reminisced and fell back in love with my 10 year old self," Adele opened up. "It's no secret how much I love them, how much they inspired me to run for my life and never look back."
There is a countless amount of people who have been touched by the "Say You'll Be There" singers. Reality star Kim Kardashian once shared how she and her friends dressed up as the British group for her high school talent show, saying their music "got [her] through a lot." Model Victoria Beckham, a.k.a. Posh Spice, once revealed (via Grazia Magazine) that Beyoncé told her the girl group "inspired" her to be courageous. What a group!