How Oprah's Tough Love Helped Turn Lindsay Lohan's Life Around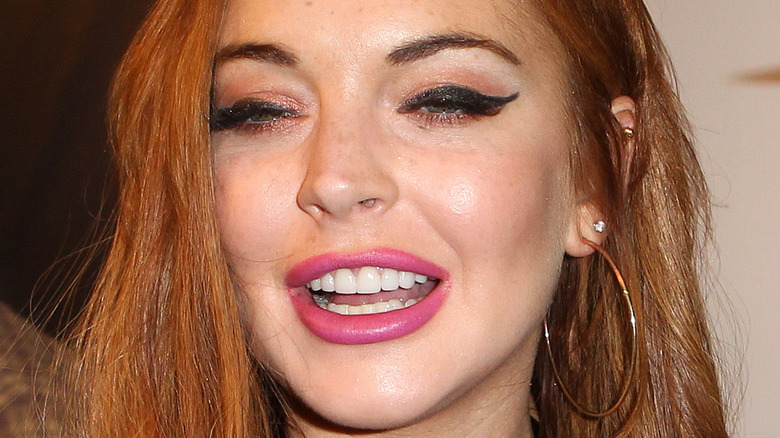 Photo Works/Shutterstock
Believe it or not, there are a surprising number of stars who can't stand Oprah — and it's probably safe to say that the British royal family can now be added to the list. However, Lindsay Lohan isn't one of the haters. She's firmly #TeamOprah after the former talk show titan guided her through a deeply troubling time.
Per CNN, Lohan's life began spiraling out of control in May 2007 after she crashed her car, sped away, and was arrested for DUI and cocaine possession. Two months later, Lohan was arrested again for DUI and possession and entered rehab. However, as alcohol addiction tightened its grip, her life deteriorated further. You'd be hard-pressed to choose just one of Lohan's sketchiest moments, as over the next six years, the former child star was arrested an additional seven times, received six more jail sentences, committed four parole violations, was ordered to work at the city morgue, and entered rehab a further three times.
Nothing or nobody seemed able to stop Lohan's life from destructing. She was surrounded by enablers and was a constant tabloid fixture, lurching from one disaster to another. Lohan was falling into the abyss, and nobody could catch her — until Oprah entered the scene. The media mogul is renowned for cutting to the chase and telling it like it is. And that's precisely what she did with Lohan during a disastrous and heartbreaking OWN network reality docu-series debacle. Here's how Oprah's tough love helped turn Lindsay Lohan's life around.
Oprah read the riot act and set boundaries
By the time "Lindsay" premiered on the OWN network in March 2014, the future wasn't looking bright. Lindsay Lohan was four days out of a 90-day court-mandated rehab stint when she first sat down with Oprah and began filming. Initially, Lohan looked healthy and happy. However, as the documentary progressed, it became apparent that she was struggling.
Headlines appeared claiming the actor was back out with her old party pals, and Lohan began flaking on filming. She looked glassy-eyed and tired, and her life became increasingly chaotic. Ultimately, Lohan said she couldn't handle shooting the documentary anymore as maintaining sobriety was her priority. Enter the formidable Oprah. "She doesn't understand this is your life. Your life," she says on her way to a showdown with Lohan.
"Life showed up, and it didn't work out the way you wanted it to," Oprah told her. "You're creating the same kind of chaos you're accustomed to. You're creating that with everybody else," she continued. Oprah said she wanted Lohan "to win," but if she wasn't ready, she was "really prepared to pack up and leave today." Oprah told her she had to have "a sense of urgency" about getting her life back on track. Lohan insisted she did, but Oprah wasn't having it. "If that is the case, then you're not going to be f***ing up." Lohan said that's what she needed to hear. "Then cut the bull**it. You know what to do," Oprah told her.
Lindsay Lohan's future is looking bright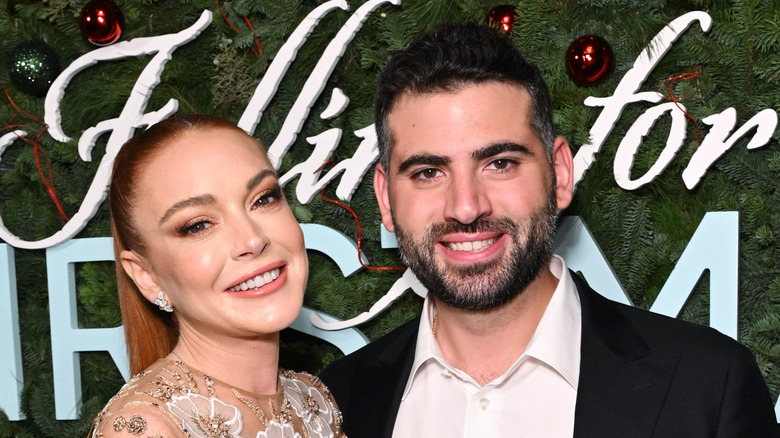 Bryan Bedder/Getty Images
Oprah managed to cut through the years of chaos and addiction and set Lindsay Lohan back on track. "I think Oprah really gave me a different perspective on life," Lohan admitted during an episode of the "Lindsay Lohan's Beach Club" after-show (via People). She credited Oprah for helping her realize "It's okay to be alone." Their friendship continued after the cameras stopped rolling. "I do text her a lot," Lohan said. "I think I might harass her."
During an appearance on "Good Morning Britain," Lohan credited Oprah for helping her cut through all the chaos in her life and find some tranquility and insight. "I always check in with her," she said. "Because I really think that her and Arianna Huffington were a big part of me starting to get really deeply into transcendental meditation." Lohan said Oprah's "become like a second mother" and that she felt "blessed" to have her as a friend and mentor.
In March 2023, news broke that Lohan is expecting her first child with her husband, Bader Shammas. "We are blessed and excited," she posted on Instagram alongside a photo of a white onesie printed with "coming soon." Lohan and Shammas got engaged in 2021 and secretly married in mid-2022. "It's amazing. I'm really lucky. I found my partner, and he's an amazing man, and we're a great team," Lohan told "Good Morning America" about her husband. "He's the best," she continued. "I love him so much."