How Close Is Jennifer Lopez With Ben Affleck's Daughter Violet?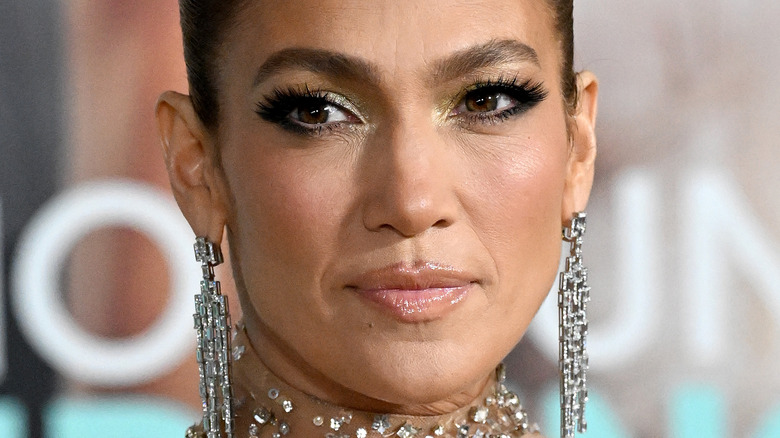 Albert L. Ortega/Getty Images
When Ben Affleck got down on one knee and give Jenny from the Block another big rock, their second attempt at tying the knot came with a challenge that wasn't there the first time around. Affleck has three children from his previous marriage to Jennifer Garner, daughters Violet and Seraphina and son Samuel, while Jennifer Lopez shares custody of twins Max and Emme with her ex Marc Anthony. So, in addition to making wedding plans, the couple had to figure out how to blend their families.
Even before Lopez and Affleck (finally!) became husband and wife in July 2022, Lopez was reportedly preparing for her new role in the lives of Affleck's kids. "She intends to be an involved stepmom who's there for Ben in that area," a source told Us Weekly in 2021. And from the sound of it, Lopez believed that Affleck was also willing to put in the work it would take to bring their families together. "Nothing is more fulfilling to me than being able to build a family with someone who I love deeply and who is just as dedicated to family," she told "Good Morning America" two months after she and Affleck got engaged in April 2022.
Speaking to The Hollywood Reporter about her oldest child, Garner said, "Violet's hyper-articulate — she is Ben Affleck's daughter." So you'd think that Violet and Lopez would also get along swimmingly, right? Well, one report suggested that the teen wasn't totally on board with her dad bringing Bennifer back.
Violet Affleck skipped her dad's Vegas wedding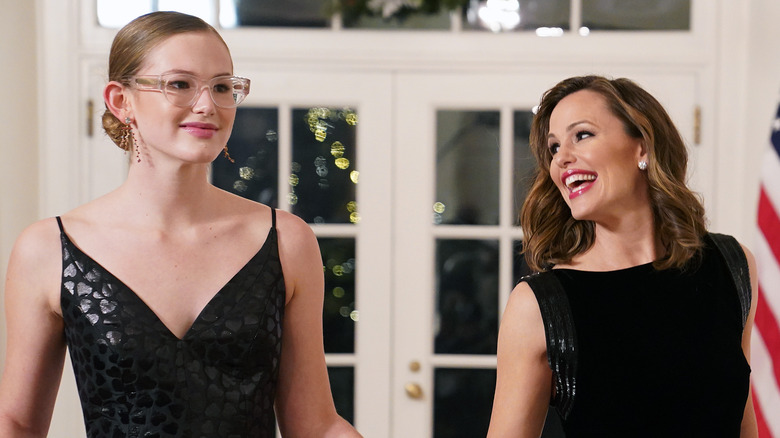 Nathan Howard/Getty Images
Jennifer Lopez knows that love don't cost a thing, but buying special jewelry for your stepkids can't hurt, right? Ahead of Ben Affleck's birthday in August 2021, a source told People that Lopez and her child Emme purchased two necklaces that featured Violet and Seraphina's birth flowers to give to the girls. In addition to attempting to win her stepdaughters over with thoughtful gifts, an insider told E!, "Jennifer has made a big effort to get to know Ben's kids and welcome them into her home and her life."
But when Lopez and Ben eloped in Las Vegas in July 2022, Jennifer Garner's look-alike oldest daughter was not in attendance. And apparently, the couple had little time to convince Violet to join them. "It was very, very minimally planned in advance and was largely spur-of-the-moment. Violet stayed home because she's extremely loyal to her mom," a source told Page Six.
If this is true, it seems that Violet eventually warmed to her stepmother. Days later, Romper published a picture of Violet flashing a beaming smile as she gave Lopez a warm hug. The photo was snapped in Paris, where Bennifer brought their entire blended brood along with them for their honeymoon. TMZ also shared a pic of Violet laughing as her dad and stepmom packed on some serious PDA during dinner at Le Matignon. If the teen is cool with embarrassing behavior like that, surely she's cool with J.Lo.
How Jennifer Lopez showed Violet Affleck she trusts her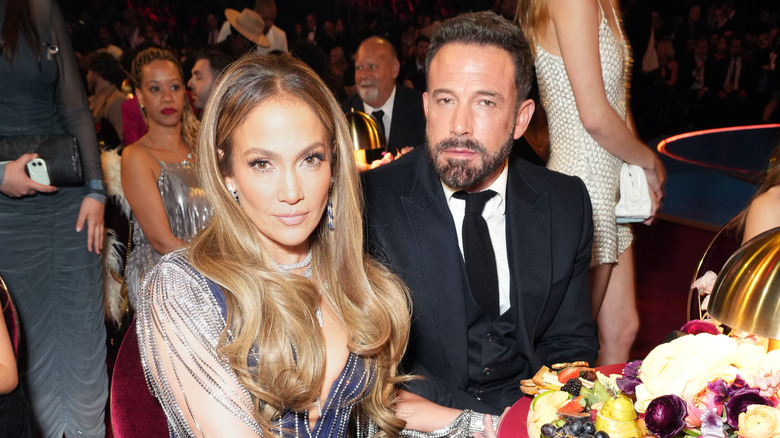 Kevin Mazur/Getty Images
While Violet missed Jennifer Lopez and Ben Affleck's first wedding, she was present when the couple tied the knot again at Affleck's Georgia residence. In fact, she even participated in the August 2022 ceremony. In her On The J Lo newsletter, Lopez revealed that her twins and all three of Affleck's children walked down the aisle before she did as the song "The Things We've Handed Down" played. "They were the only people we asked to stand up for us in our wedding party. To our great honor and joy, each one did," Lopez wrote of the kids, according to Elle.
Once Affleck and Lopez settled into their new life together, we started to see more evidence that Lopez and Violet do, indeed, get along. In September 2022, the Daily Mail published photos of the pair hanging out together in Beverly Hills, sans Affleck. After they grabbed lunch together, Lopez demonstrated a high level of trust in the then-16-year-old by allowing Violet to get behind the wheel of the SUV in which they'd arrived.
The teen seemed to be adjusting well to what can sometimes be an uncomfortable and upsetting situation. And when Lopez shared an update on her blended family in January 2023, it sounded like she was satisfied with the way things were going. "It's been, like, a really kind of emotional transition, but at the same time all your dreams coming true," she told Today.