Jonathan Majors' Daughter: What The Private Actor Has Said About Ella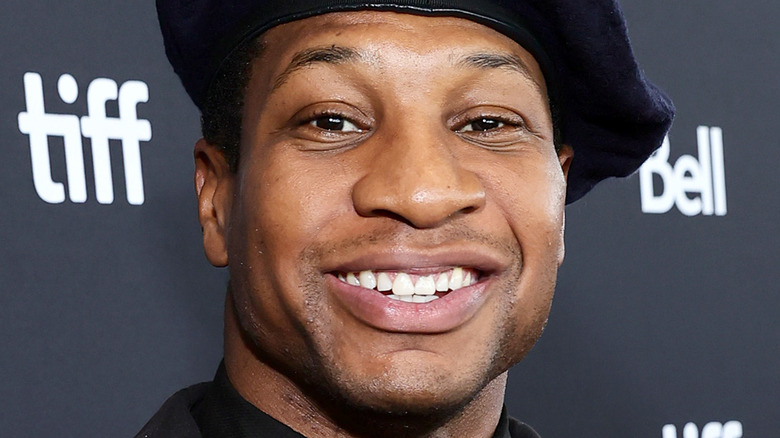 Matt Winkelmeyer/Getty Images
Jonathan Majors has been in the public eye since 2017. However, the California native's star has grown exponentially since joining the Marvel Cinematic Universe. In February 2023, Majors appeared as Kang the Conqueror in "Ant-Man and the Wasp: Quantumania." Majors also made waves for his role in "Creed III," where he starred opposite Michael B. Jordan. And while the third installment in the popular franchise was met with positive reviews,Majors and Jordan's real-life camaraderie definitely carried the film's successful (and viral) press tour. "I think Michael B. and I, we're best friends at this point." Majors remarked to Deadline. "And I'm not just saying that, I love that guy and he loves me. As director, he also pushed my instrument in a completely different direction, and allowed me to then push him further." 
Given his successful start to the quarter, Majors could have a pretty promising career ahead of him (pending the outcome of his recent arrest for alleged assault). Regardless, Majors has much to be thankful for, including his supportive family. And though Majors isn't nearly as forthcoming concerning his personal life as he is with his professional aspirations, he has shared tidbits about his private life over the years. For instance, Majors is close with both of his parents, even though his father wasn't present for a large chunk of his life. Majors also has a daughter named Ella who, judging from his previous interviews, appears to be the most important person in his life.
Jonathan Majors' daughter is mixed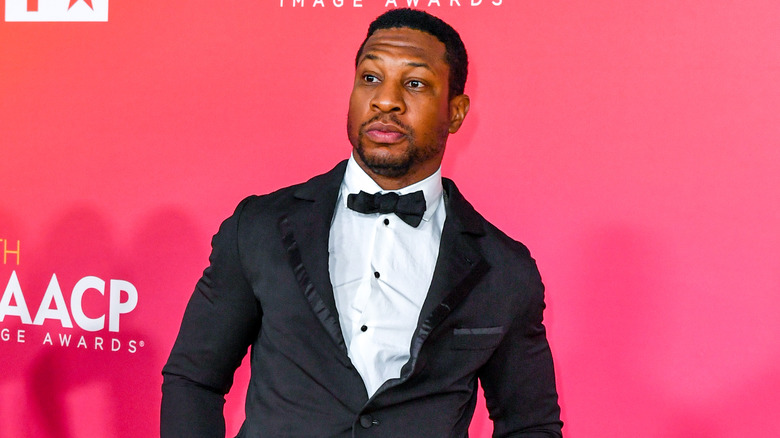 Aaron J. Thornton/Getty Images
At the current time, Jonathan Majors has one child, a daughter named Ella. "I have a seven-year-old who's mixed race," Majors shared with People back in 2020. While discussing his desire for her to receive a well-rounded education, Majors said, "She has to understand that it's actually not 'Black history'— it's American history. The way it's taught now, it's honestly the Jim Crow system of separate but equal." The actor added, "We'll give it one month, 12 pages in the history book ... we'll talk about Harriet Tubman, Rosa Parks, MLK, then we'll give you a little quiz about it." 
And while Majors' acting career preceded Ella's birth by a couple of years, she's motivated him to become selective in his roles. "I just want to make her proud and do things that she could look at and go, 'Yeah, that's the way that goes — I understand why he did that,'" shared the actor with Insider. "Or at some point, she will watch [my] films and then she'll see Regina King and she'll see Zazie Beetz."
When Majors isn't starring in blockbusters or imparting wisdom to his daughter, he's spending quality time with her. "We like to shop together, [and] read books," Majors revealed to Mr. Porter. "Roald Dahl, 'A Series Of Unfortunate Events.' I have her memorize poetry – Mary Oliver. She has a whole section about dogs. And my girl has her own dog, a cockapoo."
Jonathan Majors' career doesn't seem to impress his daughter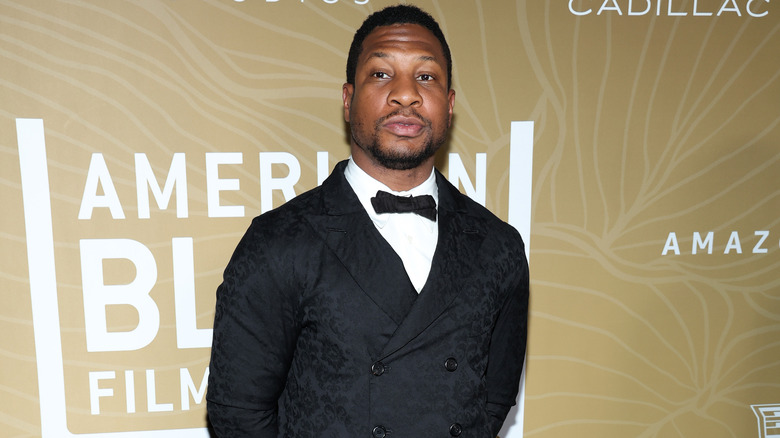 Jemal Countess/Getty Images
Children will humble you every single time, a fact that Jonathan Majors can relate to. Despite the fact that his ever-expanding resume has placed him next to Hollywood's biggest A-listers, his daughter, Ella, doesn't seem to understand just how famous he is. "All she understands is that I'm in a movie with Paul Rudd, with 'Ant-Man,'" Majors shared with Today. "I've never seen my daughter starstruck. She's like, 'Nice to see you, too' to Paul Rudd and I lost my mind. I was like 'What did you say?' Oh my god.'"
With that said, Majors has scored some points with his daughter for his other very important skill. "She's impressed when I throw her very high — and she lands on the bed," Majors shared during an appearance on "Late Night With Seth Meyers." However, the actor acknowledged that she brags about her famous father every now and then. "Right now, she's having a bit of a moment. My daughter's 9, almost 10, and recently, much to my chagrin, young boys are walking up to her and saying, 'You know, you look a lot like Kang," he shared. "And my daughter looks at them and goes, 'That's my daddy!' So, she's dealing with that."