Paris Hilton's Grandmother 'Big Kathy' Had A Scandalous Past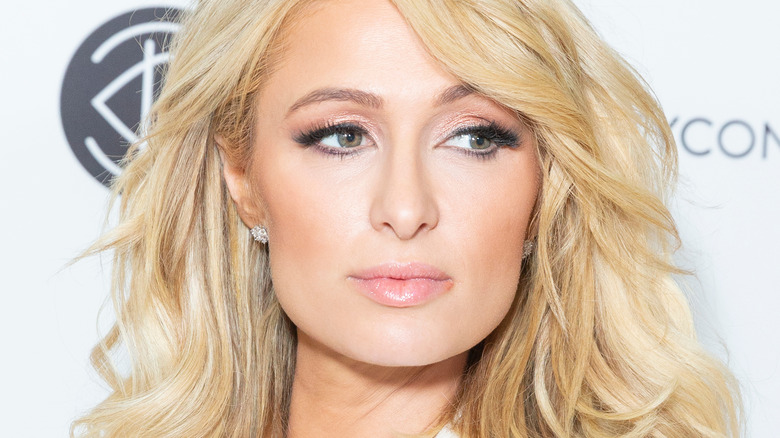 lev radin/Shutterstock
The Hilton name has been synonymous with wealth and luxury for decades but many may not know that Paris Hilton's grandmother, Kathleen Dugan Avanzino Richards Catain Fenton, had a scandalous past. Known as Big Kathy, she was often brought up by "The Real Housewives of Beverly Hills" stars, sisters Kyle and Kim Richards. By the time Season 1 aired, Big Kathy had died from breast cancer in 2002. Per People, the Palm Springs house Big Kathy left to Kim and Kyle was a major point of contention. Kim accused Kyle of cheating her out of the house, which resulted in Kyle outing her sister as an alcoholic and claiming that Big Kathy died worrying about her.
Big Kathy came up again in "RHOBH" after Kyle produced her show "American Woman," which was loosely based on her mother's life. Paris' mom, Kathy Hilton, had a problem with Kyle airing out their family history, even though it was a fictionalized account. Kathy may have had good reason to be concerned about Kyle's depiction of their mom, though, as details about Big Kathy's past are pretty sketchy.
'Big Kathy' chased men and money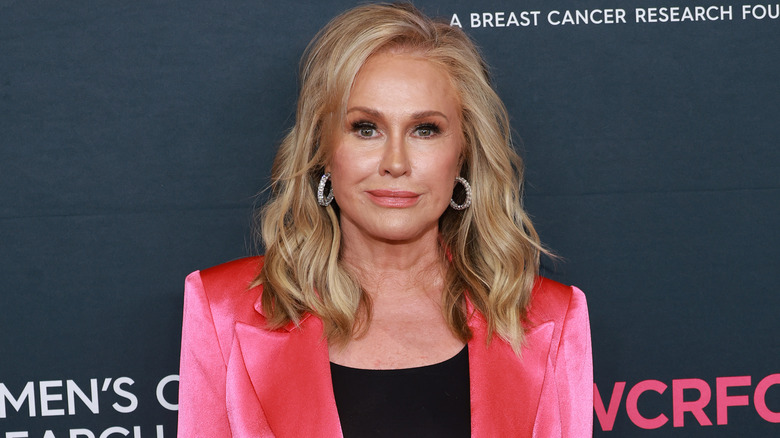 Matt Winkelmeyer/Getty Images
Originally Kathleen Dugan, the 2006 biography "House of Hilton" describes her as a "master of getting what she wanted." Big Kathy married her first husband Laurence K. Avanzino after getting pregnant with Kathy Hilton. Dugan worked at a gas station while Big Kathy had a job at a cosmetics counter and the two could barely make ends meet.
Jerry Oppenheimer, author of "House of Hilton," revealed via Page Six that Kathy had her sights on Kenneth Edwin Richards, the son of a minister who was already married. Richards was more successful than Dugan and Big Kathy started an illicit affair with him. Big Kathy allegedly drugged Dugan's then-wife at a bar and slammed a car door on her ankle hard enough to leave her in a cast for weeks. When Richards showed hesitation about leaving his wife for her, Big Kathy managed to get pregnant with Kim and they both divorced their respective spouses. During their marriage, Big Kathy was accused of feeding her mother-in-law dog food and trying to push Richards down the stairs. Richards' daughter also claimed Big Kathy gave her a cheeseburger with a screw inside.
Big Kathy's third husband was a mobster and her fourth and last husband was an older widower, whom she convinced to sell his house and give her the money to renovate her house. She was still married to him when she died on March 2, 2022.
'Big Kathy' taught her girls to marry rich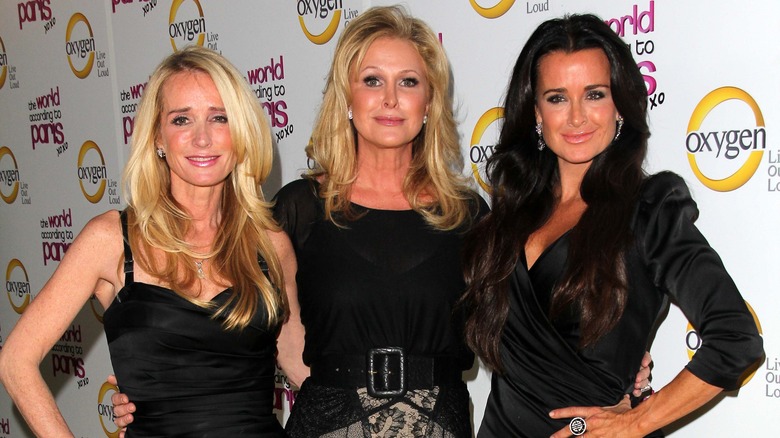 s_bukley/Shutterstock
Big Kathy was determined to make it big, even if it came at her daughters' expense. When she moved to Los Angeles with her second husband, she threw her daughters into acting and became an overbearing "stage mom," per Radar. A source told the outlet that Big Kathy only had "money and men" on her brain and taught Kathy Hilton, Kyle Richards, and Kim Richards to only go after those with money. "Her mom would have men over all the time ... and she'd make Kim perform for them," Kim's ex-boyfriend told Radar.
Kim met her first husband George M. Brinson when she was 19 years old. According to Brinson, Kim dated billionaire John Davis while they were together, the Daily Mail reported. He claimed Kim would see Davis behind his back and believed she was being pressured by her mother to chase after money. Kim and Brinson had a "shotgun wedding" after Kim ended up pregnant.
Kathy's first and only marriage was to hotelier Rick Hilton. The two married in 1979 and have been together since. Kyle married Guraish Aldjufrie when she was 18 years old. The two had her first daughter, Farrah, and got divorced after four years of marriage. She would go on to marry Mauricio Umansky in her early 20s and have three more children. Big Kathy's way of raising her daughters was certainly unconventional, but her three daughters managed to find inspiration from her, even after she died in 2022.