Janet Jackson's Son Eissa Inherited His Mom's Musical Genes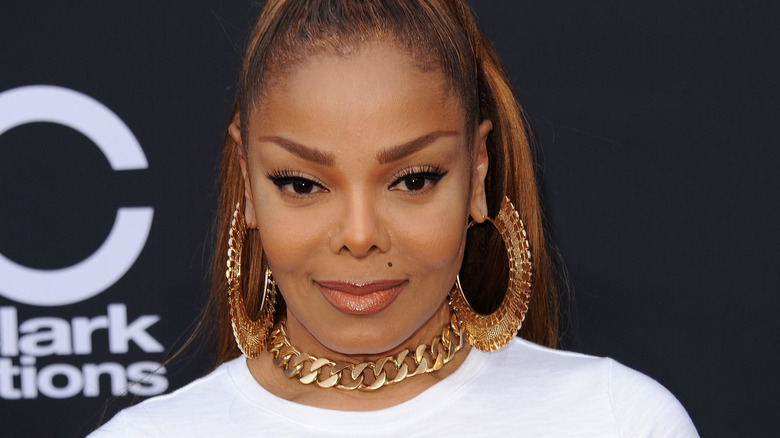 Tinseltown/Shutterstock
Janet Jackson certainly knows how to captivate an audience. Her magnetic stage presence, fierce dance moves, and sultry songs have cemented her as one of the entertainment industry's biggest icons. While she's garnered attention for other dramas, like her messy custody battle, it hasn't detracted too much from her tremendous musical talent.
As fans know, Jackson's love for the arts goes way back. In a 2022 interview with Allure, she talked about how she and her siblings would frequently write music in their parents' home studio. "So any time of day or night, if you couldn't sleep or had an idea before school, after school, you could go in the studio and put it down, your idea, musically." She then explained her happy accident that occurred in the studio. She continued, "So I did that and I put this idea that I had down and played all the parts on it and, like a genius, I left the tape on the machine and when I came home from school I was so embarrassed. They were listening to the song."
As it turns out, Jackson's son Eissa Al Mana has also caught the music bug. Jackson shares her only son with her ex-husband Wissam Al Mana, who she divorced in 2017. As a single mom, Jackson has fully supported her son's musical aspirations.
Eissa Al Mana loves the violin
In a 2020 appearance on "The Tonight Show Starring Jimmy Fallon," Janet Jackson described her son Eissa Al Mana's love for string instruments. She shared, "First day of school he took the violin to school. Third day of school, he says, 'Mama I want to take a cello.' I said, 'Baby, you don't have a cello.'" After begging her to turn his violin into a cello, Jackson's assistant taped a straw to the bottom of the violin. Jackson eventually got Eissa a real cello.
Jackson also talked about Eissa's passion for music in an interview with Stellar Magazine (via Classic FM). According to Jackson, he loves to play around with his guitar. But the violin may be Eissa's true calling! She explained, "He sleeps with it. He eats breakfast, lunch and dinner with it. I show him little kids playing violin on the iPad, then he was finding them himself, all these child prodigies. He creates melodies."
Eissa Al Mana has similar talents to Janet Jackson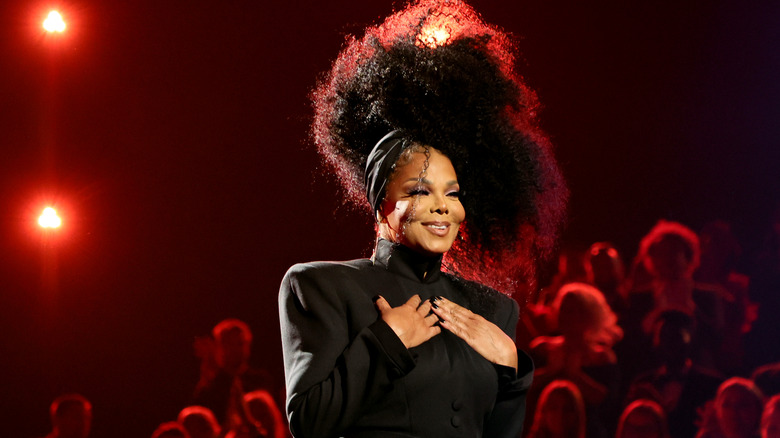 Theo Wargo/Getty Images
It looks like Eissa Al Mana has inherited the Jackson family's singing and dancing talents. In a 2019 interview with the Hit Network, Janet Jackson revealed that her son "carries a tune" and has "really good pitch." In addition, Eissa likes to bust out some moves. Janet said that he actually mimics a move from one of Michael Jackson's songs. "The march and the hand," Janet remarked. She added, "He does a few things. He does the head — he loves 'Smooth Criminal.'" Janet also noted that he loves to watch the band in action.
Even though Eissa is musical like his mom, he wasn't aware of her legacy until recently. In a 2022 interview on "Today," Janet said, "I think his friends are starting to put it together for him. Because I've kept him away from it, actually."
Whether Eissa decides to follow in his mom's footsteps or pursue a completely different career path, she's proud of him just the same. In January 2022, Janet dedicated a sweet happy birthday post to her son on Instagram. She wrote, "You're growing up so fast. Such an intelligent beautiful boy. Wishing you a life full of magical moments."