Kelly Ripa Originally Resisted Mark Consuelos As Her Live Co-Host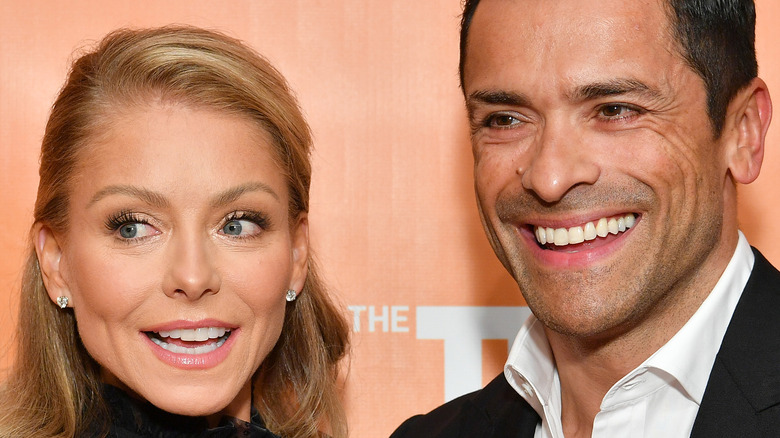 Dia Dipasupil/Getty Images
In February, Ryan Seacrest announced that he was leaving "Live with Kelly and Ryan" after six years of sharing hosting duties with Kelly Ripa. On the show, Seacrest revealed that talks about his departure began in 2022, with sources telling Page Six that he was getting overwhelmed and exhausted from juggling his appearances on the morning show and "American Idol" on top of hosting "On Air With Ryan Seacrest."
Insiders also noted that Seacrest was missing a great deal of work due to his schedule, which caused some tension between him and Ripa. But it sounds like the two will remain friends. In fact, Ripa told Seacrest, "You are one of my best friends. ... The greatest part of this entire experience has been that you've gone from being a friend to a family member." Now, he's being replaced by an actual family member, Ripa's husband, "Riverdale" star Mark Consuelos. The day after Seacrest's announcement, Ripa told viewers, "It's official. My work husband will also be my actual husband. ... I think we mean to say, 'My actual husband will be my work husband.' I am not marrying Ryan.'" Consuelos has been Ripa's most reliable guest host over the years, joining her on the show well over 100 times. He'll become her permanent co-host in the spring.
But while Consuelos had proven himself a competent co-host, he was not Ripa's recommendation for the full-time gig filling Seacrest's old seat.
Mark Consuelos possibly delayed Kelly Ripa's retirement
Kelly Ripa told Variety that it was the network who decided that Mark Consuelos was the best replacement for Ryan Seacrest. Ripa believed he was a horrible pick, saying, "We're the last people on earth to suggest ourselves to work together for anything." But she eventually warmed to the idea, even though it might delay her retirement — by joining the show, Consuelos is giving Ripa some incentive to stick around longer than she might have otherwise.
Ripa and Consuelos worked together before when they co-starred in "All My Children." But the talk show format is a much different animal. Instead of simply reading lines, the co-hosts fill extra air time with banter about the news or what's going on in their personal lives. And with Ripa and Consuelos, viewers get to listen to them chat about a topic they won't hear discussed anywhere else: what goes on in the co-hosts' bedroom. Only they can share a mortifying story about how their daughter, Lola Consuelos, walked in on them while the two were having sex on her birthday.
While viewers might love hearing juicy details about what the married couple does when the cameras aren't rolling, working with a spouse can be stressful. But when Ryan Seacrest asked Mark Consuelos how he thinks joining the show will affect his marriage, Cosuelos said of the "Live with Kelly and Ryan" set, "I consider this a safe place."